Dimitri Moise, Matt McLean, and More Star in World Premiere Reading Of PARANORMATIVE At The Kraine Theater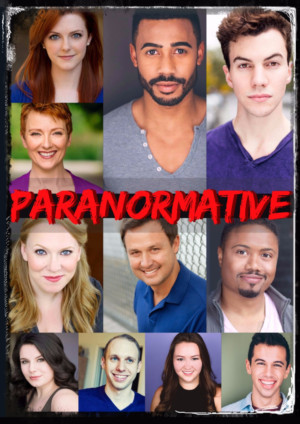 PARANORMATIVE the musical will have its' public reading performance debut on the eve of Halloween. Book & Lyrics by Nina Kauffman, Music by Thomas Jacobsen, Directed by Nick Corely, and Music Directed by Gillian Berkowitz.
The Kraine Theater, 85 E 4th St, New York, NY 10003 - October 30th @9pm
Tickets available for $10 online (https://goo.gl/x1FLhW) or at the door (CASH ONLY) for $15.
Drinks start at $5, no minimum!
PARANORMATIVE the musical is a satirical commentary on Bro-culture in the ghost hunting world of reality television. Accompanied by a hauntingly electric pop/rock score, the story follows a luckless, lovable, spineless twenty-something, Paulie, who joins "The Ghost Mastuhz," a paranormal investigation YouTube show starring his outlandish older brother, Tommy. Their services are requested with the promise of a real haunting, but when they arrive, they find much more than they bargained for... through a terrifying night of mischief and plenty'a murder, Paulie is able to muster the courage within to accept the things in life that are out of his control.
Featuring the talents of Dimitri Moise (Book of Mormon, Broadway), Matt McLean, Katie Emerson, Patty Nieman (Little Night Music, Theatre Works), Beth Kirkpatrick (Les Mis, Broadway), Kurt Robbins (Millie Broadway National Tour), Forest VanDyke, Cam Cote, Kelly Plescia, Veronica Thompson, and Scottie Hawley.
Also happening that evening at 7PM is THE GREAT CAT MASSACRE by Greg Moss & Casey O'Neil, Directed by Marella Martin Koch, and Music Directed by Mark T Evans. Buy $15 tix via Eventbrite (http://bit.ly/2kL7jPC). For only $25, you can make your All Hallows Eve a Not-So-Late-Night DOUBLE FEATURE.
Join us for a sticky and unforgettable evening of PARANORMATIVE.
WARNING: This comedy horror musical contains strong language, adult themes, ghostly copulation, Kathy Lee Gifford, loose limbs, flowing body fluids and a participatory drinking game (not mutually exclusive... wink).