Daphne Rubin-Vega Celebrates Aaron Mark with EMPANADA LOCA Reading Today at Theatre Row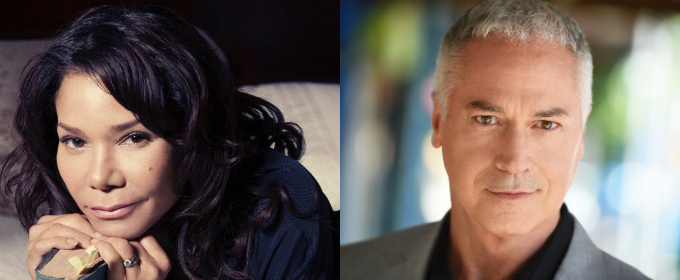 Acclaimed actors and Tony Award nominees Daphne Rubin-Vega and Tom Hewitt celebrate the "twisted" works of Aaron Mark in TWO TALES OF TERROR at the Beckett Theatre at Theatre Row (410 West 42nd Street), presented by All For One Theater (AFO) as a Halloween offering.
Daphne Rubin-Vega will reprise her role in a reading of EMPANADA LOCA today, October 28th, at 3 and Tom Hewitt will also reprise his role in a reading of MEDEA a week later on Saturday, November 4th at 3 PM. The third of Mr. Mark's psychological thrillers, the acclaimed production of SQUEAMISH is currently playing through November 11th at the Beckett.
For more information, visit www.afo.nyc or call (212) 398-7180. VIP Packages are available, which include dinner at the West Bank Café.
In EMPANADA LOCA drug dealer, masseuse, ex-con and survivor, Dolores has led a life like no other. Now living deep under Manhattan in an abandoned subway tunnel, she has a story you won't believe- or ever forget. Inspired by the legend of Sweeney Todd, the play is about an indomitable woman who knows that in this dog-eat-dog world only one rule matters: eat or be eaten.
ANOTHER MEDEA tells the story of a charismatic and enigmatic New York actor who recounts in gruesome detail how his obsessions with a wealthy doctor and the myth of Medea lead to horrific, unspeakable events.
Currently represented Off Broadway with the acclaimed production of SQUEAMISH starring Alison Fraser, Aaron Mark is a New York-based playwright and director. As writer-director: Empanada Loca with Daphne Rubin-Vega (LAByrinth Theater Company; 3 Drama Desk nominations, OCC nomination; recent audio recording), and Another Medea with Tom Hewitt (All For One Theater at the Cherry Lane and Wild Project). His plays Empanada Loca and Deer (which premiered at Stage West) are published by Dramatists Play Service, and his play A Bedtime Story, inspired by Schnitzler's Traumnovelle, was a recipient of Open Bar Theatricals' First Round Fellowship. Directing credits include The Mystery of Irma Vep and Deathtrap (Berkshire Theatre Festival), Ben Rimalower's long-running, award-winning Patti Issues and Bad With Money (Duplex and tours, audio version on Roven Records), Hedwig... (BC/EFA at New World Stages), Ghostlight Nine (AFO at the Cherry Lane), and Paul Iacono's Where's the Fucking Kid (54 Below) and Psychedelic Hedonism (Joe's Pub). Mr. Mark is a New York Theatre Workshop Usual Suspect.
Daphne Rubin-Vega is a two-time Tony and Drama Desk nominee and recipient of the Theater World, Obie and Blockbuster awards. She has been a member of the LAByrinth Theater Company since 1992 Ms. Rubin-Vega is perhaps best known for the roles she originated, including Mimi in Rent and Conchita in Anna in the Tropics, both Pulitzer Prize winning Broadway shows for which she was nominated for the Tony award. She also originated the role of Rahmi in Gum, Sofia in Nilo Cruz' Two Sisters and a Piano, Canary Mary Suzan-Lori Parks' Fucking A, (Lucille Lortel nomination) and Lucy in Jack Goes Boating at The Public Theater, as well as starred in the Broadway revivals of The Rocky Horror Picture Show (Magenta) and Les Miserables (Fantine). Film credits include detective Gloria Perez in Wild Things, starring Kevin Bacon and Matt Dillon (Blockbuster Award for Best Supporting Actress), Tia (Flawless, opposite Robert De Niro), reprising the role of Lucy in the film version of Jack Goes Boating, (Philiip Seymour Hoffman's film directorial debut.) Other films include, Justice, Skeleton Woman (New York Independent Film award), Virgin, Sex and the City, and I Like It Like That. Daphne Rubin-Vega is recognized for her singing as much as her acting. She was a member of the girl group Pajama Party, whose single "Yo No Se" was number one on the Billboard dance charts. They made two albums on Atlantic Records before Daphne began writing and recording solo singles for the indie dance label Maxi. In 1997, Rubin-Vega cut her first album of original music, Souvenirs on the subsequently defunct Mercury label and in 2006 she produced, performed, and primarily wrote Redemption Songs (Sh-K- Boom). Daphne has contributed to various musical projects, including her notorious version of "Feliz Navidad" for Broadway Cares and her club smash cover of "Rocketman". She is the recipient of an Honorary Doctorate in Humane Letters from Kean University.
Tom Hewitt Broadway credits include Captain Newton in Amazing Grace, Komarovsky in Doctor Zhivago, Pontius Pilate in Jesus Christ Superstar, Billy Flynn in Chicago, Dracula in Dracula; The Musical, Frank N Furter in The Rocky Horror Show (Tony, Drama Desk nominations), Scar in The Lion King. National Tours: Finding Neverland, Urinetown, Dirty Rotten Scoundrels (Touring Broadway Award), Peter Pan. Off Broadway: Another Medea, Treasure Island, Jeffery, Beau Jest (Outer Critics nomination), Richard III, Othello. Recent Regional Credits: My Paris (Long Wharf), Irma Vep (BTG), Yoshimi Battles the Pink Robots (La Jolla Playhouse), Kiss Me, Kate (Reprise!, Muny), Private Lives and Travesties (Long Wharf, CT Critics Circle Award), Compleat Female Stage Beauty (Old Globe), Zhivago and Dracula; The Musical (LaJolla Playhouse), Uncle Vanya (Arena Stage), Racing Demon and Blithe Spirit (Guthrie), Antony and Cleopatra (Shakespeare Theater). Performances throughout Japan, Europe, and the U.S. with the Suzuki Company of Toga. T.V. and Film: Law and Order, Frasier, All My Children, and Julie Taymors' Fools' Fire. Tom is a native of Montana.
AFO believes in seeking the universal in the individual. Now in its sixth year, All For One Theater (AFO) remains dedicated to developing and producing extraordinary solo theater and creating sustaining careers for solo artists. AFO productions have played Off-Broadway at numerous theatres, including 59E59, Theatre Row, Cherry Lane Theatre, Wild Project, Rattlestick Playwrights Theater, and internationally at the Edinburgh Fringe Festival. In 2016, AFO launched its touring initiative to bring solo shows to stages across America and around the world. It also created the AFO Solo Collective (AFO|SoCo) to nurture and develop some of the brightest writing, performing, and directing talent in the solo world, providing opportunities to workshop projects in all stages of development. Their two-year Artist in Residence (AIR) program supports a single artist with one big idea, developing their work with invited audiences and culminating in the staging of a new full-length play. More information at afo.nyc.

Related Articles View More Off-Broadway

Stories

Shows
More Hot Stories For You