BWW Review: THE UNDERTAKING at 59E59 is an Inventive Take on Mortality
"I'm probably terrified of dying, isn't everyone?"
from The Undertaking
The Undertaking is now being performed at 59E59 Theaters through February 4. Presented by The Civilians, the show is written and directed by Steve Cosson with creative collaboration and psychopomp guidance by Jessica Mitrani. The piece is drawn from a multi-year exploration on the subject of human mortality. There's no other show like it. The two-hander explores matters that people must confront in a totally inventive way.
In the show, Steve is creating a script for his latest project "The Visibility of Death." As part of the endeavor, he conducts recorded interviews including one with a notable artist, Lydia at her studio. Lydia is quick to recognize Steve's personal anxiety over end-of-life issues as he speaks about his mother who has MS. Together the two begin a meaningful dialogue to address some haunting questions about sickness, suffering, and the mystery of death. In doing so, they embark upon a revelatory journey.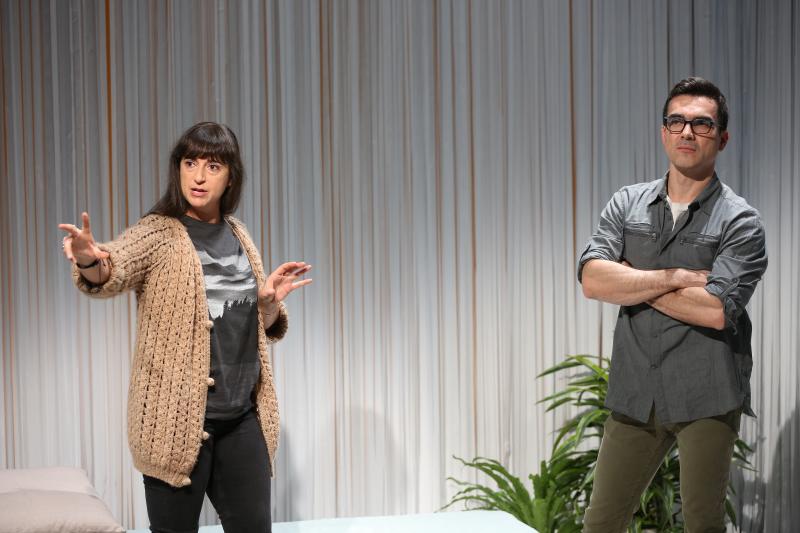 The cast features Dan Domingues as Steve/others and Aysan Celik as Lydia/others. As the two actors portray Steve and Lydia, they also assume roles for a number of people, the "others," who lend first person accounts on subjects like hospice care, and HIV. Both Domingues and Celik make seamless character transitions that bring fascinating perspectives to the show.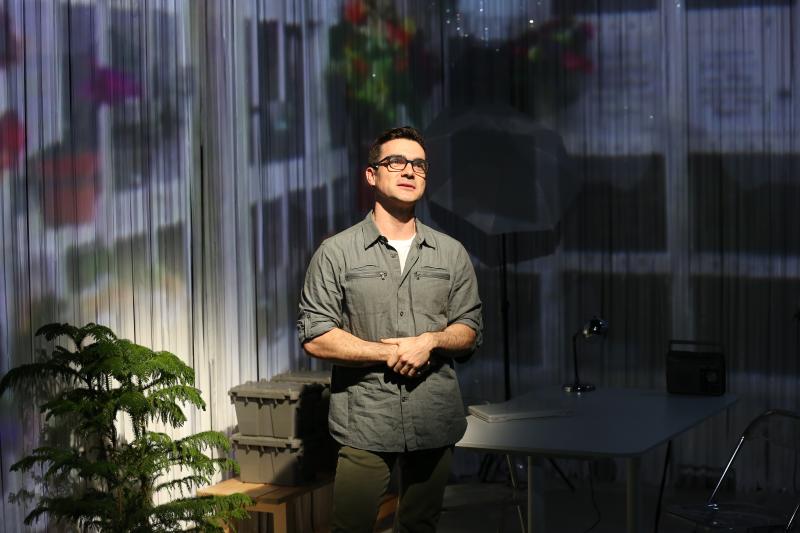 The Design Team has done a great job in creating the scene for The Undertaking. The setting is bright and modern and includes state of the art graphics that serve to contrast the sometimes dark subject matter. The Team includes set and costume design by Marsha Ginsberg; lighting design by Thomas Dunn; sound design by Mikhail Fiksel; and projection design by Tal Yarden. The stage manager is Geoff Boronda.
The Undertaking presents the subject of mortality in an informative and even entertaining manner. It takes a topic that people are often hesitant to deal with and makes it entirely approachable. This is a show that should be experienced.
The Undertaking will be performed for a limited engagement through Sunday, February 4 at 59E59 Theaters (59 East 59th Street, between Park and Madison Avenues). The show runs for 90 minutes with no intermission. The performance schedule is Tuesday - Friday at 7:15 PM; Saturday at 2:15 PM & 7:15 PM; Sunday at 2:15 PM. Single tickets are $25 - $35 ($24.50 for 59E59 Members). To purchase tickets, call Ticket Central at 212.279.4200 or visit http://www.59e59.org/.
Photo Credit: Carol Rosegg