BWW Review: OLD STOCK: A REFUGEE LOVE STORY-An Emotive Show for Our Times, Wonderfully Performed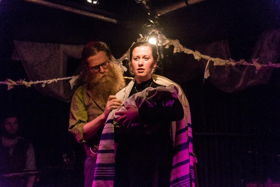 "After all, we all come out of the same box."
By The Wanderer in Old Stock: A Refugee Love Story
59E59 Theaters is now presenting the US premiere of Old Stock: A Refugee Love Story. There's no other production like it. Compelling storytelling and outstanding music bring to life the stirring tale of two people who are struggling against the odds. It is created by Hannah Moscovitch, Ben Caplan, and Christian Barry; written by Hannah Moscovitch; directed by Christian Barry; with songs by Ben Caplan and Christian Barry. Produced by the Nova Scotia based 2b theatre company, Old Stock: A Refugee Love Story will be performed for a limited engagement through Sunday, April 22. See this remarkable show while you can.
Old Stock: A Refugee Love Story is inspired by the real life story of Jewish refugees who immigrated to Canada in the early 1900's. In the show, Chaim meets Chaya when they arrive in Halifax after experiencing the ravages of war in their home country of Romania. Chaim is immediately attracted to Chaya, but she has been widowed and seems disinterested in him. Yet, when they both relocate to Montreal, they encounter each other again and are soon married. The show traces the ups and downs of their lives through music and a narrative by "The Wanderer."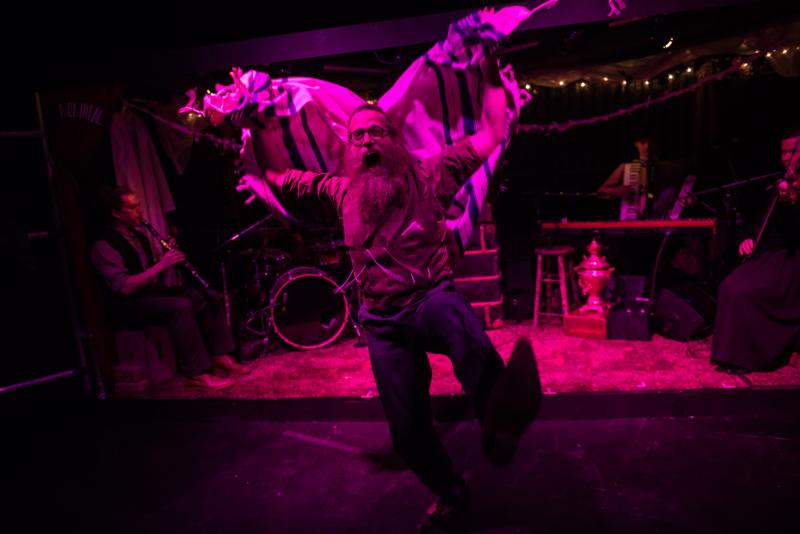 Ben Caplan, the renowned singer and songwriter appears in the role of The Wanderer. Caplan's spirited performance displays his amazing versatility as a musician and a storyteller. Mary Fay Coady as Chaya and Jamie Kronick as Chaim bring genuine depth and some humor to their roles. Excellent musical accompaniment is provided by Mary Fay Coady on violin, Jamie Kronick on woodwinds, Graham Scott on keyboard and accordion, and Jamie Kronick on percussion.
The memorable numbers in the score include the opening song, "Traveler's Curse" written by Geoff Berner, "Truth Doesn't Live in a Book," "The Happy People" written by Danny Rubenstein, and the lovely lullaby "Now is the Quiet."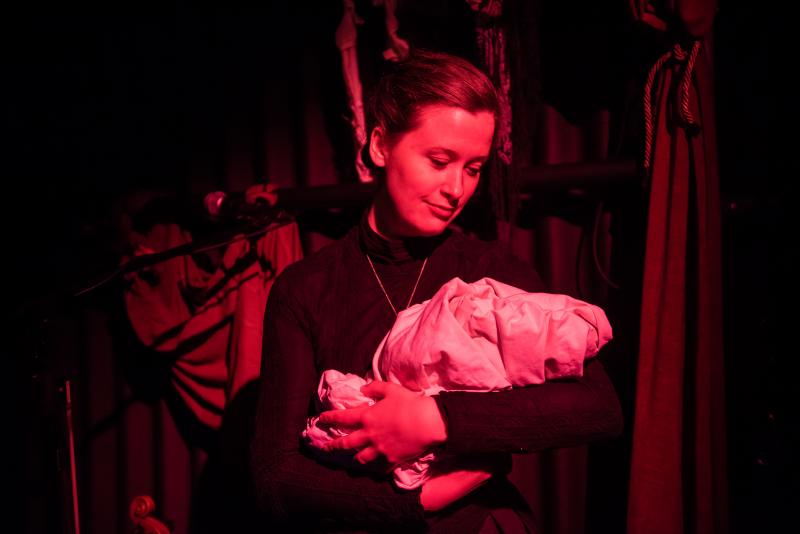 The design team has done a great job of bringing Old Stock: A Refugee Love Story to the Upper East Side stage. They include set design and lighting design by Louisa Adamson & Christian Barry; costume design by Carly Beamish. The Voice and Speech Coach is Susan Stackhouse; Production Stage Manager is Louisa Adamson.
Old Stock: A Refugee Love Story is an enthralling story for our times. Chaim and Chaya's enduring faith and hope for the future are the values held by millions of people whose lives have been devastated by war and are forced to seek new homes. Experience this unique theatrical marvel.
Old Stock: A Refugee Love Story run time is 80 minutes with no intermission. The performance schedule is Tuesday - Friday at 7 PM; Saturday at 2 PM & 7 PM; and Sunday at 2 PM. Please note, there will be no performance on Friday, March 30 at 7 PM. Performances are at 59E59 Theaters (59 East 59th Street, between Park and Madison). Single tickets are $25 - $70 ($25 - $49 for 59E59 Members). Tickets are available by calling Ticket Central at 212.279.4200 or online at http://www.59e59.org/.
Editor's Note: "Old Stock," the album will be out on June 15, 2018. Visit www.bencaplan.ca/59E59 for a free download from the album and discount pricing.
Photo Credit: Stoo Metz Photography