BWW Review: MOTHER NIGHT at 59E59 Theaters is an Excellent Play Full of Intrigue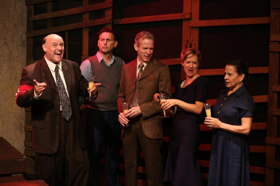 The New York City premiere of Mother Night, based on the 1962 novel by Kurt Vonnegut is now being performed at 59E59 Theaters through November 3. This riveting story has been superbly adapted and directed by Brian Katz. It features a talented cast that brings Vonnegut's intense tale of romance, deception, and Anti-Semitism to the stage.
Mother Night depicts the fictional memoirs of Howard W. Campbell Junior. Campbell is an American who moved to Germany as a youth and later became a Nazi propagandist working directly under Joseph Goebbels. As Campbell awaits his trial in an Israeli prison for war crimes, he writes his complex personal story. It recounts his work for the Third Reich and his passionate love for his wife, Helga. He also tells of working as radio broadcaster and a double agent for the Allies with his "Blue Fairy Godmother," Wirtanen; his friendship with the lonesome artist, Kraft; and his relationship to an American white nationalist, Jones. This captivating drama has many twists and turns as it follows Campbell from Germany to his apartment in Greenwich Village, New York, and to Israel for his trial. Campbell, a "conflicted nazi" leads a duplicitous life with unexpected consequences.
Gabriel Grilli as Campbell leads the show's very accomplished cast. The other members of the troupe seamlessly assume multiple parts to round out the story. They include Andrea Gallo as Wirtanen/ensemble; Trish Lindstrom as Helga/ensemble; Matthew Van Oss as Epstein/Ensemble; Eric Rice as Jones/ensemble; Dave Sikula as Kraft/ensemble; and Dared Wright as O'Hare/ensemble. The company masters each of their roles maintaining the drama and suspense of the story.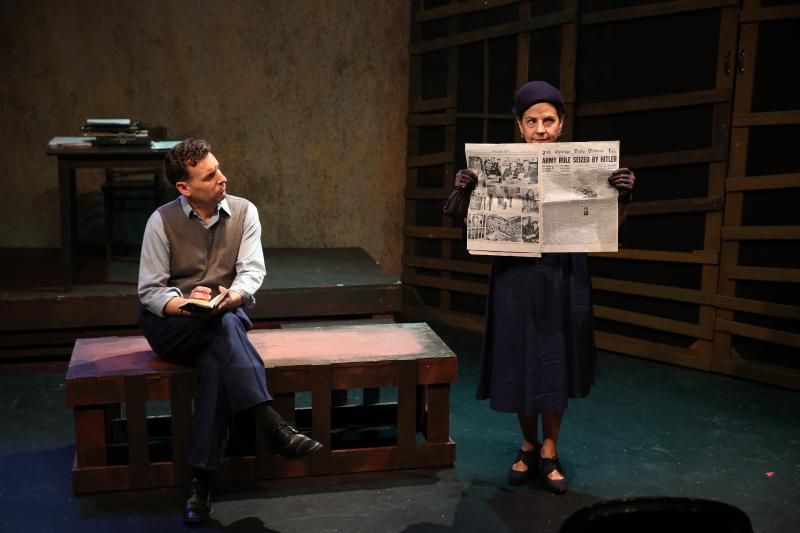 The design team has done a great job of bringing Mother Night to the stage. They include scenic design by Daniel Bilodeau; lighting design Adam Gearhart; costume design by Zoë Allen; original music and sound design by Julian Evans; and properties design by Stephanie Dittbern. The Production Stage Manager is Aliyah Nissim.
Mother Night is an important play for our times. It exposes the horrors of war, treachery, and racism that have devastating effects on individuals. The story also poses ethical questions about people who work within a corrupt system. See it while you can!
We applaud Val Day, Artistic Director and Brian Beirne, Managing Director of 59E59 Theaters for continuing to bring relevant, exciting, and important productions to the Upper East Side performance venue.
Mother Night is produced by The Custom Made Theatre Company with Executive Producers William & Ruth Isenberg and Leah Abrams, and Producer Jay Yamada. The show runs for 2 hours and 15 minutes with one ten-minute intermission. It will be on stage for a limited engagement through Sunday, November 3. The performance schedule is Tuesday - Friday at 7:15 PM; Saturday at 2:15 PM & 7:15 PM; Sunday at 2:15 PM. Performances are at 59E59 Theaters (59 East 59th Street, between Park and Madison Avenues). Single tickets are $25 - $35 ($24.50 for 59E59 Members). To purchase tickets, call Ticket Central at 212.279.4299 or visit http://www.59e59.org/.
Photo Credit: Carol Rosegg
Related Articles View More Off-Broadway

Stories

Shows