Review: I CARRY YOUR HEART at 59E59 Theaters Takes Audiences on Important Personal Journeys
The New York premiere of I Carry Your Heart, written by Georgette Kelly and directed Cate Caplin is now being performed at 59E59 Theaters.
"I thank you for sharing that life with me, for saving my life."
By Tess in I Carry Your Heart
The New York premiere of I Carry Your Heart, written by Georgette Kelly and directed Cate Caplin is now being performed at 59E59 Theaters. This important show shines a light the subject of organ donation from multiple perspectives. There has never been a better time to see it. April is National Donate Life month, a grassroots campaign in our country to raise awareness of this life saving issue.
The play portrays two families that are connected through organ donation. Debra is a renowned novelist who has died suddenly leaving behind the life-giving gift of organ donations. Her daughter, Phoebe is a young woman and an aspiring poet who has been estranged from Debra for several years. Debra has left a personal memoir for Phoebe that explains moments of her life that were never discussed. As Phoebe struggles to deal with the reality of her mother's death, she also learns from the journal truths about her life. Meanwhile, Tess' health is failing as she waits for a donor heart along with her partner, Lydia and young adult son, Josh. When the call comes that Debra's heart is available, Tess and Lydia rush off to the hospital for the critical surgery. It is during these tense and difficult days that an empathic and thoughtful doctor Blake becomes romantically involved with Phoebe and also attends to Tess in the hospital. This realistic story provides an intimate view of the characters and how their lives are affected by organ donation. It also demonstrates the delicate relationship between the organ donor and the recipient.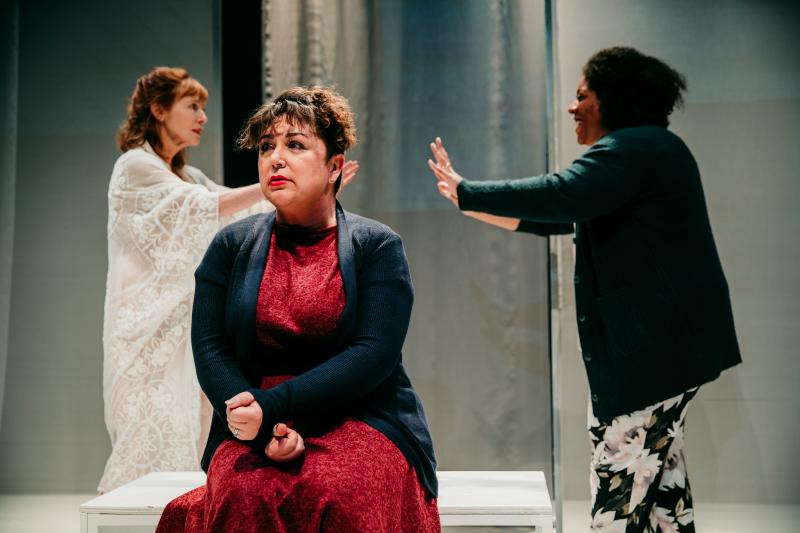 The talented cast features Dey Young as Debra Wilder; Rebi Paganini as Phoebe Wilder; Nico Piccardo as Blake; Nicole Paloma Sarro as Lydia; Dana Scurlock as Tess; and John Anthony Torres as Josh. To bring the memorable story to life, the actors portray their characters with just the right amount of passion and affection for each other. There are captivating scenes that include Debra's presence as Phoebe reads her memoir; the first meeting of Blake and Phoebe; Josh listening to the player piano for comfort in the hospital; Tess in recovery after the surgery and her visit from Lydia; Tess dictating a letter to Blake meant for her donor's family; and Debra and Tess together.
The Creative team has done a top job of bringing the show to the stage. They include set design by Justin Swader and Christopher Swader; costume design by Emily White; lighting design by Cha See; projections design by Lauren Parrish; and original music and sound design by Andy Evan Cohen. The Production Stage Manager is Mary Cate Mangum and the Assistant Stage Manager is Taylor Jo Poer.
I Carry Your Heart takes audiences on an emotional journey through family relationships, end of life issues, and hopes for the future. For those who are familiar with the love poem by E.E. Cummings, "i carry your heart," there are beautiful and moving references to it that make the story even more meaningful. This is a show that should be seen and talked about.
Val Day, Artistic Director and Brian Beirne, Managing Director have partnered with LiveOnNY one of the largest organ procurement organizations in the country, to lead post-show discussions around organ donation following performances of I Carry Your Heart. For more information on LiveOnNY, please visit https://www.liveonny.org/.

I Carry Your Heart is produced by Athena Theatre. It runs for 1 hour and 40 minutes with no intermission. The performance schedule is Tuesday - Friday at 7:30 PM; Saturday at 2:30 PM & 7:30 PM; Sunday at 2:30 PM. Performances are at 59E59 Theaters (59 East 59th Street, between Park and Madison Avenues). Single tickets are $25 ($20 for 59E59 Members). To purchase tickets, call the 59E59 Box Office at 646-892-7999 or visit https://www.59e59.org/.
Photo Credit: Sehee Kim