Review: Cynthia von Buhler's Entrancing Immersive Adventure THE GIRL WHO HANDCUFFED HOUDINI
It was October 31st, 1926 when the world famous escape artist Harry Houdini succumbed to the one thing in life that's inescapable, and every year since, believers hold seances on Halloween night, anticipating his return.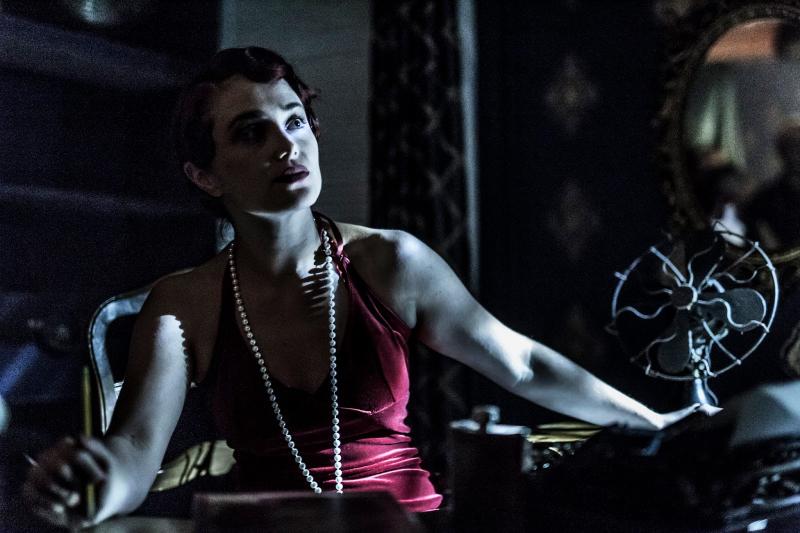 Short of a ghostly visit from the man who thrilled audiences by freeing himself from chains, straitjackets, tanks filled with water and buried caskets, the next best way to reconnect with the legendary artist is an evening at Speakeasy Dollhouse's production of Cynthia Von Buhler's entrancing immersive theatre adventure, THE GIRL WHO HANDCUFFED HOUDINI.
Based on von Buhler's same-named comic series (audience members receive a free copy of the hardcover graphic novel), the sexy and atmospheric visit to the 1920s is played in the townhouse and former speakeasy that houses Theatre 80 on St. Marks Place. Audience members are assigned characters to follow from room to room (period designs by von Buhler) as they witness scripted scenes. Nobody sees the full play in one evening, so multiple visits guided by different characters offering varying experiences.
This reviewer's group was led by Houdini himself, but before meeting the legendary gent, we were sent to the office of Woodcock & Son, Private Investigation, where the founder's frustrated daughter, Minky Woodcock (played with terrific hard-boiled smarts by burlesque artist Pearls Daily), types a letter to Agatha Christie, asking for advice on convincing her father to allow her to work for him as an investigator, instead of regulating her to secretarial work.
She's interrupted by a visit from her father's close friend, Sherlock Holmes author Sir Arthur Conan Doyle (a crusty Lord Kat). He's seeking someone to investigate into the backstage doings of Mr. Houdini, who has been making enemies of popular spiritualists by exposing them as fake. Minky convinces him to put her on the case, as the married escape artist is known for his weakness for attractive young women.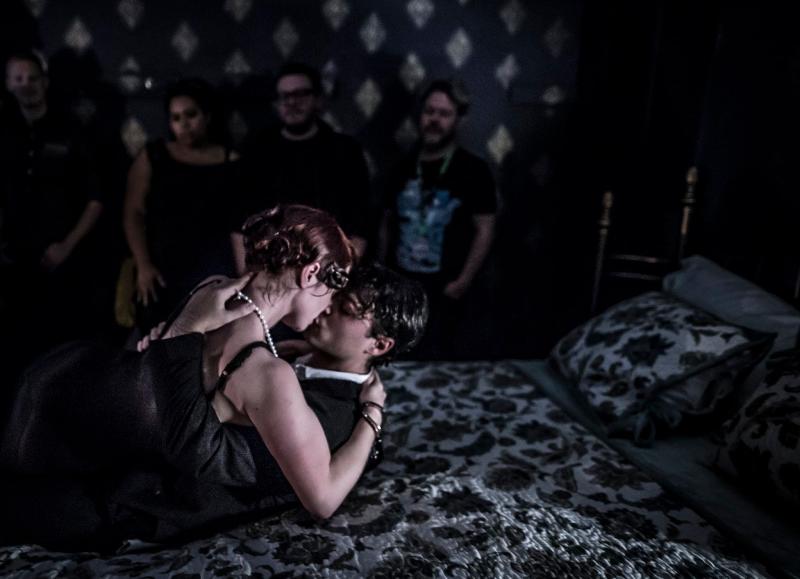 The next stop was a séance led, in the nude, by Mina Crandon, better known as the medium Margery of Boston, played with grand eccentricities by Veronica Varlow.
All audience members meet together in the auditorium where Houdini (director Vincent Cinque, oozing with masculine, Eastern European charisma) performs his famous escape from a locked tank filled with water. Minky is now his onstage assistant, replacing his wife, Bess (Robyn Adele Anderson, who sings in delightful period tones). Standing by with a sledgehammer in hand, in case something goes wrong, is muscleman Jim Collins (lovable lug Mat Leonard).
The story takes the audience to different cities on tour, leading up to an incident in Houdini's dressing room at Montreal's Princess Theatre involving three McGill University students (smarmy E. James Ford and a comical pairing of Ryan Salvato and Will Davis) that is said to have caused his death.
As immersive theatre pieces go, THE GIRL WHO HANDCUFFED HOUDINI is very well scripted and performed with great panache. Highlights of the reviewer's visit included seeing Cinque legitimately free himself from a straitjacket and scene which takes full advantage of Daily's sultry burlesque artistry when Minky seduces her boss with a teasing dance that ends with her fully nude.
And certainly, one visit to THE GIRL WHO HANDCUFFED HOUDINI could tease an audience member into attending again.