Review: AFTER at 59E59 Theaters is a Riveting and Important Drama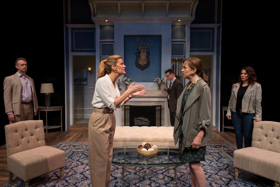 "When it comes to the well being of your child, nothing is easy."
-by Val in After
After, a powerful and profound drama, is now being performed at 59E59 Theaters through April 14. Written by Michael McKeever and superbly directed by Joe Brancato, the show features five exceptional actors. The story shines a light on bullying, its victims, and the effects that it has on families.
In After, Matthew and Kyle are high school classmates, but not friends. When Kyle sends a threatening text message to Matthew, Kyle is suspended from school for a few days. Matthew's parents, Connie and Alan Beckman are adamant that the punishment isn't sufficient. The Beckmans schedule a meeting with Kyle's parents, Tate and Julia Campbell at the posh home of the Campbell family. Julia also invites her sister, Val to attend the meeting to "mediate." The encounter is very contentious, as the Beckmans demand action be taken to protect their son, Matthew while the Campbells defend Kyle and believe that the problem will resolve itself. Shockingly, the situation between the teenage boys spirals out of control at school and a tragic event impacts the two families forever.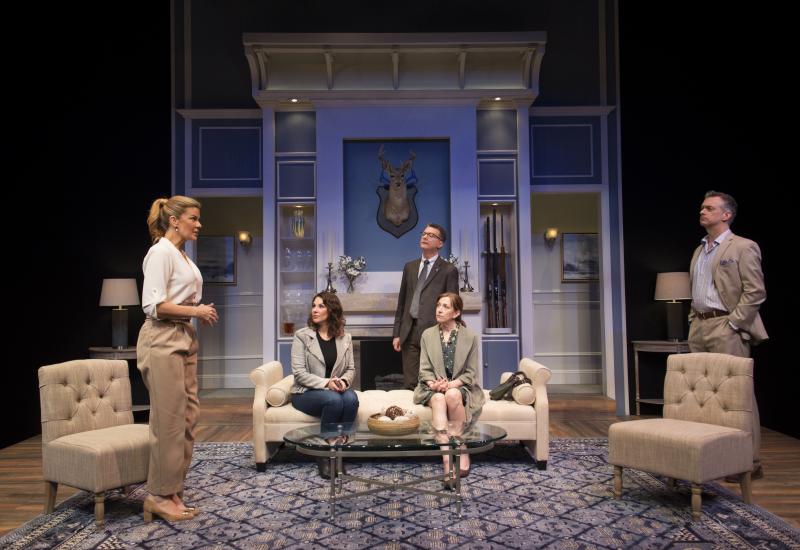 The cast masters their portrayals of parents dealing with tensions and dire circumstances. They include Denise Cormier as Connie Beckman, an indignant mother; Bill Phillips as Alan Beckman, a father seeking justice; Jolie Curtsinger as Val Wallace, the voice of reason; Mia Matthews as Julia Campbell, a well intentioned, avid perfectionist; and Michael Frederic as Tate Campbell, an aloof and busy professional man. The company seamlessly delivers McKeever's finely crafted dialogue and captures their characters' distinct personalities.
The design team has done a great job of setting the scene for After. They include scenic design by Brian Prather; lighting design by Martin E. Vreeland; costume design by Gregory Gale; and original music and sound design by William Neal. Production Stage Manager is Michael Palmer
After is a timely and cautionary tale about the prevalence of bullying and its potential consequences. You don't have to be a parent to relate to this story and be moved by gravity of this issue. See this important production while it is on the Upper East Side stage.
Produced by Penguin Rep Theatre and InProximity Theatre Company, After is being performed for a limited engagement through April 14. The running time is 85 minutes with no intermission. The performance schedule is Tuesday - Friday at 7 PM; Saturday at 2 PM & 7 PM; and Sunday at 2 PM. Performances are at 59E59 Theaters (59 East 59th Street, between Park and Madison). Single tickets are $25 - $70 ($49 for 59E59 Members). To purchase tickets, call the 59E59 Box Office at 646-892-7999 or visit https://www.59e59.org/. The running time is 85 minutes with no intermission.
Photo Credit: John Quilty Photography
Marina P. Kennedy's writing career led her from freelancing opportunities in New Jersey and New York to writing for Broadwayworld.com where she covers entertainment, the culinary scen... (read more about this author)
CAMELBACK RESORT in Tannersville, Pa. Announces Exciting Season Ahead

December 2, 2022

Camelback Resort, an award winning 560-acre Pocono Mountains resort known for its stellar line up of snow sports, will usher in the 2022-2023 winter season this December with a spate of innovative upgrades and new activities for the entire family.
---
Tequila Cazadores Unveils First-Ever Estate Release

December 1, 2022

Tequila Cazadores, one of the most popular premium tequilas in Mexico and the United States, has unveiled Tequila Cazadores 100 Year Estate Release.
---
Review: THE GOAT by David Burke in Union Beach, NJ Excites and Delights

November 30, 2022

We want our readers to know about a fabulous restaurant along the New Jersey Bayshore in Union Beach. The Goat by David Burke is ideal for the area whether you work, live, or plan to visit the Jersey shore. 
---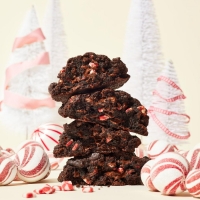 LEVAIN BAKERY Presents Dark Chocolate Peppermint Cookies for the Holiday Season

November 28, 2022

We want our readers to know the exciting news about the brand-new limited edition cookie from the iconic Levain Bakery, Dark Chocolate Peppermint!
---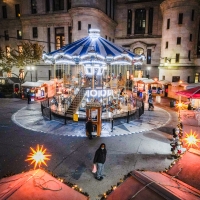 CHRISTMAS IN PHILLY with Christmas Village, Markets and Shopping – Over 40 Exciting Events and Dining Opportunities

November 28, 2022

Looking for a festive day trip or weekend excursion?  Then plan your visit to fabulous Philadelphia.  Check the many events that make the holidays shine bright in the City of Brotherly Love!
---