ATTACK OF THE ELVIS IMPERSONATORS to Leave the Building This Month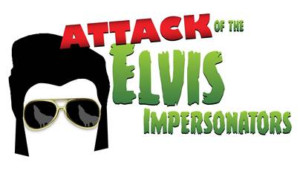 Elvis is leaving the building! Producer Lawrence Rosner has announced, today, Attack of the Elvis Impersonators, the campy musical comedy that leaves you howling for more, with book, music and lyrics by Lory Lazarus, will play its final performance Sunday evening, July 30, 2017 at 7:30 p.m. at The Lion Theatre at Theatre Row (410 West 42nd Street, between 9th & 10th Avenues) where performances began June 1, 2017. At closing Attack of the Elvis Impersonators will have played 14 preview and 49 regular performances.
From Lory Lazarus, the writer of "Courage, the Cowardly Dog," Attack of the Elvis Impersonators is a rollicking and uplifting new musical comedy featuring an original score, swooning fangirls, a supervillain, world peace, a social media star, a love story...and of course, the spirit of Elvis!
When Drac Frenzie, a burnt-out world famous heavy metal icon decides to save himself from self-destruction by impersonating Elvis, an amazing thing happens -- which leads him to not only saving himself, but also the world.
Directed by Broadway veteran Don Stephenson, with choreography by Melissa Zaremba, and arrangements and orchestrations by Benjamin Rauhala, the cast features Eric Sciotto as Drac Frenzie, Laura Woyasz as Prissy Bordeaux, and Curtis Wiley as Matt Shadow, with Michael Biren, Jim Borstelmann, Jesse Carrey-Beaver, Badia Farha, Warren Kelley, Jeff Kready, Whit K. Lee, Alexandra Palkovic, Emily JeAnne Phillips, Catherine Walker, and Jayme Wappel.
The creative team includes Paul Tate DePoo III (set), Tracy Christensen (costumes), Travis McHale (lights), Josh Liebert (sound), Shawn Duan (projections), Shulamit Lazarus (dramaturg), and Michael Cassara (casting director). The music team includes Kelly Thomas (music director) with Jeremy Yaddaw, Steve Marks, Mark McCarron. The Production Stage Manager is Jaimie Van Dyke. General Management is Rachel Esman of DTE Management. Ryan Conway serves as Executive Producer.
For more about the show, visit www.elvisimpersonatorsmusical.com.
Related Articles
More Hot Stories For You