8th Annual Clive Barnes Awards Arrive at Lincoln Center's Walter Reade Theater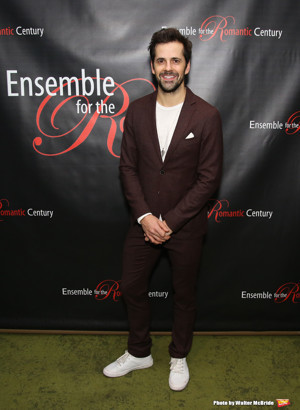 As the weather begins to warm up the top of next week, providing a break from the unusually harsh winter weather NYC has been experiencing, the Clive Barnes Foundation will return to The Walter Reade Theater at Lincoln Center for the 8th annual Clive Barnes Awards on Monday, January 8, 2018 at 3:00pm.
This year's Theater Award will be presented by Tony Award-nominee and former New York City Ballet Principal DancerRobert Fairchild (An American in Paris), while this year's Dance Artist Award will be presented by international ballet star David Hallberg.
The finalists for this year's Theater Award include Evan Ruggiero (Bastard Jones), Elena Wang (Bastard Jones), and Grace Van Patten (Whirligig). The winner will be announced during the ceremony on Monday.
This year's Dance Artist Award will be given to Gemma Bond, a shining light of unique choreographic talent, who will also be honored during the ceremony.
All finalists receive a cash prize, while the winners will receive an award of $5,000.
Past presenters have included Joel Grey, Annaleigh Ashford, Wendy Whelan, Susan Stroman, Frederic Franklin CBE, Cherry Jones, Paloma Hererra, Rob McClure and Nina Arianda. Previous winners are Chase Finlay (2010, Principal with New York City Ballet), Nina Arianda (2010, Venus in Fur, Tony Award-winner), MJ Rodrigues (2011, RENT), Isabella Boylston (2011, Principal with American Ballet Theatre), Rob McClure (2012, Chaplin, Tony Award-nominee), Lauren Lovette (2012, Principal with New York City Ballet), Jonny Orsini (2013, The Nance, Fish in the Dark), Lloyd Mayor (2013, Martha Graham Dance Company), Russell Janzen (2014, Principal for New York City Ballet), Alex Sharp (2014, Curious Incident of the Dog in the Nighttime, Tony Award-winner), Gabe Stone Shayer (2015, American Ballet Theater), Dave Thomas Brown (2015, The Legend of Georgia McBride), Khris Davis (2016, The Royale), and Indiana Woodward (2016, New York City Ballet).
The finalists and winners for the dance and theatre awards are chosen by the Selection Committee, which is comprised of a panel of critics and performers in each field. This year's Selection Committee for the Clive Barnes Award includes William H. Ausman, Siobhan Burns, Diana Byer, Pia Catton, Frank DiLella, George Dorris, Barbara Hoffman, Arthur Mitchell, Patrick Pacheco, James Sutton, and Valerie Taylor-Barnes.
THE CLIVE BARNES AWARD
Throughout his professional life, Clive Barnes was caring and generous to his colleagues and friends; always ready to advise and listen. After his death, many condolence letters spoke of his generosity and practical help, especially to young people. In this spirit, The Clive Barnes Foundation was formed in 2009 to create Annual Awards giving recognition, encouragement, and financial support to two talented young professionals and, thus, honoring the memory of the many years of critical work and the warm personal generosity of Clive Barnes.
The Foundation gives an Annual Award to two talented young professionals in the artistic fields of dance and theatre.
The Clive Barnes Foundation Board of Directors includes Valerie Taylor-Barnes (President), William H. Ausman (Vice President), Charles Askegard, George Dorris, Anthony Ferro, Paloma Herrera, Holly Jones, Michelle Mathesius, Lloyd Mayor, Arthur Mitchell, Michael Riedel, Spring Sirkin, and Craig Wright.
Photo Credit: Walter McBride / WM Photos
Related Articles View More Off-Broadway

Stories

Shows
More Hot Stories For You