7Devils New Play Foundry Announces Hybrid Playwrights Conference
Featuring virtual and "live in McCall" workshops; Zoom readings of new plays featuring theater artists from across the country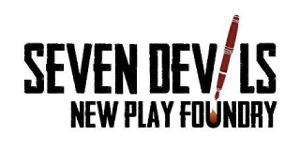 Just as people and businesses around the country begin to open their doors to the warmer weather and to actual customers, Seven Devils opens its 2021 Playwrights Conference: a hybrid event.
With both virtual and "live in McCall" workshops; Zoom readings of new plays featuring theater artists from across the country; and a high school program supporting students at McCall-Donnelly High School, Seven Devils is opening to a both/and conference.
"The decision to go hybrid wasn't easy, but it made sense," says Seven Devils Managing Director Paula Marchiel. "As much as we're eager to get back into the theater, it's a bit too early to transport a large group of artists from all over the country to McCall."
The 2021 Conference will feature free online readings of four plays selected from more than 650 submissions: The Body's Midnight by featured playwright Tira Palmquist (CA), Crying on Television by R. Eric Thomas (PA), Body+Blood by Shannon TL Kearns (MN) and Good Enemy by Yilong Liu (a Chinese playwright now living in New York.)
Each play in the Conference will go through a three-week development process. Week one includes a virtual design meeting with 2021 company designer Julia Hayes Welch (WA). The rehearsal process with company actors, directors, and other theater artists finish out the last two weeks over four time zones.
The Conference will also offer a free playwriting workshop led by 2021 featured playwright Tira Palmquist. An award-winning playwright whose work has been seen from coast to coast, Palmquist's plays includes Two Degrees, The Way North, The Worth of Water and Ten Mile Lake. This will be Palmquist's third time at the Conference as a playwright.
In partnership with Boise's Campfire Theatre Festival, the Conference will include two in-person workshops in McCall, Idaho. Founded in 2017, Campfire's festival of readings and workshops has already made a significant contribution to Idaho's cultural landscape. Campfire artists will also participate in Seven Devil's high school mentorship program.
"This is the most diverse cohort of playwrights we've ever worked with," says Producing Artistic Director Jeni Mahoney. "They are from around the country, even around the world, and they are going to take us on some amazing journeys together."
Learn more at https://www.sevendevils.org/the-2021-conference.html.