11 Marvelous Theatrical Happenings from 2017
I'm grateful for the grand feats of woke escapism that took over New York venues this year. Parallels with the disastrous political and climate change were unavoidable: The most noteworthy ensembles were those dealing with the fallout from those in power. The richest narrative gifts were found by suspending belief in preconceived narratives and embracing the weird.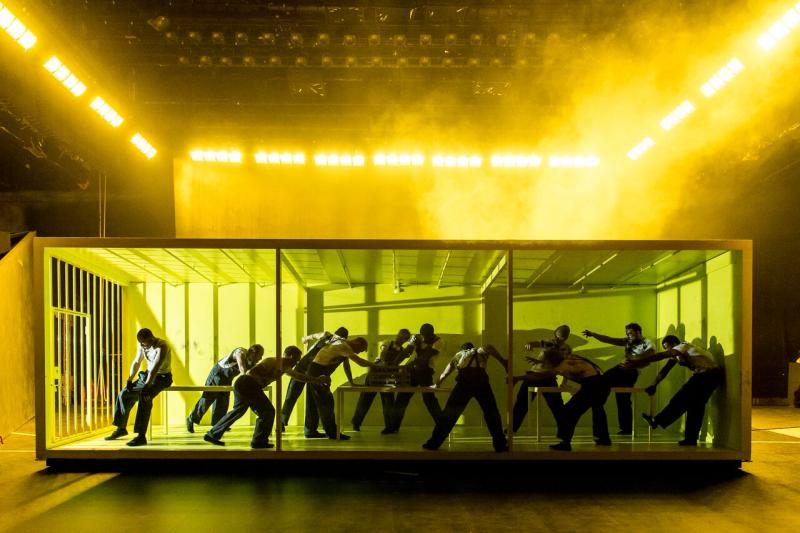 The Hairy Ape
Park Avenue Armory and Old Vic London
A classic play on an operatic scale, Richard Jones's maximized production of Eugene O' Neill's class-pulverizing masterpiece left unceasing awe among the yellow risers of the Armory from the first rotate of Stewart Laing's glorious set: a cage containing a rowdy ensemble of dangerous masculinity. The physical demands of the production are staggering with actors running football fields and executing Aletta Collins's demanding choreography. At the center of the Olympic ensemble work was Bobby Cannavale as the monstrous Yank. His journey for fulfillment after a savage browbeating by an heiress (the commanding Catherine Combs) was a full-scale adventure that utilized the Armory to its inspiring potential.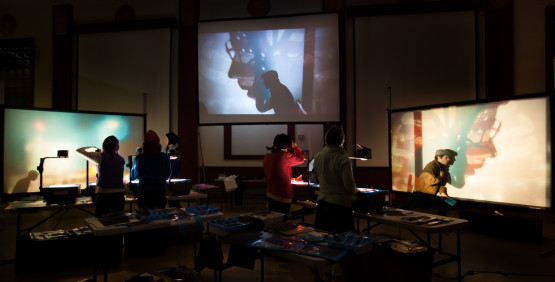 Lula Del Rey/Mementos Mori
Manual Cinema at The Public Theater and BAM
The Chicago-based Manual Cinema spoiled New York with two tours from their repertoire. Lula Del Rey started the theatrical year off with a simple story of a young girl running away to the big city to see her rock star crush. She and the audience are swept away by the antic-heavy cityscape that Drew Dir, Sarah Fornace, and Julia Miller created through the company's unique approach to storytelling: performers on overhead projectors constructing each frame of the story in stunning detail through silent acting and puppetry. Their method is put to the test in the narratively ambitious Mementos Mori (under the contained direction of Miller) which features many subplots around the disorder caused by Death getting an upgrade. With tight choreography by Sarah Fornace and live music by Kyle Vegter, every frame of the cinematic narrative is richly told.
Bushwig
The Knockdown Center
Horrochata's yearly festival of drag performances brought together the queer community of New York and beyond with back to back to back performances totally of the now: a contemporary festival Dionysia. Standout showsshowsshows included Mini Horrorwitz's Inglorious Bastards/Britney Spears mashup giving Anne Frank a new story, West Dakota's fierce turn as a lonesome Japanese body pillow come to life, Chris of Hur's groundbreaking performance of Dolly Parton's version of "Lay Your Hands on Me" which allowed the entire Knockdown Center to reach out and touch them, Miz Jade's stirring dance to Solange's "Don't Touch My Hair," and the peerless mover/shaker Neon Calypso enacting Ashley Haze's ode to Missy Eliot. Witty hosts like Thorgy Thor, Charlene (the well deserving winner of Ms. Bushwig) and Daphne Always (née Sometimez) framed the marathon of the fabulous and political. The festival is an essential theatrical event and a reminder that the most daring New York performances are happening in your local Brooklyn gay bars.
Spongebob Squarepants: The Broadway Musical
The Palace Theatre
Tina Landau's vision for her Spongebob musical had some of the most innovative staging vocabulary I've ever seen. Taking kitschy cues from the cartoon, Spongebob and pals are able to climb a cardboard volcano, stretch great lengths, and skateboard and sing to a rocking score by a buffet of popstars (personal faves include David Bowie's "No Control," They Might Be Giants's "I'm Not a Loser" and Sara Bareilles's "Poor Pirates") under the music direction of Julie McBride (who also gives the best comedic performance of a Music Director ever). The eclectic score is tied together by Tom Kitt's arrangements and inventive choreography by Christopher Gattelli. All of nautical nonsense looks totally awesome on David Zinn's set and in Zinn's imaginative (genderfluid!) costumes. Furthermore, Kyle Jarrow's book is constantly funny with dark link ups to the real world with the citizens of Bikini Bottom giving into fear-based politics: Spongebob is the wokest new musical of the year. As Spongebob himself, Ethan Slater is giving all the ocean depth you could ask of an invertebrate with a karate grip of physical and vocal comedy. The gauntlet for media giants adapting the unadaptable for Broadway has been thrown.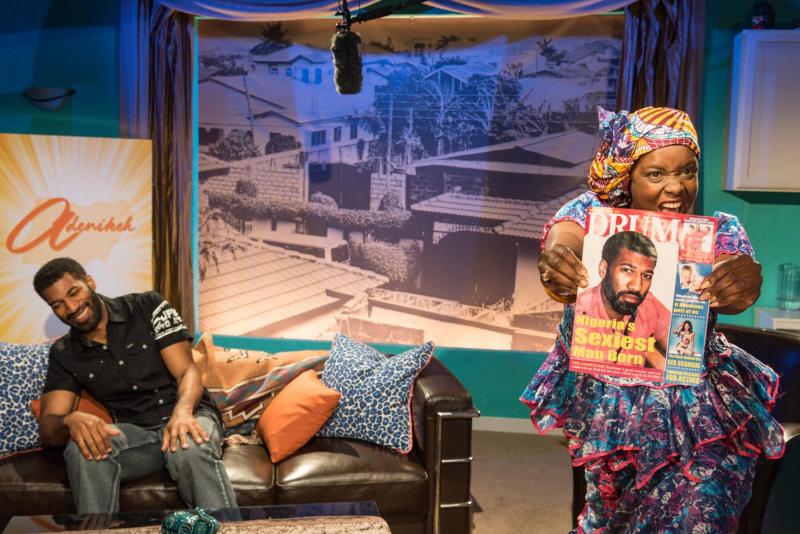 Nollywood Dreams
Cherry Lane Theatre Mentor Project
Jocelyn Bioh cemented herself as one of the funniest forces in theatre. Her Nollywood Dreams is a Cinderella story of an earnest travel agent (a winsome Nyahale Allie) who climbs to the top of the Nigerian film industry. Bioh's lens is empathetic with each character's grasp for fame fully formed, with a steamy romance-novel of a love story between humble Ayamma and hunky Wale (Washington Kirk). It's also the funniest play I saw this year. Saheem Ali's resourceful direction took the audience through the auditions, TV interviews, and set for "The Comfort Zone" (the play's film in production) without ever leaving Ayamma's office. The entire ensemble including Dorcas Sowunmi as Adenikeh, an endearingly aggressive talk-show host, brought the audience to near tears. After all the clawing and scandal, the fruits of the toil are revealed in The Comfort Zone trailer filmed in true Nollywood style.
A Doll's House Part 2
The John Golden Theatre
A rare theatrical sequel that works, Lucas Hnath creaks open Ibsen's slammed door with a sharp glimpse into the latter life of Nora Helmer. Laurie Metcalf's resilient to a fault Nora was a wonder to watch. Her neverending quest for a life truly her own was poignantly told, and with restrained staging by Sam Gold, her constant desire for freedom was echoed. Under Gold, the cast of four found every beat to explore in Hnath's vocal gymnastics: Condola Rashad achieved glorious nuance in ingenuous-by-desire Marie.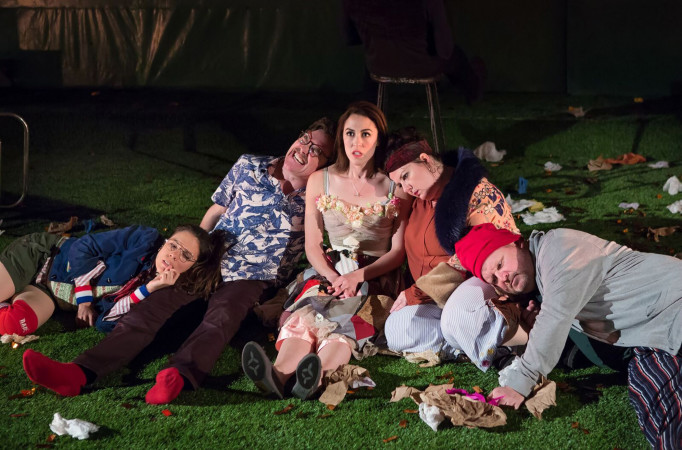 Peter Pan
Bedlam at The Duke on 42nd Street
Bedlam is the best ensemble for refracting classics. Artistic Director Eric Tucker's latest sees the Samuel French edition of J.M. Barrie's fairy tale laid bare and naughty on an astroturfed Neverland. Brad Heberlee's cock-sure Peter and Kelley Curran's wistful Wendy have explosive chemistry in a Neverland on the verge of Pleasure Island. In a brilliant conceit, Captain Hook and Smee's existence is rendered a sexual roleplay between Mrs. and Mr. Darling which climaxes in a mania of displacement from Zuzanna Szadkowski's deliciously dom Hook. And oh golly the flying! Why- just a bit of pixie dust from Susannah Millonzi's chain-smoking french-gibberish Tinkerbell and a literal reading of the flight instructions from the original script give that famous flight to Neverland more zest than any ZFX fail.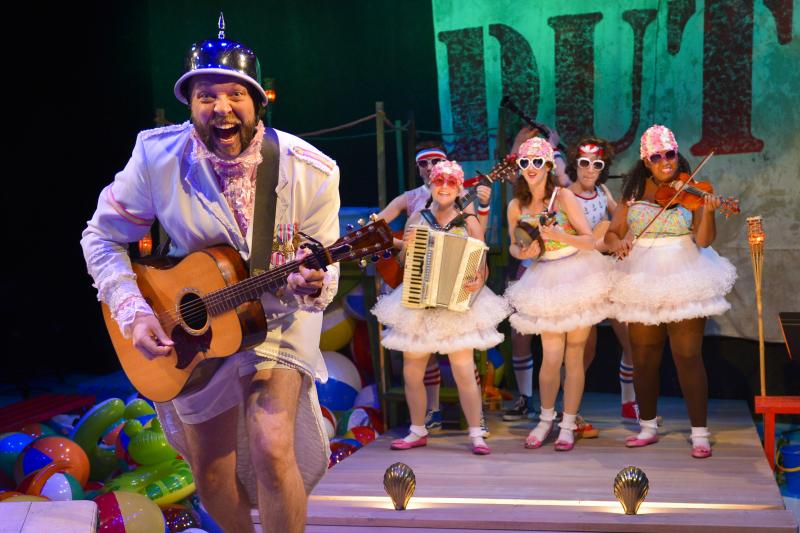 Pirates of Penzance
The Hypocrites at Skirball Center
The Chicago-based Hypocrites finally debuted in NYC with Gilbert and Sullivan's swashbuckling operetta performed with superlative irreverence for the whole family. Pirates took over the Skirball Stage on the immersive playground of a set by Tom Burch with delighted children adorning kiddie pools (shooed by actors when space was needed). The entire audience was prodded around the stage when necessary like when we were corralled in close for the main event: Matt Kahler's take on Major General's ultimate patter song. With marvelous musicality from the versatile actor-musician cast under the direction of Andra Velis Simon, the fabled score sounded just as good as any grand opera. The entire ensemble gave outstanding performances, most notably coloratura Christine Stulik playing both the gnarly Ruth and lovely Mabel, under Sean Graney's ingenious direction.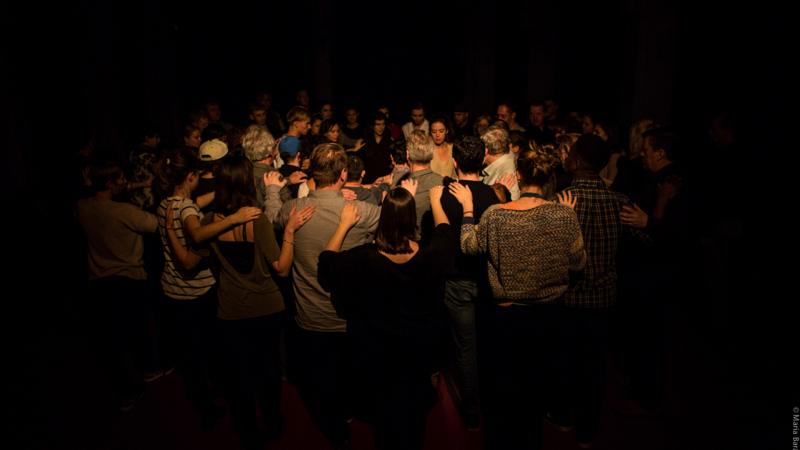 The Fever
600 Highwaymen at Under the Radar festival at The Public
600 Highwaymen weaved a simple story of trust in a small community with escalating asks of a game audience to take part. A successful experiment in responsibility, The Fever was unstoppable in its power. Watching my friend join a stunning on the fly ballet brought all the tears. And kudos to the audience member going through the pa-de-deaux of falling in and out of love with Marchant Davis with surprising chemistry. The power of trust between performer and audience has never been put to the test like this before: by the end, the entire audience literally comes together to lift someone up.
KPOP
Ars Nova in association with Ma-Yi, & Woodshed Collective

Thank the nonprofit gods for Ma-Yi, Ars Nova, and Woodshed Collective bringing the mammoth immersive musical KPOP to grand life under the direction of Teddy Bergman. Jason Kim's story of Asian identity in the context of a media hungry America is explored with wit and eye-popping detail with room after room exquisitely designed by Woodshed Collective and filled out with an awesome ensemble including Ashley Park's ultimate diva Mwe and Jinwoo Jung's fiercely patriotic Oracle. Helen Park & Max Vernon's tunes were authentically danceable and I still find myself breaking out in butchered warbles of "Shopaholic:" when can mwe get a cast recording?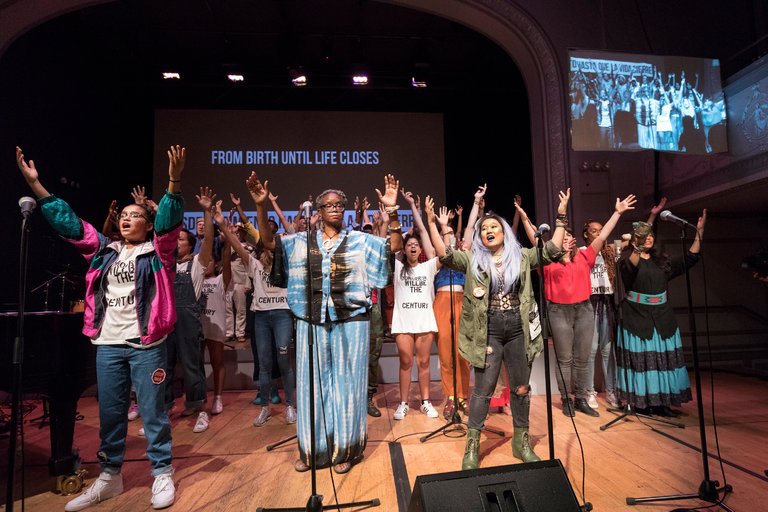 Primer for a Failed Superpower
The TEAM at Roulette
Part theatrical concert/part political rally, The Team's call to loving arms provided a dose of constructive action to our ailing country with powerful staging by Rachel Chavkin. Passionately conducted by Nehemiah Luckett and Orion Johnstone, the diverse and multigenerational ensemble compellingly performed protest chants throughout history with arrangements by a very well curated roster of composers. This including a stirring cover of Bob Dylan's "The Ballad of Hollis Brown," sung and arranged by Amy Léon. With a fired-up audience, each performance ended with an orientation on how to get involved with local groups like Opening Act, The Anti Violence Project, and Rise and Root Farm.

I also loved the heck out of Go-Go Gilgamesh, Charm, Porto, Breaking the Waves, & Groundhog Day.