BWW Review: TOMFOOLERY at the SWIFT CREEK MILL THEATRE: Sidesplitting and Resonating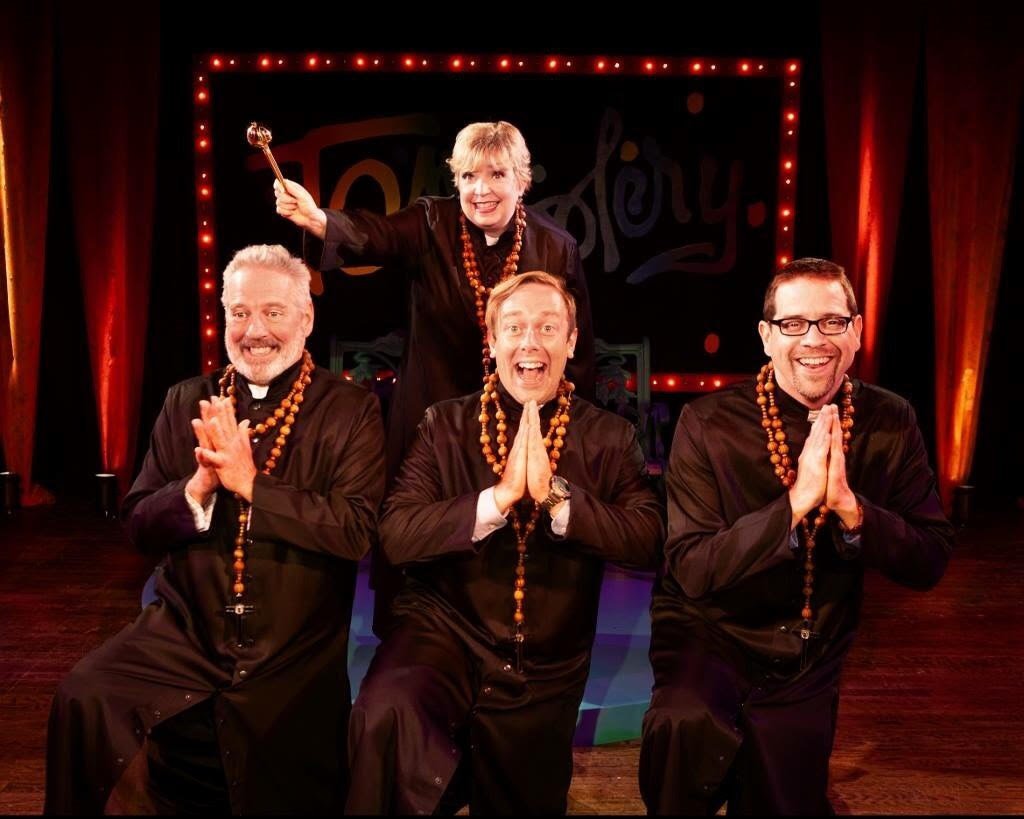 Many of my graciously attentive readers know that, apart from my humble appraisals of theatrical works staged within the Richmond/Central Virginia locale, I often buttress these diligent musings with elucidations of an historical and/or analytical nature concomitant to the play in question.
This is carried out mostly for a means of contextual simplification. And truly, this consideration has proven to be quite helpful among readers and playgoers with a relatively detached knowledge of certain theatrical works, especially if said texts originated in a time, location and/or culture foreign to their own placements.
It is with this respect wherein I begin to comment on TOMFOOLERY, the raucous and charmingly irreverent musical currently playing at the Swift Creek Mill Theatre. Regardless of the fact that the cast of four is hilariously cheeky before a solid production in aesthetic and musical terms, a given context to this particular revue is paramount to one's potential enjoyment - much of which is, thankfully, detailed through various sides spoken directly to the audience between the songs.
TOMFOOLERY's namesake belongs to Tom Lehrer, a Harvard-trained mathematician and university professor who recently turned 90 years of age. As a side hobby that gained him a brief stint of international recognition in the 1950s and 1960s, he wrote a series of highly catchy but lyrically-debasing songs which he usually performed himself, at a piano.
For me, the crux of his act was his overall demeanor: it made for a starkly ironic pageant to hear such raunchy lyrics emit from the somewhat dry and unassuming academe persona that Lehrer beautifully played. Lehrer also penned the spoken interludes between songs, popping out such zingers as:
"[...] I know that there are people who do not love their fellow man, and I hate people like that!"
Originally adapted as a musical by Robin Ray and the Cameron Mackintosh in 1980, Lehrer's songs - while some noted on the more timely norms such as the concept of "new math" or the growing hippie movement - would, more often than not, veer into the realm of the darkly bizarre. Offset by cheery, toe-tapping ditties at the scales, the subject matter ranged anywhere from "social diseases" to masochism to even that of total annihilation from a worldwide, thermonuclear attack.
And under the affectionate direction of Tom Width with musical direction provided by Paul Deiss (who, incidentally, makes for a welcome cameo soloing a tune entitled "The Old Dope Peddler"), the Mill has presented a gaudy spectacle eminently worthy of any elbow nudging and inapposite chuckling that Lehrer's music and lyrics continue to instill within those that able themselves to be receptively intrigued - which will probably include older and newer audiences all the same.
Width's set is vibrantly colored, with due complements to Maura Lynch Cravey's costumes and Joe Doran's lights. This set-up, perhaps, harkens back to the 1960s and 1970s when colorized televisions were becoming commonplace, thus comedy shows such as ROWAN & MARTIN'S LAUGH-IN or that of Johnny Carson's famous curtains utilized the use of color to an exaggerated degree. This "variety show" element is exemplified with Deiss' five-person musical ensemble sitting right on the stage, though somewhat partitioned away from the actors' antics. This could be a subtle homage to the live studio bands of, say, Milton DeLugg, Doc Severinsen, or Virginian Tommy Newsom.
And in the foreground, the actors themselves have an inexhaustible cache of hijinks that are aching to be unleashed; such piquant examples of individual moments of measure are numerous.
Bryan Harris' mastery of "The Elements," a patter song extracted right from Gilbert & Sullivan's "I Am the Very Model of a Modern Major-General," is a tour-de-force of concentration (and memorization)! And Harris, himself a music teacher at James River High School ("Go Rapids!"), plays the guitar and violin through various songs - a theatrical shtick that never ceases to enamor my sensibilities.
Richard Koch carries himself with a debonair mien of showmanship with such numbers as "Wernher Von Braun," an ode to the rocket scientist with Nazi sympathies, as well as "George Murphy": a song and dance number about an actual "song and dance" United States' Senator.
PJ Llewellyn, apart from his endless supply of comical countenances, charms his way through pieces like "My Home Town" and "She's My Girl": two songs which cover the peccadillos of some less than desirable acquaintances and loved ones.
(Also, the sight of Llewellyn playing the penny whistle up his nose is worth the price of admission for me, at least.)
And the ever-heartwarming presence (and vocals) of Debra Wagoner is always stirring, especially with her juicy characterizations in songs such as "The Irish Ballad," "Oedipus Rex," and "The Vatican Rag."
With these four actors always on par, TOMFOOLERY'S loony escapades further burgeon with such shameless songs as "Smut," "Pollution," and the iconic "Poisoning Pigeons in the Park."
TOMFOOLERY is refreshing as well as eye-and-ear-opening, which is ironic because most of his songs are very much "over the hill."
At the time of Lehrer's pianistic incipience, his content very much pushed the envelope, subjectively speaking, though he never digressed into uttering explicit vulgarities. Arguably, as comedy in the 1960s progressed into braver and more experimental territory, Lehrer was at the forefront of an evolving sense of a collective acceptance towards the act of intelligently lampooning such tepid or taboo subjects.
This notion veers into the very aspects of comedy; after all, it wasn't long after Lehrer when Mel Brooks really hit it big. Brooks, as a World War II veteran who defused Nazi mines (and trained with the military engineers at the Virginia Military Institute), could've realistically allowed any feelings of seething hatred towards Adolf Hitler and the Nazis to veritably consume every facet of his being...
... but that didn't happen.
Instead, Brooks made Adolf Hitler a perpetual punch-line in almost every one of his films! And it made millions laugh; and made him stinking rich.
Yet Brooks, by his own account, is experiencing a fairly new cropping of dissenters as of late. Some comedians across the globe are even facing punitive measures for their risqué material (Google: Markus Meechan, aka "Count Dankula" for additional reading on this subject).
I suppose the overall point I'm trying to make is that challenging comedy can be therapeutic, and therapy, in and of itself, tries to be truthful. And comedy, while it often deals with the truth, is also critical. Truth is just about always critical. But it takes a diligent application of maturity to laugh at the innumerable foibles of life, despite how bleak they might be. Arguably, for the sake of one's disposition or even hardy brain chemistry, experiencing nuanced, topical subjects with an affable attitude should be a healthier, more intrinsic prospect over that of a sullen and morose outlook.
But I think maturity is the key. After all, in olden days, it was the mature king or queen who would laugh at the jester's humor formulated at his or her majesty's expense. And it was the immature monarch who would severely punish the jester for such deprecating potshots.
And from Mel Brooks to Tom Lehrer, such pioneers of jape should be studied and understood as to why their brand of humor, no matter how off-putting their subject matter might be to some, still beckons with legions of fans - including this one.
Interestingly enough, as a side note: Tom Lehrer himself resonated on a personal level with the Dogwood Dell's longtime emcee and Swift Creek Mill Board of Directors' Secretary Lou Dean. Mr. Dean and Mr. Lehrer served in the United States' Army together.
"Small world, isn't it?"
Actually, those are lyrics that belong to Stephen Sondheim, a bit of a provocateur with indecorous lyrics in his own right (songs such as "Little Priest," "The Gun Song," and "Welcome to Kanagawa" spring to mind), as well as friend and campmate to Mr. Lehrer at Camp Androscoggin in Maine way back when...
Wow, right? Mr. Lehrer's influential ambit, I mean.
Makes me wonder how entertaining his math classes must've been...
TOMFOOLERY plays at the Swift Creek Mill Theatre through the 18th of August, 2018.
Related Articles View More Central Virginia

Stories

Shows
Brent Deekens is an actor, singer, playwright, and occasional director/dancer. Brent's play The Currency premiered Off-Off-Broadway in 2015, and he continues to write for future (read more...)