The Shakespeare Theatre Of New Jersey Presents CHARLEY'S AUNT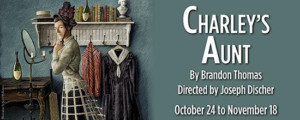 The Shakespeare Theatre of New Jersey's 56th season leaps into the chill of autumn with a classic that will warm the hearts of people of all ages. Charley's Aunt, the hilarious late 19th century comedy of manners by Brandon Thomas, will be presented for the first time on the STNJ stage. Joseph Discher returns to direct. Returning company favorites John Ahlin, Peter Simon Hilton, David Andrew Macdonald, and Erika Rolfsrud are featured amongst the cast of 10 that will bring this delightful farce to life. Performances begin October 24. Patrons can purchase tickets at The F.M. Kirby Shakespeare Theatre located at 36 Madison Avenue in Madison by calling the Box Office at 973-408-5600 or by going online at www.ShakespeareNJ.org.
Charley's Aunt was a huge hit when it debuted in Victorian England in 1892. For many years, it was one of the most popular shows on the British and American stage. Its charm and allure have not faded over the years. Charley's Aunt features an improbable disguise of preposterous proportion, earnest young lovers, and an unflappable butler who sees and oversees all of the ensuing hijinks.
The Blanche and Irving Laurie Foundation has generously provided major support for this production of Charley's Aunt. Additional sponsorship support is being provided by Silverman of Jersey City. Artistic Director Bonnie J. Monte said, "We are absolutely thrilled that Charley's Aunt is being supported by The Blanche and Irving Laurie Foundation which has made so much great art possible for so many institutions in the region. We are deeply grateful to the Foundation, as well as to the Silverman company which is also a staunch supporter of the arts and has done so much to help the revitalization of Jersey City."
The Cast: The sextet of young lovers around whom the play's plot revolves are played by STNJ veterans Aaron McDaniel as Jack Chesney, Seamus Mulcahy as Lord Fancourt Babberly, and Erica Knight as Kitty, Jack's love interest. Newcomers Emiley Kiser as Amy, Isaac Hickox-Young as Charles Wykeham, and Sally Kingsford as Ela make up the second half of this sextet.
John Ahlin returns to The Shakespeare Theatre for his 10th season as Stephen Spettigue, the protective guardian of Kitty and Amy. He most recently received much praise for his performance in last season's It's a Wonderful Life: A Live Radio Play. Mr. Ahlin has performed on Broadway in Waiting for Godot, Journey's End, The Lieutenant of Inishmore, and Macbeth.
David Andrew Macdonald will play the role of Colonel Sir Frances Chesney for his ninth season with The Shakespeare Theatre. He was most recently seen as Richard Burbage in STNJ's Shakespeare in Love. His Broadway credits include Skylight, Rocky, Mamma Mia!, Coram Boy, and Two Shakespearean Actors. As Charley's real aunt, Donna Lucia D'Alvadorez, Erika Rolfsrud returns for her fourth season. Last year, she was seen as Queen Elizabeth I and the Nurse in Shakespeare in Love. Peter Simon Hilton will play Brassett for his third season with The Shakespeare Theatre. His company credits include What the Butler Saw and A Child's Christmas in Wales. He is a US Board member of Shakespeare's Globe, a Genie Award-winning playwright, and a drama consultant for global diversity issues.
The Director: Joseph Discher returns for his 27th season with The Shakespeare Theatre, most recently directing A Child's Christmas in Wales. His other STNJ directing credits include The Diary of Anne Frank, Wittenberg, Our Town, To Kill a Mockingbird, The Grapes of Wrath, The Tempest, and Of Mice and Men, among many others. Most recently, he directed the Off-Broadway premieres of Butler at 59E59 and The Violin. The Creative Team: The design team for Charley's Aunt includes the creative talents of Scenic Designer Brian Prather, Lighting Designer Matthew Adelson, Costume Designer Natalie Loveland, Sound Designer Steven Beckel, and Dialect Coach Julie Foh. The Production Stage Manager is Kathy Snyder.
Tickets: Single tickets for Charley's Aunt begin at $29 for preview performances and begin at $49 for regular performances. Prices range from $29 to $69. The Theatre is proud to bring back its successful 30 UNDER 30 program for the 2018 season. Patrons aged 30 and under can purchase tickets for only $30 with a valid ID, subject to availability. For tickets, patrons can call the Box Office at 973-408-5600 or visit www.ShakespeareNJ.org.
The Shakespeare Theatre of New Jersey offers various cost-saving opportunities, including $15 student rush tickets, which are available 30 minutes prior to each performance with a valid student ID, as well as a limited number of Pay What You Can tickets for every performance on a first come, first served basis. Season Memberships are also available and provide significant cost savings throughout the year. Special Performances: For the same price as a regular ticket, the Symposium Series performances offer a post-show discussion with the cast and artistic staff. For Charley's Aunt, the symposia will be held following the Tuesday, October 30 at 7:30 p.m., Saturday, November 3 at 2:00 p.m., and Saturday, November 10 at 2:00 p.m. performances.
The Know the Show pre-show talks are offered free-of-cost. Prior to the show, an artist from The Shakespeare Theatre presents a pre-performance talk providing background information and an inside perspective on the production. This program is free with the purchase of a performance ticket, and for Charley's Aunt will be held on Thursday, November 1 at 7:00 p.m., with the show beginning at 8:00 p.m. The Shakespeare Theatre now offers Captioned performances and Audio Described performances throughout the season. Captioned performances will take place the first Sunday performance of every Main Stage production.
The captioned performance for Charley's Aunt will be on Sunday, October 28 at 7:30 p.m. The Audio Described performance for Charley's Aunt will be on Sunday, November 4 at 7:30 p.m. with a sensory seminar beginning at 6:00 p.m. For more information, please contact the Box Office.
Student matinee performances will be offered on Tuesday, October 30 and Wednesday, November 14 at the very affordable price of $17 per ticket. Schools are encouraged to book soon as availability is limited. To book, please call 973-845-6742.

Related Articles View More New Jersey

Stories

Shows
More Hot Stories For You