Ripley's Believe It or Not! Carnival of Curi-Oddities Debuts in Asbury Park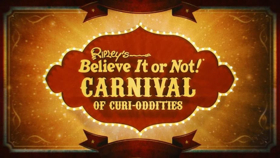 Ripley Entertainment & Mills Entertainment are putting the Ripley's Believe It or Not! franchise on the road in 2019 beginning with three performances July 12th and 13th at the historic Paramount Theatre in Asbury Park.

Renaissance man and world-renowned explorer Robert Ripley revealed the incredible spectrum of life on this planet and how it's lived. When he showed us the amazing people that really exist, the world became a far more intriguing place. The Ripley's Believe It or Not! Carnival of Curi-Oddities celebrates the astounding individuals among us who have found themselves distinct among the average. Leave all your expectations at the door-what you'll discover in the travelling odditorium simply has to be seen to be believed. From feats of incredible skill to biological marvels, this collection of awe-inspiring curi-oddities dazzles your imagination, ignites your curiosity, and showcases the truly unbelievable but undeniably true.

Tickets starting at 29.50 plus service fees and will go on-sale Friday, March 29th at Ticketmaster.com, or by calling 732.897.6500 or by visiting the box office. A limited number of VIP tickets will be available. For additional details, visit ripleyslive.com.

"We couldn't think of a better way to celebrate our 101st anniversary than to bring Ripley's directly to our fans," said Amanda Joiner (Senior Director of Publishing with Ripley Entertainment). "Partnering with Mills Entertainment, we're excited to be able to bring to life the odd, unusual and absolutely incredible things that have made Ripley's Believe It or Not! the most beloved source of the unbelievable for the past 100 plus years."

"As a longtime fan of Ripley's, I'm incredibly excited for our team to bring the offbeat and unbelievable world to the live stage," said Michael Mills, CEO of Mills Entertainment, which will produce The Carnival of Curi-Oddities tour. "This one-of-a-kind show will integrate variety acts from the Ripley's universe with theatrical representations of the people and events from the brand's rich history."

The Ripley's Believe It or Not! moniker was originally created by Robert Ripley to headline a newspaper cartoon series in 1918. Dealing with bizarre events and items so strange and unusual that one might question his claims, Robert Ripley quickly tapped into the cultural zeitgeist of his era and became one of the most famous, highly paid and multi-platform media personalities in the world.

Today, the Ripley's franchise is best known for its destination-based attractions that entertain more than 14 million visitors a year-from Ripley's Believe It or Not! Odditoriums to Ripley's Aquariums and Louis Tussaud's Waxworks-and for its best-selling annual book of unusual stories and images. It is a subsidiary of the Canadian-based Jim Pattison Group.
Related Articles View More New Jersey

Stories

Shows
More Hot Stories For You