MAGIC TREE HOUSE SHOWTIME WITH SHAKESPEARE Announces Nationwide Tour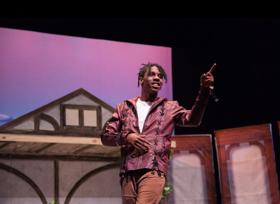 "Magic Tree House: Showtime with Shakespeare,"a new hip hop adventure for young audiences, embarks on a 13-city tour beginning March 11 in Las Vegas and concluding on May 31 at New Jersey Performing Arts Center (NJPAC).

Presented by NJPAC Productions on Tour, the story of a time-traveling brother and sister who find themselves onstage in London's Globe Theatre is based on "Stage Fright on a Summer Night," book No. 25 in the popular Magic Tree House series created by New York Times best-selling author Mary Pope Osborne.

This original family show reunites the Arts Center for the second time with the creative team behind Magic Tree House on stage. In 2012, "A Good Night for Ghosts" (No. 42 in the series) inspired the co-production of "A Night in New Orleans," a successful, jazz-flavored touring musical about young trumpeter Louis Armstrong.

"Magic Tree House: Showtime with Shakespeare," directed by Janeece Freeman Clark and choreographed by Gregory Omar Osborne, features music and additional lyrics by Randy Courts and book and lyrics by Jenny Laird and Will Osborne, who is the husband of Mary Pope Osborne and a longtime collaborator on stage versions of her work. It was developed in partnership with George Street Playhouse in New Brunswick.

"We're honored to partner with Mary and Will, as well as George Street Playhouse, on this important production," said David Rodriguez, NJPAC's Executive Vice President and Executive Producer. "Through 'Showtime with Shakespeare,' the Arts Center is expanding not just its programming, but its programming for young people on a national scale, beyond the four walls of the theater."

"An adaptation of 'Stage Fright' is a great choice," said Will Osborne, who noted that Shakespeare's rhymes lend themselves naturally to a hip hop treatment. "We hope this show will encourage kids to create their own stories, poems, songs and shows, and explore the magic of language - and have fun doing it."

Mary Pope Osborne's Magic Tree House books have sold over 130 million copies throughout the world and have been translated into more than 30 languages.

In the series, sibling heroes Jack and Annie are whisked away through time via their backyard hideaway - guided by curiosity and an enchanted book. On this particular journey, they land in Elizabethan England, where they meet the great William Shakespeare and help him Raise the Curtain on "A Midsummer Night's Dream." Along the way, they encounter Dan the Dancing Bear and learn that the meaning of a "bear garden" is much more sinister than it sounds. Dozens of roles are performed by "Showtime with Shakespeare's" diverse, seven-member cast.

The tour for "Magic Tree House: Showtime with Shakespeare" follows. Plans are under way for an expanded circuit during the 2019-2020 season:
Las Vegas, Nev., March 11-14, Smith Center
Albuquerque, N.M., March 19, University of New Mexico's Popejoy Hall
Mesa, Ariz., March 21 and 22, Mesa Arts Center's Piper Repertory Theater
Abilene, Texas, March 30, Paramount Theatre
Paducah, Ky., April 9, Carson Center
Indianapolis, Ind., April 11, Butler Arts Center's Clowes Memorial Hall
Wilmington, Del., May 19, The Grand Opera House's Copeland Hall
Purchase, N.Y., May 20, SUNY Purchase's Recital Hall
Concord, N.H., May 21, Capitol Center for the Arts' Chubb Theatre
Buffalo, N.Y., May 23, Shea's 710 Theatre
New Bedford, Mass., May 28, Zeiterion Performing Arts Center
Newark, N.J., May 30 (school groups) and 31, New Jersey Performing Arts Center
At NJPAC, "Showtime with Shakespeare" takes place at 7 p.m. in the Victoria Theater. Tickets are $25 through njpac.org, 1-888-GO-NJPAC (466-5722) or the box office at One Center St. in Newark.

"Magic Tree House: Showtime with Shakespeare" is the latest attraction of NJPAC Productions on Tour, which brings exciting, original theatrical works to cities here and aboard. Its properties include the national tour of "Jazz in the Key of Ellison," a multimedia tribute to African-American writer and scholar Ralph Ellison and his remarkable collection of jazz recordings; "Carefree: Dancin' with Fred & Ginger," a song-and-dance salute to America's favorite ballroom duo, and "The Hip Hop Nutcracker," which recently concluded a 28-city tour and is slated for broadcast on public television stations in 2019.

Under the leadership of Artistic Director David Saint since 1998, George Street Playhouse is a nationally recognized theatre, presenting an acclaimed mainstage season while providing an artistic home for established and emerging theatre artists. Founded in 1974, the Playhouse has been represented by numerous productions both on and off Broadway - recent productions include "The Toxic Avenger" (which won the Outer Critics Circle Award for Best New Musical), Anne Meara's "Down the Garden Paths," the Outer Critics Circle, Drama Desk and Drama League-nominated production of "The Spitfire Grill," and the Tony Award and Pulitzer Prize winning play "Proof" by David Auburn, which was developed at GSP during the 1999 Next Stage Series of new plays. In addition to its mainstage season, GSP's Touring Theatre features issue-oriented productions and tours to hundreds of schools in the tri-state area and beyond, and are seen by more than 35,000 students annually.

New Jersey Performing Arts Center (NJPAC), located in downtown Newark, N.J., is America's most diverse performing arts center, and the artistic, cultural, educational and civic center of New Jersey - where Great Performances and events enhance and transform lives every day. NJPAC brings diverse communities together, providing access to all and showcasing the state's and the world's best artists while acting as a leading catalyst in the revitalization of its home city. Through its extensive Arts Education programs, NJPAC is shaping the next generation of artists and arts enthusiasts. NJPAC has attracted nearly 10 million visitors (including over 1.7 million children) since opening its doors in 1997, and nurtures meaningful and lasting relationships with each of its constituents.
Photo Credit: Yasmeen Fahmy
Related Articles View More New Jersey

Stories

Shows