BWW Review: OTHER DESERT CITIES at The Chatham Playhouse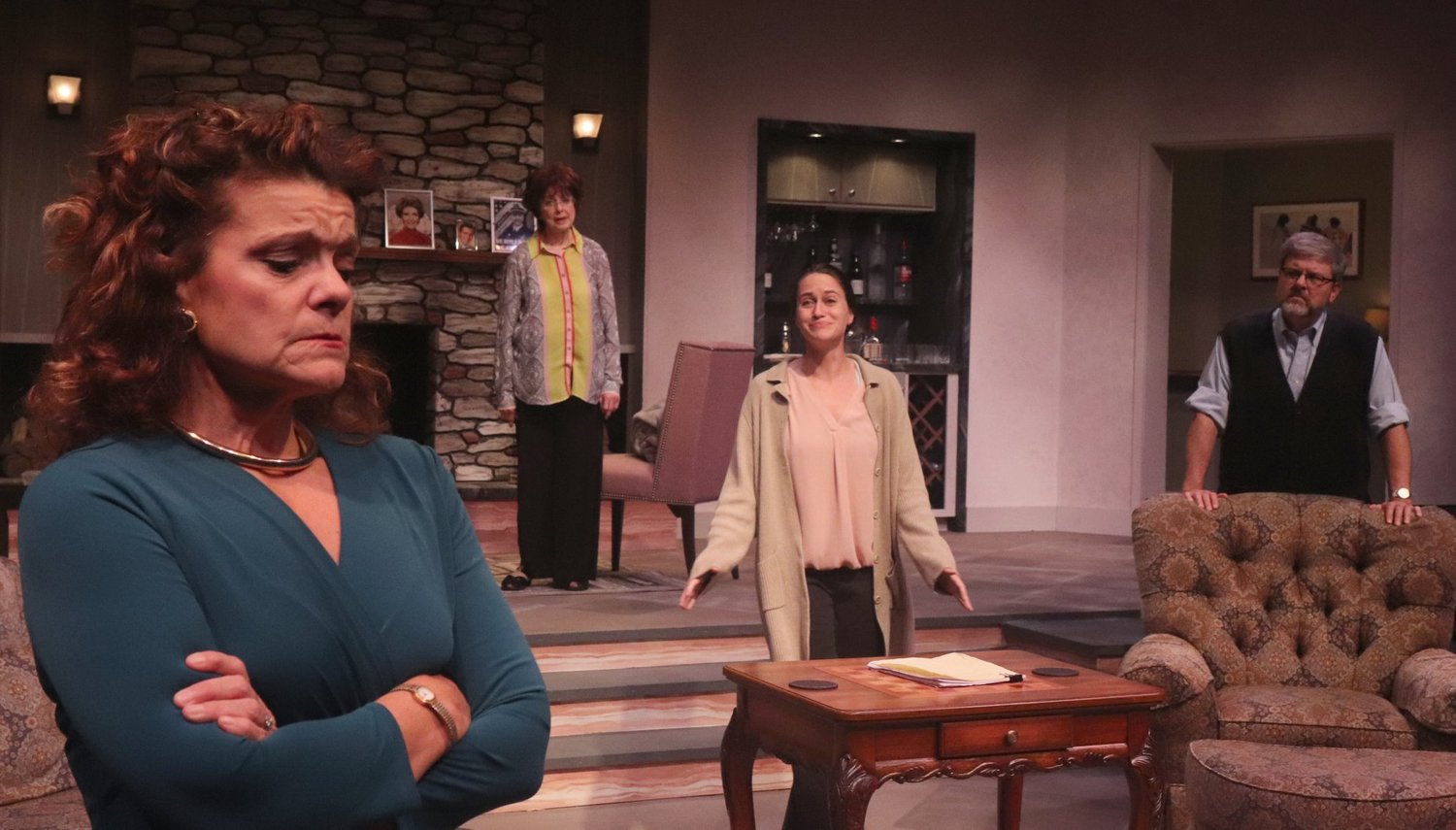 Chatham Community Players Presents "Other Desert Cities" written by Jon Robin Baitz.
Every family struggles with their own personal secrets, secrets that they may be trying to run away from or keep safely tucked away for the rest of their lives. It only takes one person writing a novel to disturb that peace, digging up ghosts from the past, allowing the rest of the world in. Directed by Jonathan Wierzbicki, this play tells the story of the Wyeth Family, who is doing just that. Taking place in The Wyeth living room, Christmas Eve 2004, in Palm Springs California, we meet the 5 members of the family; Mother Polly, Father Lyman, daughter Brooke, son Trip and Aunt Silda.
The talented cast includes: Lynn Langone (Polly Wyeth), Adriana Spizuoco (Brooke Wyeth), David Romankow (Lyman Wyeth), Scott Tyler (Trip Wyeth) and Terri Sturtevant (Silda Grauman).
Grown Wyeth children, Brooke and Trip, portrayed by Spizuoco and Tyler respectively, are visiting their parents, for the holidays, who are also housing Aunt Silda, Sturtevant, former Hollywood film writer and recovering alcoholic. Brooke, a writer, is seen as the outcast in the family, having suffered a breakdown, for reasons revealed in the show. She seems to be at odds with her mother when it comes to opinions and the way she lives her life. Brooke has a new novel that she wants her family to read as well as give their blessing on since it is a memoir of her life and her family, which includes their deepest darkest secret that they have been trying to put behind them for years. Spizuoco takes us on an emotional rollercoaster ride as we learn of her characters' past, her reasoning for moving across country and why she wrote the memoir. Her bold decisions in her performance is vital to helping us as an audience understand and connect with her. Langone, who plays Polly, does a beautiful job of portraying the strong, no nonsense mother who never backs down to anyone in her family. Her and Spizuoco have an important chemistry that shows a toxic mother-daughter relationship is fundamental to the storyline. Romankow, who portrays Lyman, is more sympathetic to his daughter, but also struggles with the release of her novel that could destroy the family's reputation. Although he is not afraid to go toe-to-toe with his wife, he is conflicted in his feelings and this comes across clear to the audience as we watch him fight his inner battles. Tyler, who plays Trip, and Grauman, who plays Aunt Silda, offer us some comedic relief, thanks to the playwright as well as their own acting choices. However, these two characters offer much more than that as the play unfolds and it was amazing to see them both be able to play into the comedy bits, but then easily transition into strong willed, opinionated characters with issues of their own. The entire cast had a beautifully crafted chemistry that was needed for this show in order for the audience to buy into their world of complicated relationships, secrets and tough love.
The Set Designer, Roy Pancirov, and Scenic Artist, Stephen Crooks, created a living room that we all wish we had in our homes; a split level room with comfortable chairs to lounge on, a beautiful gray stone fire place with a mantle, a cabinet with shelving decorated with family photos recessed in the wall and who can forget that gorgeous mini bar, also recessed in the wall, with multiple wine racks, glass door mini fridge and shelving. Despite the dysfunctional family's issues, this living room gives off a warm and cozy vibe, especially with the Christmas tree adorned with lights and large blue dreidels, standing in front of the tall double windows that overlook Palm Springs.
The production staff who made this production possible are Producer Eileen Johnston, Set Designer Roy Pancirov, Scenic Artist Stephen Crooks, Costume Designer Beverly Wand, Sound Designer Joe DeVico, Stage Manager Andrea Sickler, Lighting Designer Richard Hennessy, Props and Set Decorator Tish Lum and Production Coordinator Steffi Denmark.
There are only 2 more chances to catch this production: October 19th and 20th at 8 PM.
Running time: 2 hours and 15 minutes (Including a 15-minute intermission).
Location: The Chatham Playhouse 23 North Passaic Avenue, Chatham, New Jersey
Tickets and subscription information can be found by visiting https://www.chathamplayers.org/ or by calling 973-635-7363.
Next up on Chatham's stage: "A Christmas Carol" December 7-23, 2018.
Related Articles View More New Jersey

Stories

Shows