BWW Review: MAMMA MIA Showcases Star-Studded Talent at Axelrod Performing Arts Center in Deal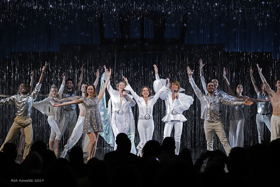 The jukebox musical Mamma Mia directed by Barry Ivan comes to the Axelrod Performing Arts Center this March as "the Jersey Shore's First Professional Production" of this smash-hit show. Mamma Mia opened on Broadway in 2001 and ran for 14 years, making it the ninth longest-running production. It has since continued its legacy through national tours and international productions and was adapted into two films, Mamma Mia! (2008), and Mamma Mia! Here We Go Again (2018).
Based on the music of the Swedish pop group ABBA, Mamma Mia tells the story of 20 year-old Sophie Sheridan, who is about to marry the love of her life, Skye. Three months before her wedding, she stumbles through her mother's diary from before she was born and discovers a shocking secret that she has three possible fathers; Sam Carmichael, Harry Bright, and Bill Anderson. Out of curiosity, she decides to invite them to her wedding hoping at least one will show up and give her away. Unexpectedly, all three of them appear on the tiny Greek island where Sophie lives, thinking that her mother Donna asked them to come. Not anticipating their arrival, she is then stuck in a web of secrets, lies, and confusion. Throughout her journey, Sophie is left to decide whether her identity comes from knowing who her father is, or within herself.
The highlight of this musical is its all-star cast consisting of talent from Broadway and National Tours. Sarah Lasko (Wizard of Oz National Tour) stars as Sophie, and brings a young, hopeful, upbeat personality to the role. She embodies Sophie's emotional energy, which includes her eager curiosity to find out who her father is. In addition to her cheerfulness, Lasko also does an excellent job of portraying Sophie's serious side, especially during the song "The Name of the Game."
Michelle Mallardi (Beauty and the Beast, Les Miserables) stars as Donna. She has a powerful voice, and is a triple threat, who can sing, act, and dance flawlessly and at the same time. Her standout performances were in the emotional power ballads, "One Of Us" and "The Winner Takes It All." In both songs, Donna's expresses her anger toward Sam, her ex-lover, for leaving her twenty years ago. Each number of hers received an overwhelming, positive response from the audience, especially "The Winner Takes It All".
Playing Sam is Matt Bogart, who is known for starring in the replacement casts of Broadway's Aida and Jersey Boys. Bogart portrayed the character of Sam as a man with a sarcastic and tough exterior. His solo, "Knowing Me, Knowing You" showed his true feelings for Donna and how he was deeply affected by their relationship. Bogart and Mallardi's chemistry in the characters of Donna and Sam fantastically depicted their tense and deteriorated history with one another, especially in the duet "S.O.S."
Other notable performances in Mamma Mia included Donna's friends Tanya and Rosie, played by Doreen Montalvo (On Your Feet!, In The Heights), and Heather Jane Rolff (Shrek The Musical). Montalvo's uptight Tanya, and Rolff's laid-back Rosie added a comedic element to the show with their hilarious banter. Billy Clark Taylor and T.J. Mannix were also great additions to the cast as Harry Bright and Bill Anderson.
Axelrod Performing Arts Center's feel-good production of Mamma Mia was complete with a set created by Fred Sorrentino, which looked like an exact replica of a Greek island, with hues of bright blue and white. It was topped off with modernized costumes (provided by Scaramouche Costumes in Chester, NJ), seamless choreography by Barry Ivan, and ensemble members who took on various roles such as partygoers, hotel guests, and wedding witnesses. It is definitely not a show to be missed!
Tickets for Mamma Mia can be purchased by calling 732-531-9106 or by visiting the Axelrod Performing Arts Center website at https://www.axelrodartscenter.com. The show will be performed in the Vogel Auditorium through March 24. The theatre is located at 100 Grant Ave in Deal Park, NJ.
Related Articles View More New Jersey

Stories

Shows