Review: Eagle Theatre's Regional Premier of NATIVE GARDENS
Eagle Theatre's Director Ed Corsi puts together a talented cast to portray 4 very passionate, outspoken characters, each with good intentions but an agenda of how neighbors should live. What starts out as an amiable relationship over 'good wine and chocolate' turns into a riotous ruckus in the roses over a fence! This smart, sharp, quick witted Frazer-like comedy has it all; a "garden variety" of impulsive behavior, misconceptions and prejudgments and a simple case of a bad fence makes enemies of good neighbors. Gardens and cultures clash, turning friendly neighbors into feuding enemies in this hilarious comedy of good intentions and bad manners. Pablo (Peter Evangelista), a high-powered lawyer, and doctoral candidate Tania (Robyn Unger), his very pregnant wife, are realizing the American dream when they purchase a house next door to community stalwarts Virginia (Marianne Green) and Frank (Paul Butley). But a disagreement over a long-standing fence line soon spirals into an all-out war of taste, class, privilege, and entitlement. The hilarious results guarantee no one comes out smelling like a rose.
At the helm of this clever piece is playwright Karen Zacarias, who was recently hailed by American Theater Magazine as one of the ten most produced playwrights in the US. Her award-winning plays include The Copper Children, Destiny of Desire, Native Gardens, The Book Club Play, Legacy of Light, Mariela in the Desert, The Sins of Sor Juana, and the adaptations of Just Like Us, Into the Beautiful North, and How the Garcia Girls Lost Their Accent. She is an inaugural 2019 Sine Fellow for Policy Innovation at American University and is selected by The League of Professional Theatre Women to receive the 2019 Lee Reynolds Award given annually to a woman in theater who has helped illuminate the possibilities for social, cultural, or political change. Karen lives in Washington, D.C. with her husband and three children.
Scenic designer Don Swenson transforms the stage into two backyards in a 'nice' suburb in Washington D.C. The background score is an Eagle Theatre created by Jason Neri, Ryan Cullen, Ed Corsi, David Pierron and Iraisa Ann Reilly.
There are moments where you are torn between who are right (legally) and who are wrong (morally), as they all lose control and how will they come to terms? Through the dirt flinging and the flowers flying in the end the lesson is learned of what is really important in a world where we really all want the same thing; learning to get along like 'two or in this case four peas in a pod".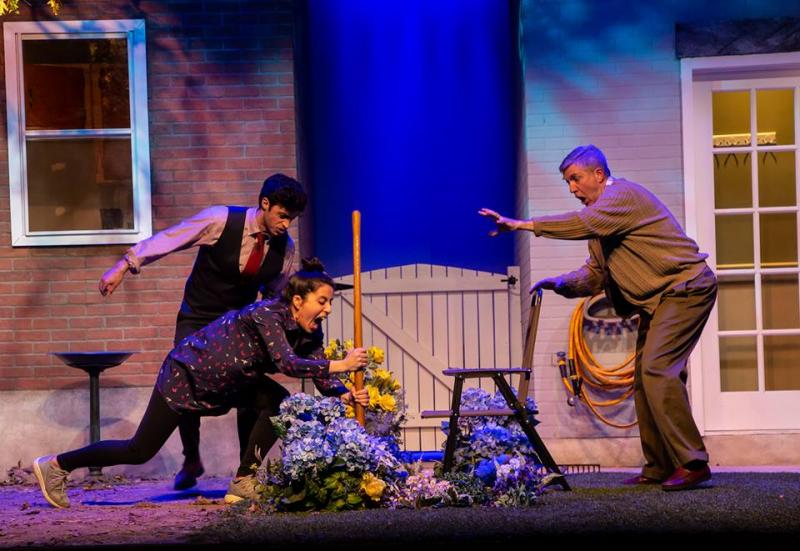 NATIVE GARDENS plays at the Eagle Theatre 208 Vine St. Hammonton NJ, on selected dates through April 14. For Tickets and more information visit www.eagletheatre.org or call 609.704.5012
Production Photos: Chris Miller