BWW Review: ANNIE at Moorestown Theater Company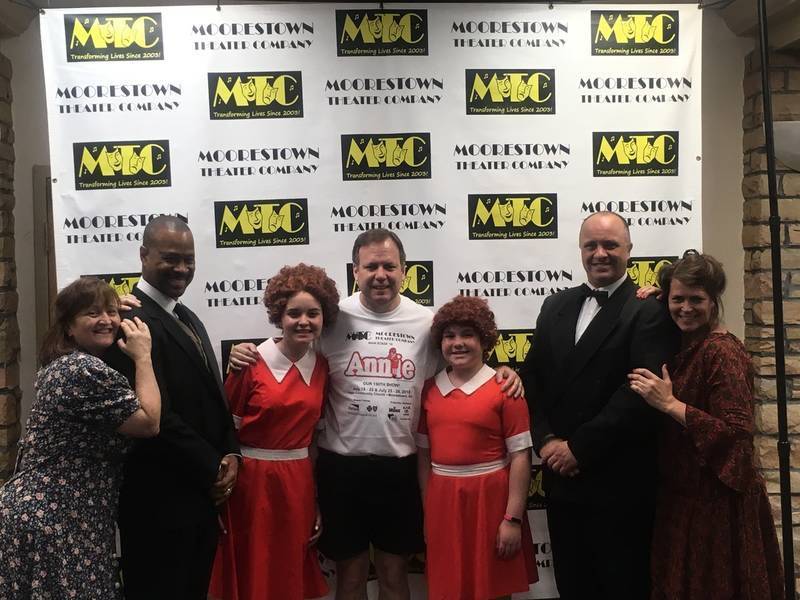 The Moorestown Theater Company celebrates its 150th production with the show that started it all for them - Annie. Annie, currently playing July 19-28, 2018, afternoon and evenings, on their Main Stages at Hope Community Church, was their debut offering back in July of 2003 when Producing Artistic Director Mark Morgan's six-month-old daughter Juliet played the infant Annie. Juliet is now alternating the title role with Lily Sims, both of them iTheatrics Junior Theater Festival winners, and this landmark Annie sports many families and prominent citizens in the cast, including Action News anchor Rick Williams.
The show Annie originated from Harold Gray's comic strip Little Orphan Annie (based on an 1885 poem of the same name) which debuted in the New York Daily News in 1924 and told the adventures of a scrappy, red-haired orphan Annie, her mutt Sandy and their wealthy benefactor Oliver "Daddy" Warbucks during the Great Depression. Martin Charmin got the idea of turning the strip into a Broadway musical back in 1971 at Christmas when he spotted the book Arf! The Life and Hard Times of Little Orphan Annie in the windows of Doubleday's on Fifty-seventh Street in New York; it contained ten years of Gray's daily strip. The original production, which I was privileged to see on Broadway when just a kid myself (orchestra tickets then: $10), featured Andrea McArdle, a mini-Merman who was launched to fame through it; Reid Shelton as bald, blustery Daddy Warbucks; Dorothy Loudon as the boozy, riotous Miss Hannigan; Laurie Beechman in multiple roles; and an adorable mutt for Sandy who was rescued from a pound just minutes before he was about to be put to sleep. Sandy and the show became two of the hottest tickets in Broadway history, visited by everyone from Barbra Streisand and Dick Van Dyke to Jacqueline Onassis and Lady Bird Johnson.
In MTC's Gold Cast production which I saw on July 22, 2018, two qualities which unfailingly distinguish Moorestown Theater Company were in abundance -- quality and heart. Director Mark Morgan puts much emphasis on families and also affords children who want stage experience the opportunity to perform, accommodating this need with large casts and creating magic and miracles with them. Annie encompasses a 71-member cast including 42 adults, 28 children ranging in age from 6 to 16, and Morgan's utterly adorable dog Muzzie Morgan (who veritably steals the show every time he's onstage) as Sandy. Father and daughter combinations play Rooster Harrigan and Annie: Mark and Juliet Morgan in the Black Cast and Mike and Lily Sims in the Gold Cast. Morgan and his wife Carol Ann play brother-and-sister Rooster and Miss Hannigan in the Black Cast, as well as other parts. There is an 18-piece live orchestra led by Steve Schaffner. The sets are simple, but evocative and effective, and take one believably to locales ranging from shanties under the 59th Street bridge and a radio station to the tony Warbucks Mansion and the Whitehouse. The costumes by Carol Ann Murray, who also handled props, are superb.
The story opens in New York City 1933 where the orphans at the New York City Municipal Orphanage bemoan "The Hard Knock Life" (a rousing number) under flask-swilling Miss Hannigan (Andie Leibowitz, Gold Cast). The spunky and ever-optimistic Annie (Lily Sims) comforts the orphans, including adorable Molly (8-year-old Olivia Pirrone, perfectly cast and a natural onstage). It takes a bawdy type like the late, great Dorothy Loudon (who originated the role on Broadway) to pull off this role and Leibowitz lets it all hang out and goes there, getting some good laughs. Annie succeeds in running away where she meets Sandy (scene-stealer Muzzie) and adopts the stray as her dog, but she is brought back to the orphanage minus Sandy. When Annie is invited to the mansion of billionaire Oliver Warbucks (a terrific Steve Szymanik), for two weeks, she is treated like gold and Warbucks discovers what's been missing in his life. He wants to adopt her, but Annie longs to find the parents who abandoned her years ago with a piece of locket and a note and Warbucks launches a coast-to-coast, nationwide search which includes appearing on the radio. Will Annie be united with Sandy and her real parents and what of her benefactor Daddy Warbucks and the orphans back with mean, old Miss Hannigan? Or will Annie fall prey to Miss Hannigan's shiftless brother Rooster and his female accomplice Lily St. Regis?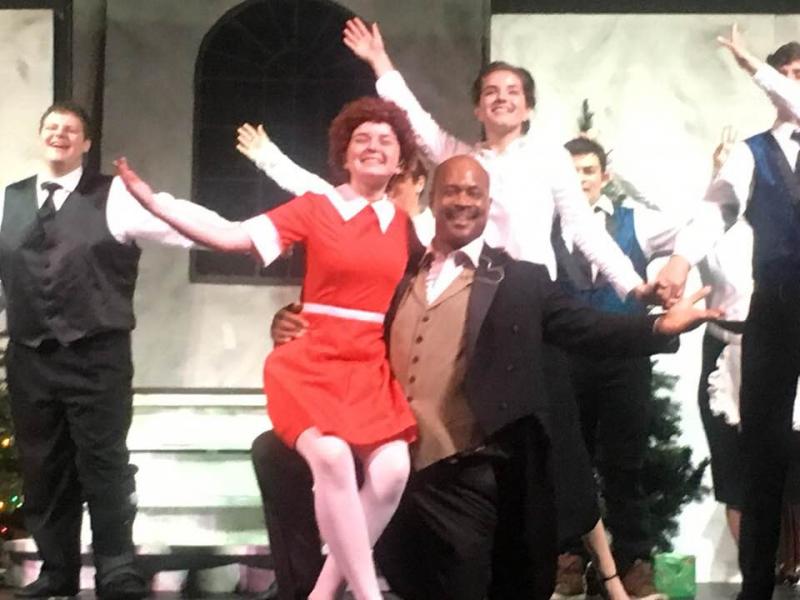 This 150th production, Annie, the show that began it all for Moorestown Theater Company, does not disappoint, being another large-cast extravaganza with singing, tapping, live music and lots of cute moppets, an audience-pleaser. Standouts in the terrific Gold cast include Jen Iorio-Szymaik as Grace, Warbuck's assistant, and her husband Steve who is perhaps my favorite in the show. He perfectly embodies Daddy Warbucks without being at all hammy and puts pathos, when needed, in his lyrics, each song well-rendered. Although based on a cartoon figure, he is believable, blustery and likeable. When shown the new painting acquired for him from Paris, which turns out to be the Mona Lisa, he says, "I don't like it" and then relents: "Put it in the bathroom." The orphans do a terrific job with ensemble singing and dancing, each of them displaying fine voices. Rick Williams, filling in for Gold cast actor Troy Singleton, clearly has a ball as Harold Ickes. Carol Pozzi also fills in for Gold Cast player Elizabeth Hughes as Lily St. Regis and is terrific. Amazingly this was the first production for Pozzi, a freelance hairstylist, but she expertly and wittily evokes the slatternly floozies that were archetypes in precode films, such as those played by Mae Clarke and Miriam Hopkins. The number "Easy Street" featuring Sims, Pozzi and Leibowitz is a hoot.
Among the bit actors, Steve Gionta as Bert Healey, radio host of Oxydent Hour of Smiles, is perfection and Renee Walsh, in multiple roles, seems born for the stage. They remind one of how vital character actors are to stage and screen, such as stalwarts of old like Thelma Ritter and Marjorie Main who virtually made many a live or filmed production. Fortuitously, Mark Morgan was playing the wheelchair-bound President Franklin D. Roosevelt in the production I attended. He ably embodied the 32nd President of the United States, including his Mid-Atlantic accent and stayed in character while he was wheeled through the audience, delightfully interacting with select viewers along the way. (Incidentally, Roosevelt didn't want it known he had polio so he commuted from Washington to New York in an armored train car that arrived in a secret tunnel beneath the Waldorf Hotel).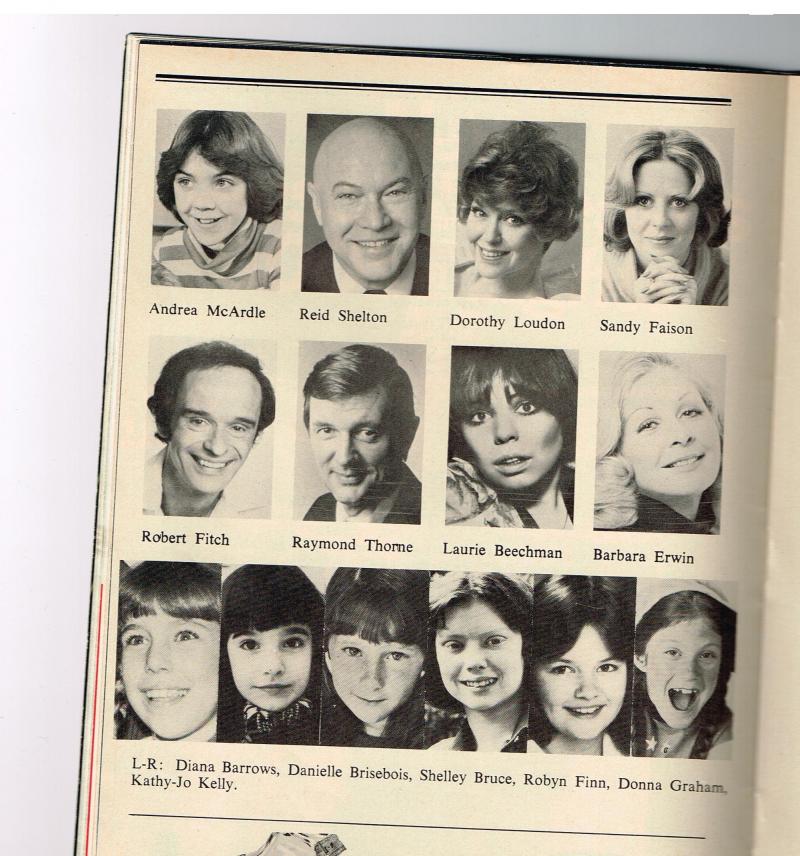 As for the Annies, clear-voiced Lily Syms shows the grit and optimism that made this orphan so appealing to the equally self-reliant Warbucks. Having seen the show multiple times on Broadway in many incarnations, this was the first time I noticed this. I did not see Juliet Morgan in the Black Cast, but watched excerpts from her Annie online. An alumna of 127 MTC productions and 142 overall, Morgan has a dynamic belting voice and knocks it out of the park. Both youngsters seem destined for bright futures onstage if they so choose and the talented ensemble evidently are primed for success in whatever they may pursue, enhanced by confidence and charisma gained onstage through Moorestown Theater Company.
All in all, I can only give this 150th MTC production of Annie ten out of ten Leapin' Lizards!
Photos: Top Photo: The current ANNIE cast - Carol Ann Murray, Rick Williams, Juliet Morgan, Mark Morgan, Lily Sims, Steve Szymanik, and Andie Leibowitz (left to right). Second Photo: The original 2003 ensemble of ANNIE, including baby Juliet Morgan as infant Annie. Third Photo: The Gold Cast of 2018 ANNIE. Fourth Photo: The Black Cast of 2018 ANNIE. Last Photo: From the original cast PLAYBILL.