Review: ACCOMPLICE at Bickford Theatre At The Morris Museum is Clever and Captivating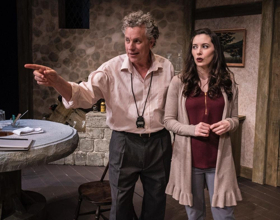 A scandal is afoot in Morristown! Bickford Theatre at the Morris Museum is presenting a night full of dark twists and surprises diabolical enough to make you want to fix yourself a stiff drink. Witty, clever dialogue spins a sumptuous web leaving the audience listfully waiting for the next curveball to spring out from the actors' witty lips. Accomplice is brilliantly directed by the theatre's Producing Artistic Director, Eric Hafen whose staging allows for the plot to unfold in a fun and raucous manner. He truly brings the audience along for a wild ride.
The play features sharp performances by Tait Ruppert, Emaline Williams, Lilli Marques, and Mike Newman who portray deliciously devious and multi-layered characters with seamless ease. It's truly amazing how such irredeemable schemers can also be so captivating. The play is electrifying on many levels and Bickford Theatre is the perfect venue for this intimate, and I do mean intimate, murder mystery.
Collaborating on Accomplice as part of the Creative Team is Production Stage Manager, Leanne Long-Hulin; Scenic Designer, Jim Bazewicz; Lighting Designer,Roman Klima; Costume Designer, Fran Harrison; and Properties Designer, Dani Pietrowski.
Accomplice is written by Tony-award winner Rupert Holmes who also wrote the original music for the show. This is a production that will truly keep you guessing until the very end. It runs until Sunday, February 4th and it is absolutely not to be missed!
Bickford Theatre at Morris Museum is located at 6 Normandy Heights Road, Morristown, NJ 07960. For ticketing and more information, visit their web site at http://morrismuseum.org/main-stage-performances/ or call 973.971.3706.
Photo Credit: Warren Westura and Bickford Theatre