BWW Review: A DOLL'S HOUSE-PART 2 at George Street Playhouse is a Captivating Family Saga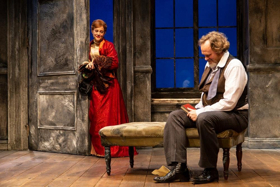 "I'm not the same person who left through that door, I'm a different person."
By Nora in A Doll's House, Part 2
Here's the show we know our readers will want to see. George Street Playhouse is presenting A Doll's House, Part 2 by Lucas Hnath, masterfully directed by Betsy Aidem. In 2017, the play was nominated for seven Tony Awards when it was performed on Broadway and since has become the most produced play of the season in theatres across the United States. Hnath's mesmeric tale takes its inspiration from Henri Ibsen's A Doll's House, yet the story certainly stands on its own and will have a vast appeal to a modern audience.
Set in the 19th century, Nora Helmer returns to her family's home following a long, 15-year absence. After she abandoned her husband and young children because of a life she considered unsatisfying, no one knew anything about her whereabouts. Upon her arrival, Nora is at first met by the family's long-time nanny and housekeeper Anne Marie, who chides her about the many years she has been away. The motive for Nora's reappearance is at first unclear as her attire suggests she has been quite successful. But it soon becomes evident that she has unfinished business with her husband Torvald, business that threatens to disrupt the household. This story about a woman's rebellion against social norms is timeless. Through wonderfully written dialogue, and clever comedic moments, Hnath presents the history of the characters and their differing perspectives.
The company of actors that are absolutely terrific in their respective roles. Kellie Overbey performs a stunning portrayal of Nora, a fiercely independent woman who staunchly defends all of her personal choices. Ann McDonough captures the role tenacious and loyal housekeeper, Anne Marie. Andrew Garman masters the part of Nora's serious-minded husband, Torvald who is forced to confront the reason for Nora's return. Lily Santaiago smartly plays Nora's young adult daughter, Emmy who has high hopes for her own future.
The Creative Team has done a top job of bringing an old-fashioned setting for A Doll's House, Part 2 to life on the New Brunswick stage. They include scenic design by Deb O.; Costume design by Olivera Gajic; lighting design by Rick Fisher; original music and sound design by Mark Bennett; and hair and wig design by Troy Beard. Fight Direction is by Rick Sordelet; the Production Manager is Christopher J. Bailey; the Production Stage Manager is Kristin Pfeifer; and Casting is by McCorkle Casting.
A Doll's House, Part 2 is captivating family saga, a play that is just right for the holiday season when visitors from the past often come to call. We congratulate Artistic Director, David Saint and the George Street Playhouse team on this fine production.
A Doll's House, Part 2 runs for 90 minutes with no intermission. It will be performed through December 23. George Street Playhouse is located at 103 College Farm Road in New Brunswick on the Cook Campus of Rutgers University. Located right off Route 1 (just two miles from Livingston Avenue) the venue features 190 seats, expansive lobby spaces including an outdoor patio, free parking and barrier free access to all public areas. For tickets to A Dolls House, Part 2 and all of the upcoming shows this season, visit https://georgestreetplayhouse.org/ or call 732.246.7717.
Photo Credit: T. Charles Erickson
Related Articles View More New Jersey

Stories

Shows