Click Here to Visit the College Center
BWW Blog: No Nuance November - Musical Theatre Edition
This new TikTok trend has musical theatre fans voicing any and all opinions. What are your theatre opinions?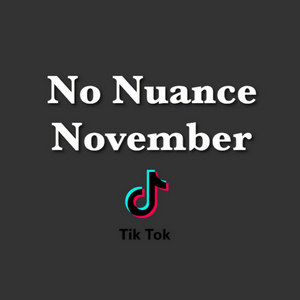 TikTok, one of the world's most famous apps, has developed yet another trend: No Nuance November. Participants post videos of their (usually controversial) opinions without explanation. It's a trend that has become quite popular in the app's theatre community. Here are a few opinions that I've encountered and happen to agree with:
1. There needs to be more roles written for legit sopranos and altos in contemporary musicals.
I understand that there are many older-era musicals that feature these voice types. But we shouldn't forget about them, now that we've entered a new, pop-driven era. Not every person is a mezzo-belter. And not every audience member is eager to hear belts. I can only think of 3 roles for sopranos in today's musicals: Francesca Johnson (The Bridges of Madison County), Phoebe D'ysquith (A Gentlemen's Guide to Love & Murder), and Natasha Rostova (Natasha, Pierre & The Great Comet of 1812). As far as altos go, Morticia Addams (The Addams Family), Muzzy Van Hossmere (Thoroughly Modern Millie), and Sonya Rostova (Natasha, Pierre & The Great Comet of 1812), are a few that come to mind. Altos and legit sopranos deserve more than just these characters when performing in contemporary musicals.
2. We can like problematic (often Golden Age) musicals, as long as we acknowledge their problems.
Speaking of older-era musicals, today's theatre kids are focused on everything BUT them. In fact, many of them "hate on" these shows in their TikTok posts, which I find inappropriate. It's no secret that Golden Age shows like Carousel and Guys & Dolls have sexist undertones. Similarly, The King & I and Annie Get Your Gun deal with race in an insensitive manner. Criticizing these shows by pointing out their faults is very important. But to shut-out both the music and the progressive themes incorporated into some Golden Age musicals, all because a few of them are outdated, is wrong. We should all take a note from Bartlett Sher, who directed the most recent revival of My Fair Lady. He was able to highlight the positive aspects of the American classic, while holding Henry Higgins, a raging misogynist, accountable for his actions.
3. Writing more roles for POC will not rid the American musical theatre system of its racial injustice if POC are not also cast in roles traditionally portrayed by white actors.
I'm looking at you, The Music Man revival. With a cast of only white actors, so far, this revival will only further segregate the theatre community. People of color need to be cast in ANY type of role. Not just ones that suit their skin color. This is not to discredit Sutton Foster and Hugh Jackman--they're fantastic performers. But this opportunity should be given to actors who, historically, haven't been cast in roles like Marian Paroo and Harold Hill.
Here are a few more N.N.N. takes, sans my commentary:
4. The college application process for musical theatre students is incredibly classist.
5. Hating ingenues doesn't make you edgy. It makes you sexist.
6. Straight plays aren't boring.
7. Shaming those without formal training is classist.
8. The lyrics in Mean Girls are terrible.