Julien Gosselin Makes Directorial Debut at Internationaal Theater Amsterdam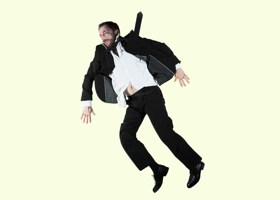 With French director Julien Gosselin, Internationaal Theater Amsterdam will be adding one of the world's greatest young directing talents to the theatre company. ITA previously brought his successful productions Les Particules Elementaires and 2666 to Amsterdam. In his debut with the ITA ensemble, Falling Man, Gosselin reflects on global terrorism and its effect on a family in New York during the aftermath of 9/11. The performance - with Eelco Smits, Hans Kesting, Maria Kraakman, Chris Nietvelt et al. - will have its world premiere in Amsterdam on 17 March. Performances on Thursday 21 and 28 March will be surtitled in English.
With his adaptation of the novel Falling Man by Don DeLillo, Julien Gosselin paints the poignant portrait of people who have lost their identity and are no longer able to find their way around a changing world. How do survivors and their surroundings come to terms with the traumatic experience that was 9/11?
With Falling Man (2007), Don DeLillo wrote one of the first great novels about 9/11. Keith Neudecker (Eelco Smits) is the central character. The 39-year-old lawyer escapes from the Twin Towers mildly injured and confused. Without knowing why, he heads for the house of his ex-wife and young son. Later he starts an affair with a woman whose briefcase he took by mistake when he left the tower. After that, he travels around the world with his poker club. But whatever he does, nothing works: the events have messed him up so much he has lost all sense of direction.
'DeLillo asks big questions with global dimensions, but doesn't treat them on a purely political level. Through intimate stories about ordinary people, he examines how violence affects our memory and self-image' says Gosselin.
Gosselin is no stranger at Internationaal Theater Amsterdam. His intriguing play Les Particules El mentaires was performed in 2015. Two years later, his 11-hour marathon performance 2666 was also staged at ITA.
In the spring of 2019, Gosselin will be completing a large project based on Don DeLillo's work. Falling Man, which he will create together with the ITA ensemble, is the second part. For the first part, Gosselin brought three novels together in the marathon performance Joueurs, Mao II, Les Noms for the Festival D'Avignon. This marathon will also be performed from 10 to 14 April at ITA, both in its entirety and as three separate parts. For now, Amsterdam is the only place in the world where both parts will be performed.