BWW Review: EVITA at Koninklijk Theater Carré: Just a little touch of star quality!
Evita is a vocal masterpiece, not for the faint of heart. The vocal score is, as most of Andrew Lloyd Webber's work, as challenging as it is beautiful. Dazzling high and low notes, melodious songs, ranging in style and tempo. A classical piece in the musical theatre repertoire.
Reprising the role of Eva Perón (Evita was her nickname- meaning little Eva) after 10 years is Brigitte Heitzer. Her Evita is clever, strong and determined to escape her past life. Vocally she is phenomenal, like watching a vocal masterclass. She gives her role the maturity and edge it needs, a woman yearning for fame and recognition. It's a pleasure to watch.
René van Kooten, who portrays the voice of reason Ché, is vocally strong and solid as ever. His sarcastic views on the ways of Evita are well-put and he brings some comic relief in a story which is full of dramatic events.
One of the highlights is his duet and dance with Evita during the "Waltz for Eva and Che" where the two leading characters finally confront each other face to face. "And the Money Kept Rolling In" is a joy to watch as well. Next to the funny contemporary joke they put in it (the suitcases from Miljoenenjacht), René is shining bright.
The decor is a clever find, a mix of historical projections and a chess board which represents the strategic way both Juan Perón (Paul Donkers) as Evita played out their political ambitions. Also, the choreography by Chiara Re is lovely. From passionate tango to the original way they portrayed the way Perón got rid of his opponents in "The Art of the Possible". Paul Donkers portrays a calculated politician, who soon realises that his greatest strength is his wife. Together with the excellence of both the orchestra and ensemble, Evita proves to be a classic for good reason. The contemporary take on this story in this political day and age, remains current, and keeps you wondering whether history keeps on repeating.
For more info: https://www.degraafencornelissen.nl/voorstelling/evita-de-musical
Evita is now on tour until April 2019.
Photo credit by Roy Beusker.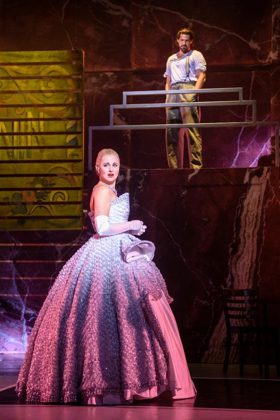 Related Articles View More Netherlands

Stories

Shows