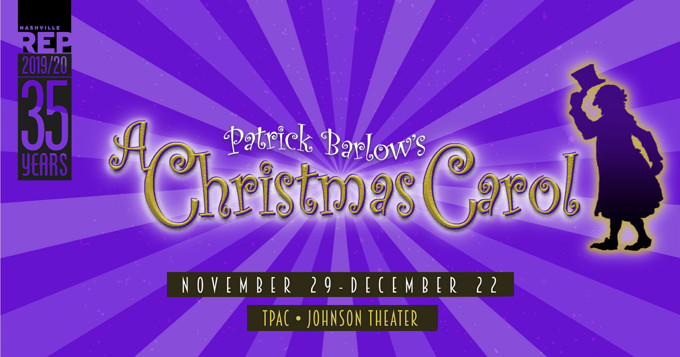 Patrick Barlow's A CHRISTMAS CAROL at Nashville Repertory Theatre
Dates

11/29/2019 - 12/22/2019

Theatre


505 Deaderick Street
Nashville, 37219
Twitter Facebook Instagram

Tickets Info

49+
Phone: 6157824040




Join us for the holiday party of the year! The Ghosts of Christmases Past, Present, and Yet To Come journey through time to remind an iron-hearted Scrooge what Christmas is truly about. This thrilling adaptation by Patrick Barlow brings Charles Dickens most beloved characters to life using five actors, imaginative props, and mesmerizing design. A true celebration of theatre and the holiday season, Barlow's "A Christmas Carol" is a magnificent twist on this timeless story of redemption. You'll laugh, you'll cry, and you'll leave Nashville Rep full of holiday cheer!
Ages
: Bring the whole family! Great for all ages.
News About Patrick Barlow's A CHRISTMAS CAROL at Nashville Repertory Theatre
Nashville Rep Reveals 35th Anniversary Season, Leading Off With URINETOWN THE MUSICAL
April 19, 2019
On the heels of a year that BroadwayWorld.com called 'their best season ever,' Nashville Repertory Theatre will kick off the celebration of its 35th season with a slate of shows designed to appeal to the most discerning of audiences. Nashville Rep artistic director Rene D. Copeland announced the slate last week during a cocktail party at Cabana restaurant in Hillsboro Village, much to the delight - and applause - of those gathered for the big reveal.
Cast and Creative team for Patrick Barlow's A CHRISTMAS CAROL at Nashville Repertory Theatre
Brian Russell
Scrooge
Shawn Knight
Actor 1
Mallory Mundy 
Actor 2
Joy Pointe
Actor 3
Jonah Jackson
Actor 4
Nashville Repertory Theatre Frequently Asked Questions
What shows are coming up next at Nashville Repertory Theatre


Where is Nashville Repertory Theatre located?
Nashville Repertory Theatre is at 505 Deaderick Street, Nashville.
What shows have played recently at Nashville Repertory Theatre