Utech, McGraw and Wilkinson Star in Chaffin's Barn's SISTER ACT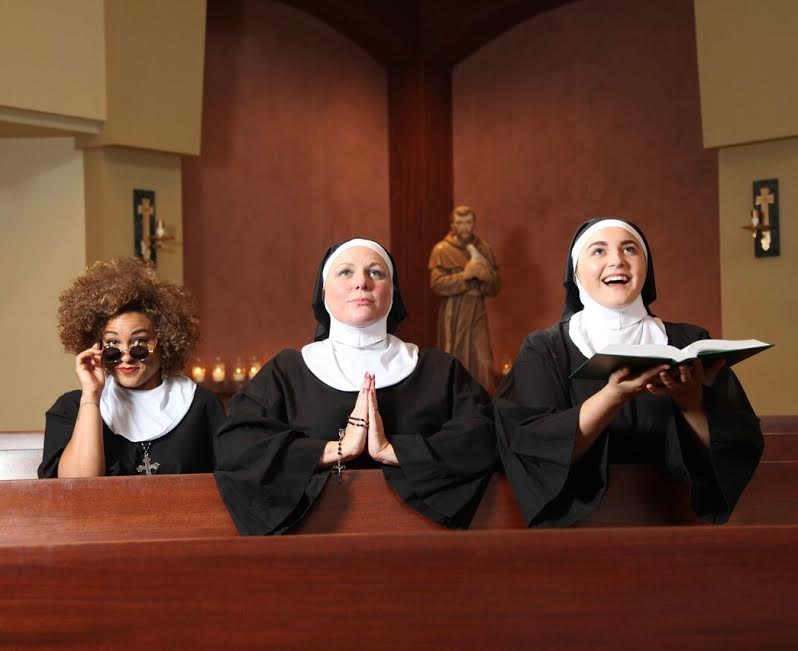 Meggan Utech and Gracie McGraw will make their Chaffin's Barn debuts this summer, joining Barn favorite Martha Wilkinson in Sister Act, the hilarious, five-time Tony Award-nominated musical, opening June 8 and running through July 22.
When disco diva Deloris Van Cartier (Utech) witnesses a murder, she is put into protective custody in the one place cops are sure she won't be found-a convent! Disguised as a nun, she finds herself at odds with both the rigid lifestyle and an uptight Mother Superior (nine-time First Night Award winner and 2015 First Night Honoree Wilkinson).
Using her "fabulous disco-ness" and killer voice to inspire the choir, Deloris breathes new life into the church, but in doing so blows her cover. Soon it's nun-on- the-run time but she finds salvation in the heavenly power of her newly found sisterhood. Based on the hit film, Sister Act music gleans inspiration from the musical styles of Motown, soul and funk to great big disco anthems all melded together in this musical comedy score.
Bradley Moore, assistant artistic director at Chaffin's Barn, directs, with musical direction by Kelsi Fulton and choreography by Everett Tarlton. His cast includes McGraw as Sister Mary Patrick and Caitlyn Porayko as Sister Mary Robert, along with Vicki White, Katie Bruno, Jenny Norris Light, Anna Carroll, Lynda Cameron-Bayer, Megan Arrington, Devin Bowles, Stewart Romeo, Curtis Reed, Gerold Oliver, Alex Piniero, David Arnold and Brett Cantrell.
Before each show, Chaffin's Barn presents a delicious prime rib buffet featuring choices for everyone from the carnivore to the vegan, as well an a la carte menu which includes several choices for all appetites and wallets: Small plates include hummus and veggies and the special Farmer's Caviar and chips, or Philly Cheese Steak sandwiches, sliders or a fresh house salad.
For reservations, call (615) 646-9977 or go online at www.dinnertheatre.com for further details about the show. Chaffin's Barn, A Dinner Theatre, is located at 8204 Highway 100, Nashville.
PERFORMANCES: Thursday show at 12 noon (brown bag matinee); house opens at 11 a.m. Thursday, Friday and Saturday night shows at 8 p.m., buffet opens at 6 p.m. Sunday Matinee performances are at 2 p.m., with the buffet open at noon.
TICKET PRICES: Thursday Brown Bag Matinee: $19 bring your own lunch tea coffee and soft drinks included OR $27.50 With Chaffin's Box Lunch. Evening shows and Sunday matinees: Dinner and show tickets: $60 per person, includes dinner, show, coffee, tea, soft drinks, and tax; patrons ages 13-18 $30 per person dinner and show; kids 12 and under $18 per person dinner and show; kids 4 and under are free. Show-only tickets are $30 (arrive before 7:30 p.m. to try the a la carte menu).
Jeffrey Ellis is a Nashville-based writer, editor and critic, who's been covering the performing arts in Tennessee for more than 35 years. In 1989, Ellis (read more...)