THE WOLVES, SWEENEY TODD Win Top Awards at 2019 Midwinter's First Night
Actors Bridge Ensemble's critically acclaimed production of Sarah DeLappe's The Wolves and Cumberland County Playhouse's stunning mounting of Stephen Sondheim and Hugh Wheeler's Sweeney Todd: The Demon Barber of Fleet Street were named as the top shows of the year during Midwinter's First Night, the annual tribute to theater in Tennessee, held at Nashville's The Larry Keeton Theatre Sunday night, January 13.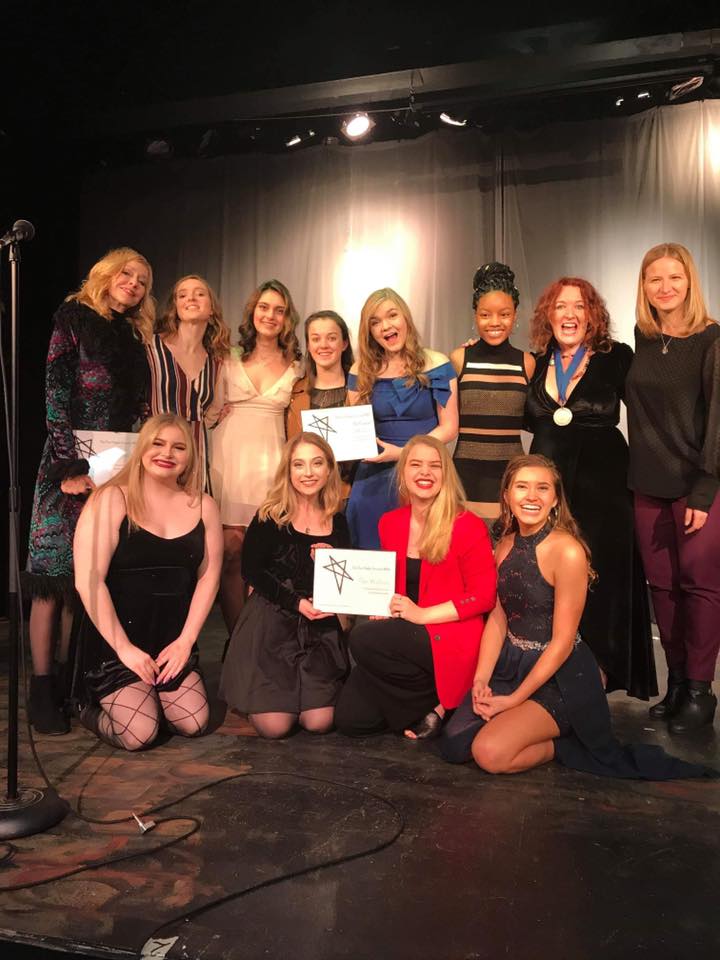 In addition, Vali Forrister, co-founder and producing artistic director of Actors Bridge, and Bryce McDonald, producing director at Cumberland County Playhouse, were honored as Tennessee's Theaterati of the Year during the 30th anniversary celebration of First Night. The awards and recognition program founded by Jeffrey Ellis in 1989 presented awards in some 25 categories Sunday night, with a sold-out audience at The Keeton to witness the event.
Hosted by Broadway star - and Nashville's own - Rachel Potter (who last year shared the award for Outstanding Leading Actress in a musical with Jennifer Whitcomb-Oliva) and Bradley D. Gale, 2019's Outstanding Leading Actor in a Musical (for Nashville Repertory Theatre's Avenue Q) and former star of the national tour of Book of Mormon, the 2019 First Night Awards featured musical performances from a wide range of Tennessee talents, with performances from: the cast of Arts Center of Cannon County's upcoming Singin' in the Rain (Lindsey Mapes Duggin, Daxton Patrick and Austin Jeffrey Smith), Murfreesboro's Center for the Arts' cast of Disney's Newsies (led by Nick True as Jack Kelley, Isabella Kearney as Katherine Plumber, Callum Ammons as Davey and Jude Williams as Les ), McMinnville's Dream Reality Group's cast of Footloose (directed by Logan Taylor) and the cast of Circle Players' current of Avenue Q (Alex Pineiro, Carly Rose, Justin Barnett, Seth Brown, Kaitlin Ladd, Abigail Nichol, Clinton Randolph, Sara Smith, Taylor Simon, Nick Spencer and Carter Wright).
Other performance highlights included Jenna Pryor and Molly Rocket performing a number from their popular Booty and the Jew, featuring Meggan Utech and Shelbi Albert; Jason Ross and Weslie Webster from CCP's Sweeney Todd, reprising their roles from the show with "A Little Priest"; and solo turns by Taylor Tracey, Kristian Dambrino and Shelby Jones.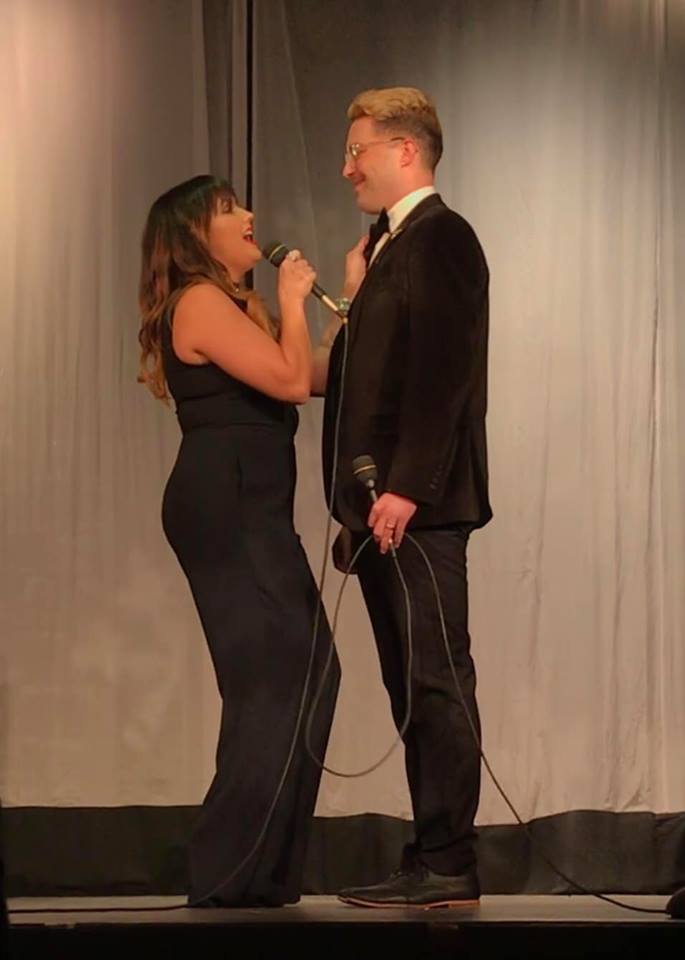 Potter and Gale, hailed by many in the audience as the best First Night hosts in recent memory, entertained with a duet of "Suddenly, Seymour" from Little Shop of Horrors, while each took the spotlight for their solo performances - Potter's stirring rendition of "Never Enough " from The Greatest Showman and the consummate showman Gale's original song (which helped capture the realities of life for a Nashville theater transplant - he's originally from Michigan, Gale reminded his audience) for which he provided his own accompaniment on the ukulele.
A veritable who's who of Nashville theater served as presenters throughout the three-hour show, including Russell Forbes, Brad Hunter, Patriq James, Bradley Moore and Jon Rogers from the cast of The Boys in the Band; Taylor Tracey and Evan Grabenstein; Elizabeth Golden, AJ Harris and Jena Salb; Jennifer Whitcomb-Oliva; Kristian Dambrino and Terrell Hunt; Emily Maria Seifert and Nicholas Ryan; Craig Hartline and Gregory Williams Welsch; Angela Gimlin (who also hosted the pre-show on Facebook Live); Melinda Paul Sewak and James David West; Candace-Omnira Lafayette and Brooke Leigh Davis; Amie Lara and Cheryl Restel; 2015 First Night Honoree Kaul Bluestone and First Night founder and executive producer Jeffrey Ellis.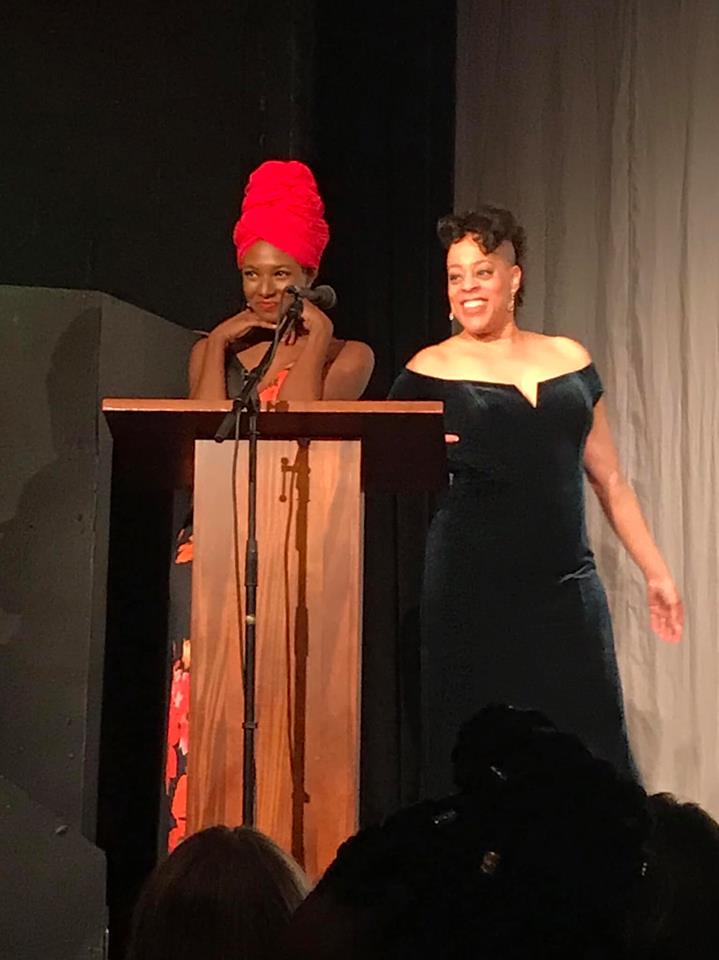 In addition to the performances, highlights of Midwinter's First Night included memorable acceptance speeches by both Forrister and McDonald, along with that of Denice Hicks, producing artistic director of Nashville Shakespeare Festival, who accepted the accolades for Theater Company of the Year, and a special Facetime acceptance from Benjamin Rauhala, musical director and "Fairy Godfairy" for The Broadway Princess Party - starring Laura Osnes, Susan Egan, Courtney Reed and Adam J. Levy (and for its Nashville performance, Rachel Potter) - which was named the year's Outstanding Road Show.
Winners of the 2019 First Night Awards (recognizing theatrical achievement throughout 2018) were:
Theater Company of the Year: Nashville Shakespeare Festival
Tennessee's Theaterati of the Year: Vali Forrister, producing artistic director of Actors Bridge Ensemble, and Bryce McDonald, producing director of Crossville's Cumberland County Playhouse
Outstanding Play: The Wolves, by Sarah DeLappe, directed by Jaclynn Jutting for Actors Bridge Ensemble
Outstanding Musical: Sweeney Todd, The Demon Barber of Fleet Street, music and lyrics by Stephen Sondheim, book by Hugh Wheeler, directed by Bryce McDonald for Cumberland County Playhouse
Most Promising Actors: Sevon Askew; Lucas Beckett; Seth Bennett; Brooke Bethel; Samantha Blake; Kamryn Victoria Boyd; Seth Austin Brown; Alex Drinnen; Michael Dunaway; Isaiah Frank; Robin August Fritsch; Elizabeth Golden; Bobby Hogan; Jack Jones; Sam Kell; Jonathan Killebrew; Tori Kocher; Chamberlin Little; Lexie McEntire; Elisha McFarlin; Brianna Middleton; Charlie Munday; Daxton Patrick; Nate Paul; Kayla Petrille; Emma Puerta; Austin Querns; Abbey Rhyne; Virginia Richardson; Liam Searcy; Austin Jeffrey Smith; Nicholas True; Braden Wahl; and Lauren Yawn
Outstanding Performance by an Ensemble in a Play: The Wolves, Actors Bridge Ensemble
Outstanding Performance by an Ensemble in a Musical: Hair, Circle Players
Outstanding Original Work: Frankenstein, by A.C. Peterson, directed by Matt Logan for Studio Tenn
Outstanding Director of a Play: Jaclynn Jutting, for The Flick from Verge Theater Company, and The Wolves from Actors Bridge Ensemble
Outstanding Director of a Musical: Ernie Nolan, The Little Mermaid, Nashville's Children's Theatre
Outstanding Musical Director: Allison Hall, Titanic the Musical, Arts Center of Cannon County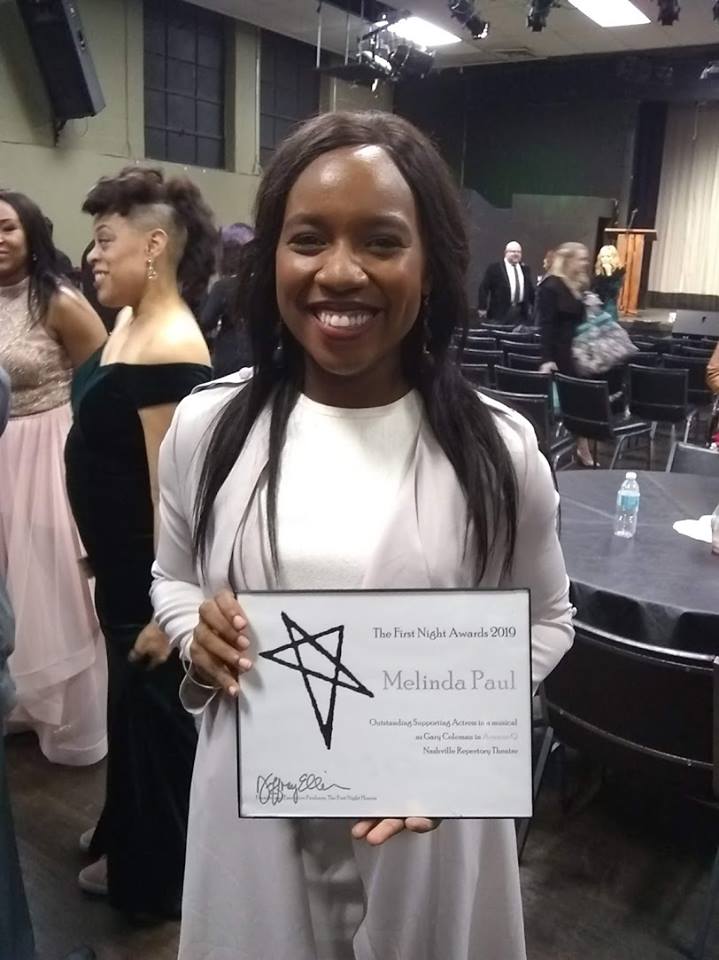 Outstanding Choreographer: Everett Tarlton, Elf the Musical, Chaffin's Barn Dinner Theatre
Outstanding Road Show: The Broadway Princess Party
Outstanding Leading Actor in a Play: Samuel Ashdown, Hamlet, Nashville Shakespeare Festival
Outstanding Leading Actress in a Play: Cheryl White, A Doll's House, Part 2, Nashville Repertory Theatre
Outstanding Leading Actor in a Musical: Bradley D. Gale, Avenue Q, Nashville Repertory Theatre, and Jason Ross, Sweeney Todd: The Demon Barber of Fleet Street, Cumberland County Playhouse
Outstanding Leading Actress in a Musical: Catherine Birdsong, The Little Mermaid, Nashville Children's Theatre
Outstanding Supporting Actor in a Play: Lucas Beckett, Kimberly Akimbo, Verge Theater Company
Outstanding Supporting Actress in a Play: CJ Tucker, The Wolves, Actors Bridge Ensemble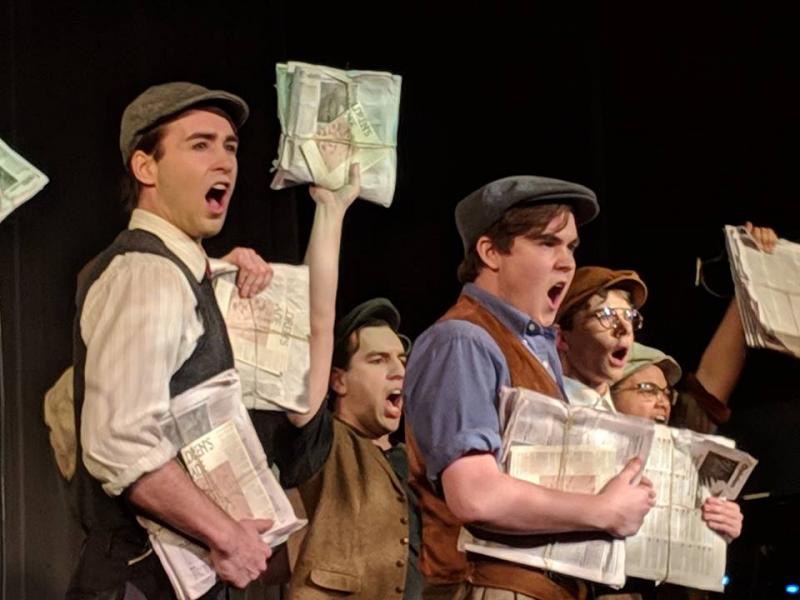 Outstanding Supporting Actor in a Musical: Elisha McFarlin, Titanic the Musical, Arts Center of Cannon County
Outstanding Supporting Actress in a Musical: Melinda Paul, Avenue Q, Nashville Repertory Theatre
Outstanding Scenic Design: Matt Logan, Frankenstein, Studio Tenn
Outstanding Costume Design: Andy Wallach, Sweeney Todd, the Demon Barber of Fleet Street, Cumberland County Playhouse
Outstanding Lighting Design: Scott Leathers, Mockingbird, Nashville Children's Theatre
Outstanding Sound Design: Joanna Lynne Staub, Mockingbird, Nashville Children's Theatre