STAGE TUBE: WHITE CHRISTMAS Tour's 'Underneath the Tree'
David Perlman - who plays Ralph Sheldrake, the sometimes manipulative, always cunning television producer in Irving Berlin's White Christmas - admits he may have been a tad "aggressively inspirational" recently when it came time to persuade his castmates and company cohorts to take part in a pet project that ultimately became a labor of love and yuletide revelry for the lot them.
With Kelly Clarkson's "Underneath the Tree" as their soundtrack, members of the national touring coming of Irving Berlin's White Christmas - under the imaginative and creative eye of Perlman, who in addition to being an actor is a professional photographer - proudly unveil their new music video (filmed primarily backstage and onstage of the White Christmas tour), which is certain to delight viewers and Clarkson fans for the rest of the holiday season and beyond.
"Early in rehearsals, I started planting seeds about doing the music video, and people seemed into it," Perlman says. "The cast and crew is such a fun and joyful bunch, and I soon started to see that this could really work out!"
In fact, it was shortly after he was cast as the wheeling and dealing Sheldrake that Perlman hatched his plan: "I'll admit that I thought of this idea months ago when I got cast in the tour," he explains. "I've been itching to do another music video since my husband and I made one last year while I was doing Fiddler on the Roof at Goodspeed. I knew I wanted to use 'Underneath the Tree' because it is, in my opinion, the absolute best Christmas song from the last 20 years. And I am a huge Kelly Clarkson fan!"
But did he have to resort to threats, blackmails and bodily harm to convince the company to join him in the project? Laughing, he says he was at first nonchalant about the video, "But then I changed tactics and tried to be aggressively inspiring. And people got very excited about it! The cast was totally into it, and I'm so happy people came to the table with so many fun ideas. I have to give a special shout-out to Natalie Errthum, who got some of the girls into their wigs a little early so we could shoot before the show. And Don Skelton and Barbara Oleszczuk in wardrobe who would allow people to throw on different costumes so we could shoot during intermissions and stuff. Also, I went into this thinking we'd have to do the entire thing backstage (which about 85% of the video is), so I was happily surprised when our stage manager John W. Calder III arranged for us to get 30 minutes of stage time. This was definitely a group effort!"
But for the project to be successful, he says, it had to be a lot of fun to engage the hard-working cast and crew. "I wanted it to be fun, so if people hadn't been into it, it wouldn't have happened."
"I hope everyone enjoys watching it as much as we enjoyed making it," says Kelly Sheehan, who plays Judy Haynes in Irving Berlin's White Christmas and who is featured (blonde wig and all) in the first verse of Clarkson's hit.
Kerry Conte, who plays Sheehan's onstage sister Betty Haynes and is featured in the second verse (in the red wig), says, "The enthusiasm was infectious. The dressers in Cincinnati went out of their way to put us in costumes before the show and at intermission. Kelly Sheehan and I would blast Kelly Clarkson in the dressing room to learn the lyrics and hear Pam Meyers rocking out across the hallway...and I must say: Pam certainly knows how to riff."
"As for me, I had a blast being a goof in front of the camera," laughs Jeremy Benton, the company's Phil Davis. "Bravo to David making my silly mug look halfway decent. Also, all of the footage was captured during actual performances and theatre calls, so again, kudos to David for squeezing in all of this great footage in and around everyone's performance schedules. I can't wait to be a part of the next one!"
Currently in Rochester, New York, this week the IBWC company moves on to Schenectady for its Christmas week stand: "It's awesome! It's such a great group of people, and the crowds are really loving the show. We have shows in Rochester this week and Schenectady next week, and I totally recommend coming!"
Once the 2015 tour concludes, Perlman heads south to play Leo Bloom in The Producers at the Waterfront Playhouse in Key West: "I'm beyond excited for so many reasons," he admits. "It's a dream role, I'll be in Key West in the winter - and maybe it will be the perfect opportunity to make another video."
Want to keep up with the latest David Perlman adventures, theatrical and/or otherwise?
About Irving Berlin's White Christmas: The show stars Sean Montgomery as "Bob Wallace,"Jeremy Benton as "Phil Davis," Kerry Conte as "Betty Haynes," and Kelly Sheehan as "Judy Haynes." Also featured are Pamela Myers as "Martha Watson," Conrad John Schuck as "General Waverly", David Perlman as "Ralph Sheldrake," Ravi Roth as "Mike Nulty," Cliff Bemis as "Ezekiel Foster," and Elizabeth Crawford and Samantha Penny as "Susan Waverly." Rounding out the cast are Maria Rose Briggs, Darien Crago, Elish Conlon, Laurie DiFilippo, Joe Grandy, Drew Humphrey, Bryan Hunt, Megan Kelley, Connor McRory, Bryan Charles Moore, Kristyn Pope, Jake Primmerman, Sean Quinn, Rachel Rhodes-Devey and Kelly Skidmore.
Irving Berlin's White Christmas tells the story of two showbiz buddies putting on a show in a picturesque Vermont inn, and finding their perfect mates in the bargain. Full of dancing, romance, laughter and some of the greatest songs ever written, including "Count Your Blessings Instead of Sheep," "Happy Holiday," "Sisters," "Blue Skies," and the unforgettable title song, IRVING BERLIN'S WHITE CHRISTMAS promises to be a merry and bright experience for the entire family!
The creative team for the National Tour includes direction and choreography by Randy Skinner (Tony Award® Nomination, Best Choreography); book by David Ives (Finian's Rainbow, On the Town) and Paul Blake (Producer, Beautiful-The Carole King Musical); set design by Anna Louizos (Avenue Q, In The Heights); set adaptation by Kenneth Foy; costumes by Carrie Robbins (A Class Act); lighting design by Ken Billington (The Drowsy Chaperone, Annie); sound design by Keith Caggiano; orchestrations by Larry Blank (Tony Award® nomination, Best Orchestrations); vocal and additional arrangements by Bruce Pomahac; music direction by Michael Horsley; casting by Binder Casting/Jason Styres, CSA. Original Broadway production directed by Walter Bobbie.
Irving Berlin's White Christmas is produced by Work Light Productions, whose other current & upcoming touring productions include Rent 20th Anniversary Tour, Rodgers & Hammerstein's Cinderella, MAMMA MIA!, Vocalosity, and Crazy For You.
Irving Berlin's White Christmas features Music and Lyrics by Irving Berlin, and is based upon the Paramount Pictures film written for the screen by Norman Krasna, Norman Panama and Melvin Frank.
The tour will be traveling to Waterbury, Knoxville, Newport News, St. Louis, Cincinnati, Providence, Rochester and Schenectady during the 2015 holiday season.
Once the 2015 tour concludes, Perlman heads south to play Leo Bloom in The Producers at the Waterfront Playhouse in Key West: "I'm beyond excited for so many reasons," he admits. "It's a dream role, I'll be in Key West in the winter - and maybe it will be the perfect opportunity to make another video."
Jeffrey Ellis is a Nashville-based writer, editor and critic, who's been covering the performing arts in Tennessee for more than 35 years. In 1989, Ellis and his partner l... (read more about this author)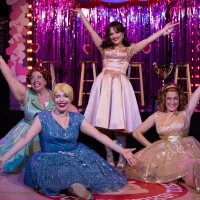 Review: Nostalgic and Warm MARVELOUS WONDERETTES May Be the Cure For What Ails You

November 16, 2022

There's really nothing better for what ails you – particularly on a cold, wet and dreary Sunday afternoon – than a stroll down memory lane, thanks to a tuneful trip to the 1950s and '60s with The Marvelous Wonderettes, a nostalgic and enormously entertaining musical revue by Roger Bean.
---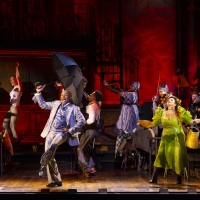 Review: HADESTOWN 'Mesmerizes and Captivates' During Weeklong Stand at Nashville's TPAC

November 2, 2022

Mesmerizing and captivating are just two of the words that might best describe Hadestown, the Tony Award-winning best musical of the truncated 2019-20 Broadway season, which is now commanding ovations of rapturous applause from adoring fans at Nashville's Tennessee Performing Arts Center during an eight-performance run through Sunday, November 6.
---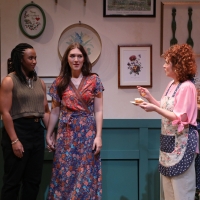 Review: Lauren Shouse's Sublime Direction of THE CAKE Provides Much Food for Thought

October 28, 2022

Lauren Shouse's directorial resume is quite the impressive one and over the years she's helmed productions for Nashville Repertory Theatre that have been justifiably acclaimed both by audiences and critics alike. But despite the notoriety that seems to always accompany a "Lauren Shouse-directed production," perhaps none is more deserved than the accolades that follow in the wake of The Cake, the latest entry on her already stellar list of shows.
---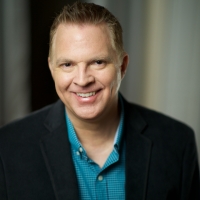 Interview: Award-winning Author Lewis Kempfer On The Publication of 120 SEATS IN A BOILER ROOM

October 10, 2022

Tomorrow – October 11, 2022 – marks yet another momentous day in the history of Boiler Room Theatre, the late and lamented theater company that originally brought professional theater to The Factory at Franklin. 120 Seats in a Boiler Room: The Creation of a Courageous Professional Theater, the latest book by BRT co-founder Lewis Kempfer (who is an award-winning author in addition to his multi-hyphenate theater titles as director-producer-actor-designer), will be released by Amazon.
---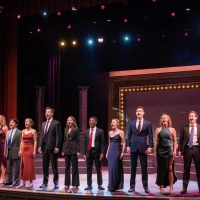 Review: Belmont University Musical Theatre's Inspiring and Astonishing SONDHEIM ON SONDHEIM

October 9, 2022

Since his death in 2021, Stephen Sondheim and his canon of work have justifiably been on the hearts and minds of theater people from around the world, with revivals, retrospectives and remembrances filling the calendars of an amazing range of companies paying homage to the master of contemporary musical theater. Just in time for a new season of productions highlighting the Nashville theater calendar, Belmont University Musical Theatre has chosen the aptly named musical revue Sondheim on Sondheim to launch a two-show semester that honors the genius of the master while showcasing the talents of its roster of musical theater majors who continue to add luster to the program's reputation.
---