Love and Changing Gender Roles Explored in Vanderbilt University Theatre's ORLANDO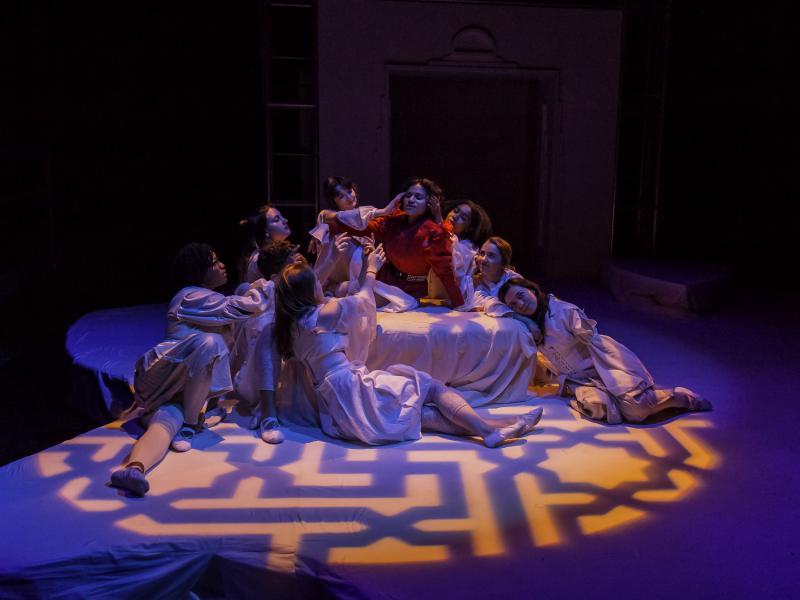 Jessika Malone (a Fred Coe Artist-in-Residence) directs the Vanderbilt University Theatre production Orlando, Sarah Ruhl's adaptation of a 1928 novel by Virginia Woolf, through February 24.
Orlando is presented in Neely Auditorium February 17, 23 and 24 at 8 p.m., with performances also scheduled Sunday, February 18, at 2 p.m., and Wednesday, February 21 at 7 p.m.
"As an exploration of gender, love, and sexuality, Orlando takes us on a journey of self-discovery and self-reflection applicable even today," says Malone, who directed VU Theatre's production of the absurdist comedy Gnit last spring. She earned her MFA in directing from Illinois State University after receiving a Bachelor of Arts degree in theatre from Belmont University.
The Vanderbilt production is playwright Sarah Ruhl's adaptation of Woolf's story, with the main character living through centuries first as a man and later as a woman.
"Beginning in Elizabethan London, Orlando first learns love under the regal gaze of Queen Elizabeth, but is soon wooed by the graceful yet masculine Princess Sasha of Russia," explains Julie Jones, the production's dramaturg and a senior who is majoring in international development and social change. "After many heartbreaks and false romances, Orlando escapes to Constantinople, where he awakes as a woman in the 18th century. Orlando returns to London, again struggling with deceitful Archdukes before falling in love with a sailor, entering the 20th century, and finally finishing her epic poem."
Miranda Pepin, a senior in the College of Arts and Science, plays Orlando. Pepin is majoring in physics with minors in theatre and scientific computing, and performed in the Nashville Shakespeare Festival's signature program, Shakespeare in the Park, last summer.
Other cast members include Grace Allaman, Mar Battistella, Annie Bradford, William Cummings, Sara Ernst, Colleen Guerry, Koryn Guile, Lauren Hurley, McKenzie Marshall, Lexi Perez, Raven Thompson and Josh van der Eerden.
Phillip Franck, associate professor of theatre, is the set/lighting/audio designer, while Alexandra Sargent-Capps, senior lecturer in theatre, created the costumes. Matthew Stratton, senior lecturer in theatre, is Orlando's technical director.
General admission for Orlando is $10. There are reduced prices for students. Tickets are available at the Sarratt Box Office.