DREAMGIRLS Brings Sounds Of Motown And R&B To The Roxy Regional Theatre, February 11 - February 25
Inspired by Motown and R&B legends of the 1960s and '70s, Dreamgirls follows the rising stardom of the Dreamettes, an all-girl singing trio from Chicago.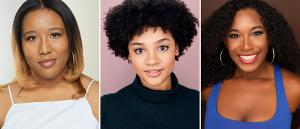 The corner of Franklin and First in historic downtown Clarksville will be alive with the sounds of Motown and R&B when the hit musical Dreamgirls opens at the Roxy Regional Theatre on Saturday, February 11, at 8:00pm. In keeping with the theatre's pay-what-you-can opening night tradition, all tickets not pre-sold at the regular price will go on sale at 7:30pm that evening for a $5 minimum donation. (Due to recent winter weather preventing adequate rehearsal time, the original opening of this production was postponed.)
Inspired by Motown and R&B legends of the 1960s and '70s, Dreamgirls follows the rising stardom of the Dreamettes, an all-girl singing trio from Chicago: the phenomenally talented, but demanding Effie White (Karley Purnell), the beautiful and appealing Deena Jones (Olivia White), and the eager, romantic Lorrell Robinson (Sierra Wilson). The three best friends team up with driven, demanding manager Curtis Taylor, Jr. (Kyle Javon), who is determined to see their - and his - star rise.
As their careers begin to take off, changes are made to ensure their mass appeal to the pop market. Egos are bruised, tempers flare, and hearts are broken in pursuit of stardom. Inspired by the stories of groups such as The Supremes and The Shirelles and featuring many iconic classic songs, this sweeping and inspirational journey through 20th century American pop music is a love letter to American R&B music and the artists that make such music great.
Directed by Virginia-based actor, singer and dancer Terrence J. Bennett (last seen on the Roxy stage in Ain't Misbehavin') and choreographed by Ryan Bowie, with additional choreography by Emily Ruck and music direction by Debbie Wilson, Dreamgirls also features David Ridley as singer Jimmy Early, Isaiah Josiah as composer C.C. White, La'Nanda Chance as backup singer Michelle Morris, and KEVIN Ray Johnson as theatrical agent Marty Madison, along with Ariana Caldwell, Donald Groves, Destiny Harris, Tanner Huffman, Carrie McKnight, Faith Konty, Prince Parker, Rashawn Sangster, Alexandria Smith, and Kenneth L. Waters, Jr.
Songs featured in the musical include "Move (You're Steppin' on My Heart)," "(And I'm Telling You) I'm Not Going," "One Night Only" and more, accompanied by Debbie Wilson on piano, Gary Bo Clayton on trumpet, Heath Rives on saxophone/clarinet/flute, Ben Hickson on trombone, Darrin Hoffman on guitar, Thad Wallus on bass, and Bernard Lott on drums/percussion.
Dreamgirls is produced in part through the generous support of Suzanne & Ron McCafferty and David & Ted Jones. Additional funding support has been provided by Dr. Ernie & Joan DeWald, Barbara & Larry Goolsby, Councilperson Stacey Streetman and Commissioner Rashidah Leverett.
Written by Tom Eyen and composed by Henry Krieger, the original Broadway production was directed and choreographed by Michael Bennett, with orchestrations by Harold Wheeler, and produced on Broadway by Michael Bennett, Robert Avian, Geffen Records and The Shubert Organization. This production of Dreamgirls is presented through special arrangement with Concord Theatricals Company, www.concordtheatricals.com.
Performances run February 11 through February 25 on Thursdays at 7:00pm and Fridays and Saturdays at 8:00pm, with 2:00pm matinees on Saturday, February 18 and February 25.
The evening performance on Saturday, February 25, is being presented as part of the special event "Martinis with The Dreams," featuring cocktails and hors d'oeuvres at 7:00pm, followed by the 8:00pm performance of Dreamgirls. The evening's menu, catered by Nicoletta's, features pulled pork sliders, loaded mashed potato shooters, assorted cheeses and crackers, fresh vegetables with ranch dip, assorted desserts from B's Cheesecakes - and, last but not least, vodka martinis and gin martinis with all the fixin's. Tickets to "Martinis with The Dreams" (including the performance) are $60 per person.
Tickets to Dreamgirls are $35 (adults) and $15 (10 and under) and may be reserved online at www.roxyregionaltheatre.org, by phone at (931) 645-7699, or at the theatre during regular box office hours (9:00am to 5:00pm, Monday through Friday, and one hour prior to curtain).
Military can receive two tickets for the price of one to Thursday and Saturday 8:00pm performances during the run, while CitySaver coupon holders can receive two tickets for the price of one to Friday performances. Austin Peay State University students can receive two tickets for the price of one to Thursday performances and take advantage of $10 APSU Student Rush tickets, available at the door ten minutes prior to all performances.
HEALTH AND SAFETY PRECAUTIONS: While not required in the 40th Anniversary Season, we welcome and encourage masks for all patrons and visitors. The Roxy Regional Theatre reserves the right to change this COVID-19 policy at any time and will communicate any necessary changes electronically or in person.
The Roxy Regional Theatre (Roxy Productions, Inc.) is a 501(c)(3) nonprofit organization dedicated to producing professional live theatre and promoting the arts, with emphasis on education, in Clarksville, Middle Tennessee and the Southeast. The theatre is located at 100 Franklin Street in Historic Downtown Clarksville. For more information, visit www.roxyregionaltheatre.org.