BWW Review: SISTER ACT Heralds A Return to the Glory Days at Chaffin's Barn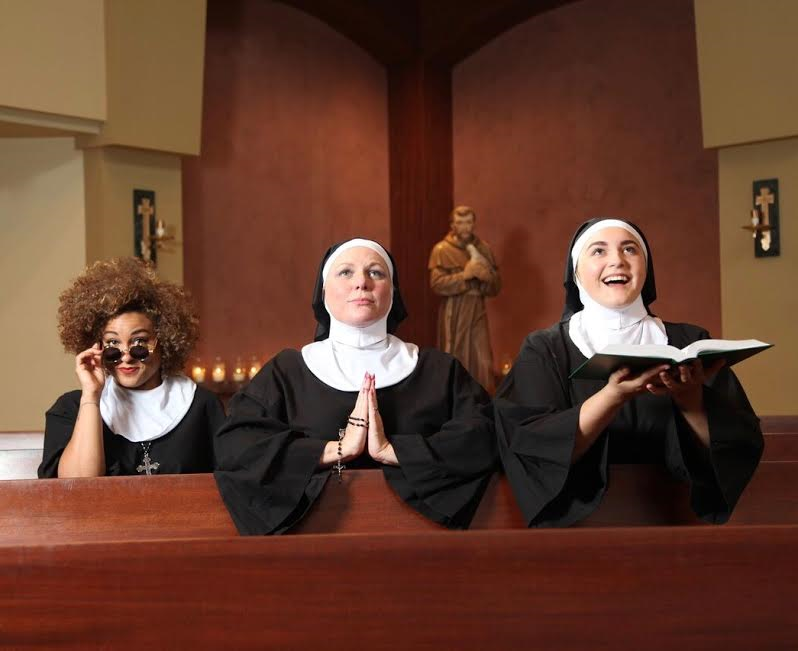 Back in the day, theatrically speaking, there was something you could always count on in Nashville: some of the very best (if not the best) summer musicals could be found at one venue - Chaffin's Barn Dinner Theatre. All manner of classic stage musicals were staged at the Barn over the years, ranging from Oklahoma! and Camelot to The Robber Bridegroom and Singin' in the Rain, and they remain vividly etched in memory, images of well-respected actors plying their trade in iconic shows and performing legendary musical scores we still revere as some of the best shows we've ever seen.
Well, we're very happy to report - no make that "exultant" and "delighted" - that we've seemingly returned to the glory days of musical theater at Chaffin's Barn thanks to the glitzy and glittery production of Sister Act, The Musical now onstage through July 22. Directed confidently and assuredly by Bradley Moore, who's something of a lightning rod in Nashville theater so prolific is he, Sister Act is performed with such verve, such energy and such gusto that you're likely to feel as if you've entered the venerable theater in its early days as Nashville's first professional theater.
More to the point: if you don't make your reservations for Sister Act as quickly as possible, we fear that (even with its seven-week run) you'll miss out on one of summer's most enjoyable spectacles. Led by nine-time First Night Award winner and Chaffin's Barn artistic director Martha Wilkinson (a 2015 First Night Honoree in recognition of her 30-some years as one of the region's most beloved musical theater performers) and Barn newcomer Meggan Utech who, as Sister Act's most electrifying sister, powers the stage with maximum wattage thanks to her winning performance and commanding stage presence, the production is destined to be much talked about and heralded as the show that ensures new owner Norma Luther can keep on doing what she initially set out to do: Keep the theater's doors open for generations to come by providing audiences with top-notch entertainment and a groaning board of delicious foods that will keep people coming back for more.
Who knew Sister Act, the musical tale of a nightclub performer of the disco era (the show is set in 1978 and Deloris' idol is none other than disco queen Donna Summer) who witnesses a murder and must be spirited away to the relatively safe confines of the local nunnery, would be just the vehicle to bring audiences into the 21st century with such outlandish style and exorbitant flair? Moore and Wilkinson, probably, but even they couldn't have been 100% sold on the fact that the opening night crowd would leap to their feat in a standing ovation at the end of the show.
Moore's cast - an ensemble of 18 talented individuals who form one cohesive unit bent on delivering the goods - sparkles and shines throughout the two-and-a-half-hours of the show, which has never looked or sounded better (even after witnessing four other productions over the years since its Broadway debut in 2011), thanks in large part to musical director Kelsi Fulton's expert leadership of her five-person band and choreographer Everett Tarlton's high-stepping, spirited homage to the disco-inspired dances that inform the fancy footwork he's developed for his cast.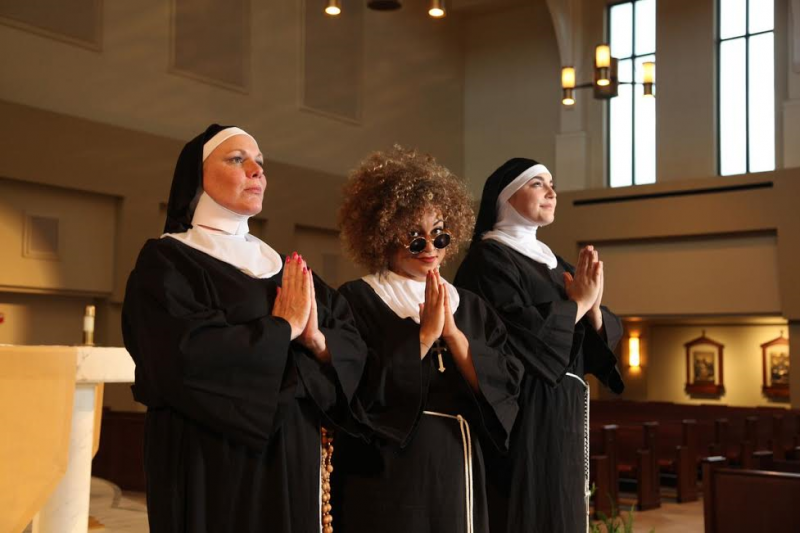 Moore directs the show in such a way that it never seems to stop moving, one scene flowing seamlessly into the next (with only very slight opening night jitters from time to time) and his cast remains astonishingly focused throughout ensuring that audiences are delighted from start (we first greet Utech's Deloris Van Cartier trying out a new nightclub act for her married gangster-boyfriend Curtis, played with charm and menace by Devin Bowles) to finish (when Wilkinson's Mother Superior and Sister Mary Clarence/Deloris share a moment that will have you dabbing the tears from your eyes). In between, it's a roller coaster ride of musical merriment that is so freakin' fun you just won't believe you're at the Barn (those new chairs are mighty comfy, thank you Norma!) and you'll be laughing out loud, thanks to the clever and engaging dialogue crafted by book writers Bill & Cheri Steinkellner.
The story is convoluted to be sure, but there is a very genuine heartbeat found in the script's pages as the sometimes haughty and arrogant Deloris reveals her own vibrant soul as she becomes a sister, in all senses of the word, with all the other women at the convent where she's hiding out from Curtis' bumbling trio of thugs (played so effortlessly by Curtis Reed, Alex Piniero and Gerold Oliver, who stop the show with Act Two's raucously funny "Lady in the Long Black Dress" that's worth the price of a ticket).
Utech's star power ensures all eyes are riveted to her throughout the show and her performance is not one to be missed, as she skillfully portrays Deloris' transformation from hardened showgirl to empathetic friend and sister. Musically, she stands toe-to-toe with the estimable Wilkinson (who, quite frankly, still has no rivals for her place as the queen of musical theater in Nashville), showing off some impressive vocal chops in the process - her second act "Sister Act" is amazing.
Wilkinson's unparalleled stage presence is again shown off in abundance as the mother superior to the gaggle of misfit nuns in her charge, portraying her character as a stern buT Loving taskmaster who takes no guff from anyone - whether it's a nightclub chanteuse, an underworld chieftain or the righteous monsignor. Her performance of "Here Within These Walls" gives her a chance to shine, while her second act performance proves, yet again, why she is a revered theatrical figure in these parts.
As "sweaty Eddie," the police officer assigned to ensure Deloris' safety while she's on the lam, so to speak, Stewart Romeo (clad in a wig that's reminiscent of Buckwheat of Our Gang-fame) gives a wonderfully unfettered performance that somehow blends broad humor with an undercurrent of seriousness and unrequited love for his charge in a way that's terribly accessible. His "I Could Be That Guy" is a musical highlight of the show's first stanza.
Among the other nuns who populate the convent, Caitlyn Porayko gives a stunning performance as the postulant Mary Robert, delivering a knockout rendition of "The Life I Never Led" that is dazzling. Gracie McGraw, smiling brightly as Sister Mary Patrick, is disarmingly sweet and optimistic no matter what's foisted upon her, while Vicki White is superb as Sister Mary Lazarus, with her quick timing and compelling demeanor. Lynda Cameron-Bayer, Jenny Norris Light, Anna Carroll, Katie Bruno and Megan Arrington give impressive support as other members of the sisterhood, each woman showing off her skills throughout the show.
David Arnold, towering and imposing as the monsignor, and Brett Cantrell and Braden Wahl complete the cast, each adding to the overall sense of zaniness with their commitment to their onstage assignments.
The simple set, designed by Moore and Tarlton, provides the perfect backdrop for the onstage action and Jamie Lyn Scott's wonderfully conceived period costumes ensure audiences will be taking a trip back in time to funkytown. Joy Tilley Perryman's props are notable for their time appropriateness and Daniel DeVault's evocative lighting effectively illuminates the era (and there's a mirrored ball for that perfect fillip of disco-fevered fun).
Sister Act, the Musical. Book by Bill and Cheri Steinkellner. Music by Alan Menken. Lyrics by Glenn Slater. Directed by Bradley Moore. Musical direction by Kelsi Fulton. Choreography by Everett Tarlton. Presented by Chaffin's Barn Dinner Theatre, 8204 Highway 100, Nashville. Through July 22. For reservations, call (615) 646-9977. For further details, go to www.dinnertheatre.com. Running time: 2.5 hours (with one 15-minute intermission).
Jeffrey Ellis is a Nashville-based writer, editor and critic, who's been covering the performing arts in Tennessee for more than 35 years. In 1989, Ellis (read more...)