Click Here for More Articles on Fun Home
BWW Review: FUN HOME Makes a Powerful Statement at TPAC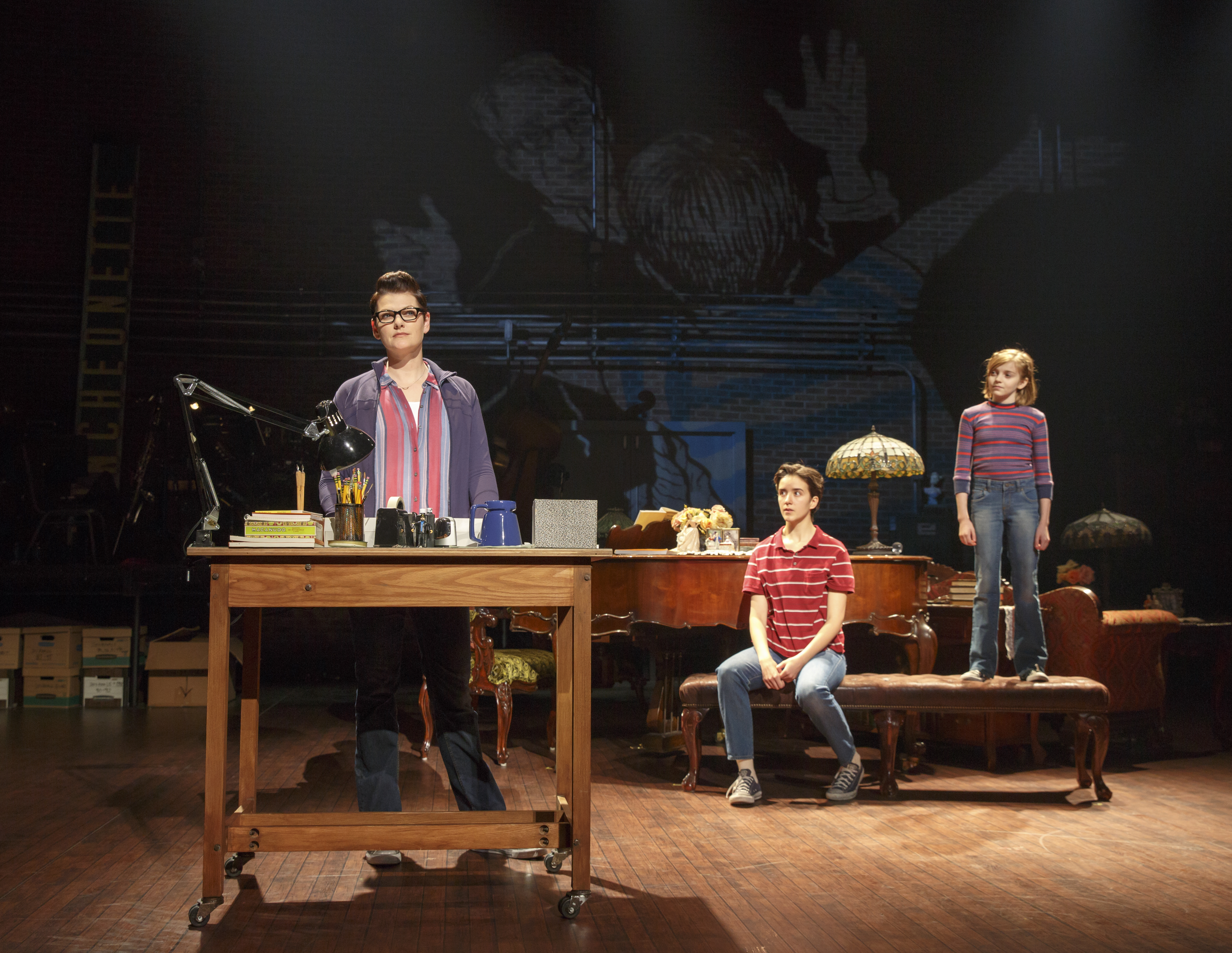 While most Broadway shows pack a powerful punch, FUN HOME accomplishes that by capturing the viewer's heart, whether gently plucking at one's heartstrings or tugging with all its might, and its opening night in Nashville at TPAC's Andrew Jackson Hall offered viewers a bevy of emotion.
Based on the novel by Alison Bechdel, FUN HOME follows the various stages of her life from her childhood days working in her father Bruce's (Robert Petkoff) funeral home to early adulthood when she comes to terms with her sexuality and the complicated relationship she shares with her father along the way, who struggles with his own identity as a gay man, with his suppression leading to toxic behavior and a strained relationship with his daughter. It's the type of show that holds your attention from start to finish, leaving audience members holding on to every word and uncomfortable moment.
The first act of the production slowly leads you into the trials and tribulations that Alison, portrayed by Kate Shindle, Abby Corigan (Medium Alison) and Carly Gold (Small Alison), faces in discovering her sexuality, making the audience feel every emotion right along with her, ranging from confusion to sheer excitement. From the audience, we watch her transition from a spirited child to an awkward college freshman where she finally realizes her sexuality to the modern day version of herself, the latter of which tells the story by using the various moments of her life as pictures that she captions in real time.
But it's the uncomfortable moments that are done so masterfully, leave you pondering and feeling compassion toward the complex characters. One of the most striking examples comes when small Alison is getting ready to go to a party with her family, wanting nothing more than to take off the fluffy pink dress and tights she's forced to wear and change into her usual sneakers and jean jacket. When her fatheR Lowers himself to her eye level and tells her in a calm, yet demeaning tone, that she'll draw attention to herself and embarrass the family should she dress the way that makes her feel comfortable, you can't help but feel a punch in the gut as you feel her identity being suffocated simply out of fear of others' opinions.
That same feeling rises again when she's drawing a map of her native Pennsylvania, using her imagination to create a visual all her own. Watching as her father rips the blue crayon out of her hand, demanding that she draw it the correct way like he would before bursting into a fit of rage when she wants to do it her own way, you feel an instant pang of sadness and compassion for the young child being smothered by fear, much like her father must feel struggling with his own personal battles. But in between these moments of anxiety there's enough humor and empowering musical numbers, stunningly created by Jeanine Tesori and Lisa Kron, to make the show even more dynamic. When small Alison and her two siblings put together a lavish song and dance number for their make-believe TV commercial for the funeral home, their positive spirits can be felt through the audience, who were easily won over by the playful debauchery of Gold, Christian (Luke Barbato Smith) and John (Henry Boshart), who all boast impressive voices for their young ages and the dance moves to match.
At the play's conclusion, it's not hard to understand why it's a five-time Tony Award winner and Pulitzer Prize finalist. While FUN HOME is a prime example of a powerful coming of age story, it goes so much deeper than that. Watching the intricate relationship between this father and daughter, you long for them to face each other and peel back the layers of their deepest struggles, knowing that they're more alike than different at the core, which is brought to light when old Allison takes an imaginary car ride with her father and that dream becomes a reality, just before he takes his own life.
It's painful watching the struggle of two people who share the same battles, as one becomes so overtaken by fear and shame that he can't truly connect with the one person who would understand most. It reinforces the truth that time is precious and being ones true self while having the strength to be raw and vulnerable is at the root of powerful human connection.
I'd be lying if I said I didn't leave the theatre in tears, feeling the emotional impact of Allison trying to understand her father's suicide and the life he hid for so many years. As all three versions of herself sing the powerful closing number, a sense of profound sorrow accompanied by compassion washes over you, thinking about this father and daughter's complicated journey in life that ends with a fitting cartoon of the two of them playing airplane, making us feel like we're soaring just like she did in those moments of happiness.
Related Articles
Originally from Cape Cod, Massachusetts, Cillea is a freelance writer currently based in Nashville, Tennessee. Being in the country music capital of the world, she (read more...)