ABT Adds Four Shows To 2018-19 Season; Tickets on Sale July 14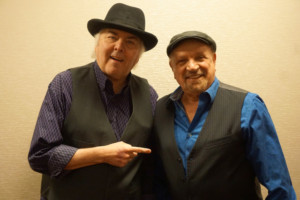 Alberta Bair Theater has added four additional shows since the season preview for its stakeholders on May 24: for fans of 60's rock: Felix Cavaliere & Gene Cornish's RASCALS with special guest Carmine Appice on drums on Friday, September 7 at 7:30; for fans of 80's rock and Broadway musicals: ROCK OF AGES on Monday, November 19 at 7:30; for a fun ladies night out during the holidays: 'Twas a Girls Night Before Christmas on Friday, December 14 at 7:30; and for family entertainment at its best the multi Tony awarded THE SOUND OF MUSIC on Monday, April 8 and Tuesday, April 9, both at 7:30.
"It's been challenging, but rewarding, to confirm dates this season," says Programming Director Jody Grant. "We've got excellent titles presented on our stage for what will be the last season at ABT as we know it before we begin our massive renovation next Spring."
Tickets go on sale Saturday, July 14 at 10:00 a.m. on the ABT website and by phone (406) 256-6052. The ABT Box Office window opens at 8 a.m. for those who prefer to come to the theater located at 2801 Third Ave N in Downtown Billings. For people who like to lock in the best prices and same seats for each performance in a series, subscriptions to the Broadway, Fox and Orser series may be purchased NOW; orders are processed in the order received either by mail or at the box office window. To insure quality customer service, series subscriptions are not sold by phone or on the internet.
Here's a current line-up of performances presented by Alberta Bair Theater for the 2018-19 Season. All performances begin at 7:30 p.m. unless otherwise noted. More information about each performance can be found on the official ABT website, albertabairtheater.org.
September 7: Felix Cavaliere & Gene Cornish's RASCALS with special guest on drums Carmine Appice
Because of love for their timeless music, Felix Cavaliere and Gene Cornish, two legendary founders of The Rascals are teaming up for the first time in five years. As inductees of the Rock & Roll Hall of Fame, Grammy Hall of Fame, Vocal Group Hall of Fame, and Songwriter Hall of Fame, The Rascals are widely considered the best "blue-eyed soul" group to come out of the 1960s and their music the soundtrack of a generation. The Rascals have 17 Top 20 hits, seven Top 10 hits, and three No. 1 hits that include "Groovin'," "People Got To Be Free" and "Good Lovin'."
Joining them on this new journey is hall of fame drummer,
Carmine Appice
, the Brooklyn-born iconic drummer whose resume includes Vanilla Fudge, Cactus,
Rod Stewart
, Beck Bogert & Appice,
Ozzy Osbourne
and Pink Floyd.
September 26: Little River Band
The Eagles founding member, the late Glenn Frey, knew what he was saying when he dubbed Little River Band "the best singing band in the world."
Through the '70s and '80s, LRB enjoyed huge chart success with multi-platinum albums and chart topping hits like: "Reminiscing," "Cool Change," "Lonesome Loser," "The Night Owls," "Take It Easy On Me," "Help Is on Its Way," "Happy Anniversary," "We Two," "Man On Your Mind," "The Other Guy," and "It's A Long Way There."
Worldwide album, CD sales and digital downloads now top 30 million and LRB has set a record for having had Top 10 hits for 6 consecutive years - In fact, they were the very first band to achieve that remarkable status. According to BMI, "Reminiscing" has garnered rare status with over 5 million airplays on American radio, and "Lady" follows with more than 4 million airplays.
September 28: Love Letters
Nominated for the Pulitzer Prize, A.R. Gurney's Love Letters tells the story of childhood friends Andrew Makepeace Ladd III and Melissa Gardner, both born to wealth and position, whose lifelong correspondence begins with birthday party thank-you notes and summer camp postcards. Michael Grossman and Meredith Baxter, best known as the parents from the 1980's sitcom Family Ties, reunite to perform this two person play.
They continue to exchange letters through the boarding school and college years-where Andy goes on to excel at Yale and law school and Melissa flunks out of a series of "good schools." While Andy is off at war Melissa marries, but her attachment to Andy remains strong and she continues to keep in touch as he marries, becomes a successful attorney, gets involved in politics and, eventually, is elected to the U.S. Senate. Meanwhile, her marriage in tatters, Melissa dabbles in art and gigolos, drinks more than she should, and becomes estranged from her children. Eventually she and Andy do become involved in a brief affair, but it is really too late for both of them. However Andy's last letter, written to her mother after Melissa's untimely death, makes it eloquently clear how much they really meant, and gave, to each other over the years-physically apart, perhaps, but spiritually as close as only true lovers can be.
October 5: Canellakis/Brown Duo
Hailed as "a pair of adventurous young talents" (Time Out New York) who "play with their antennae tuned to each other" (The Washington Post), cellist Nicholas Canellakis and pianist-composer Michael Brown have been captivating audiences with performances that combine masterpieces from the standard repertoire with original compositions and arrangements.
The Duo recently toured the United States with a program of all American composers, culminating in a New York City recital presented by the Chamber Music Society of Lincoln Center. Their debut duo album, Out of Darkness, featuring works by Barber, Shostakovich, Brown and Canellakis, was released on CAG Records.
Mr. Canellakis and Mr. Brown are both artists with the Chamber Music Society of Lincoln Center, having been winners of the Society's CMS Two international auditions. Both artists maintain active solo careers, performing concertos throughout the U.S. each season. Mr. Canellakis, hailed as a "superb young soloist" (The New Yorker), recently made his Carnegie Hall Stern Auditorium debut as soloist with the American Symphony Orchestra. Mr. Brown, described as a "young piano visionary" (The New York Times), is a 2018 Emerging Artist of Lincoln Center and a 2015 Avery Fisher Career Grant recipient.
Mr. Brown is also a critically acclaimed composer who has written four works for Mr. Canellakis. As Composer-in-Residence with the New Haven Symphony for the 2017-19 seasons, Brown has been commissioned to write a new symphonic work with Mr. Canellakis as soloist. Mr. Canellakis is also a filmmaker and actor, and he and Mr. Brown produce and star in a comedy web series called Conversations with Nick Canellakis, in which they conduct satirical interviews with stars of the classical music world. All of their videos can be found on their websites, nicholascanellakis.com and michaelbrownmusic.com.
October 9: President's Own United States Marine Band
Established in 1798 by an Act of Congress signed by President John Adams, the United States Marine Band is America's oldest continuously active professional musical organization. The band made its White House debut on New Year's Day, 1801, and has performed at the inauguration of every President since Thomas Jefferson, who is credited with giving the band the title, "The President's Own."
From the earliest days of our nation, the Marine Band's primary mission has been to provide music for the President of the United States and the Commandant of the Marine Corps. Performing for State arrival ceremonies, dinners, receptions, and accompanying famous entertainers, Marine Band musicians appear at the White House more than 300 times each year. Additionally, the Marine Band participates in more than 500 public and official performances annually, including concerts and ceremonies throughout the Washington, D.C., metropolitan area and across the country during the fall concert tour.
In 1891, the band's legendary 17th Director, John Philip Sousa, led the Marine Band on its first concert tour. As a result, for more than one hundred years, the Marine Band has toured throughout the country performing in communities both large and small. Marine Band concerts offer a unique blend of traditional concert band and contemporary wind ensemble music suitable for people of all ages and musical tastes.
October 30: Complexions Contemporary Ballet: Bach to Bowie, featuring Stardust: A Tribute to David Bowie
Combining technical precision, power, and passion, Complexions Contemporary Ballet transcends tradition in a groundbreaking mix of styles ranging from ballet to hip hop. Founded by former members of Alvin Ailey, Desmond Richardson and Dwight Rhoden, the company has been featured several times on the hit show So You Think You Can Dance. This season the company brings an exhilarating program that will feature Rhoden's Star Dust an "utterly transfixing" tribute to the life and music of David Bowie, full of glitter and glam.
November 1: Straight No Chaser
If the phrase "male a cappella group" conjures up an image of students in blue blazers, ties, and khakis singing traditional college songs on ivied campuses... think again. Straight No Chaser (SNC) are neither strait-laced nor straight-faced, but neither are they vaudeville-style kitsch. They have emerged as a phenomenon with a massive fan base, numerous national TV appearances and proven success with CD releases. Straight No Chaser is the real deal, the captivating sound of nine unadulterated human voices coming together to make extraordinary music that is moving people in a fundamental sense... and with a sense of humor. On the road, Straight No Chaser has built a reputation as an unforgettable live act.
The upcoming tour coincides with the 10th Anniversary of Straight No Chaser signing with Atlantic Records and the release of their debut album, HOLIDAY SPIRITS after a video of the group performing "12 Days of Christmas" went viral on YouTube and became the most viewed video of 2007. Upon the release of HOLIDAY SPIRITS in 2008, The New York Times predicted "this may be the year's most unlikely major label story." Now, ten years later with six full length albums and four EPs under their belt, the group will hit the road to celebrate and invite fans to join them on the "One Shot Tour."
November 6: Cirque Mechanics 42 FT-A Menagerie of Mechanical Marvels
Step right up, ladies and gentlemen, boys and girls of all ages.
At the center of every circus rests a 42 foot ring full of thrills, laughs, and excitement. 42FT - A Menagerie of Mechanical Marvels, is the latest invention from the creative minds of Cirque Mechanics. The company dares us to leap into the circus ring and experience the timelessness of this evolving art form. The shows' unique mechanical interpretations of the traditional, and its story full of the lore of the historic one-ring circus, create a welcoming place, like a big top, where we can be amazed. The action showcases a galloping mechanical metal horse and a rotating tent frame for strongmen, acrobats and aerialists.
Cirque Mechanics signature style is wrapped in acrobatics, mechanical marvels, and a bit of clowning around. 42FT follows the great successes of Birdhouse Factory, Boomtown, and Pedal Punk.
November 10, November 11 at 2 p.m.: CHICAGO
Multi Tony awarded CHICAGO is back in town, and it's pure entertainment. With a legendary book by Fred Ebb and Bob Fosse, music by John Kander and lyrics by Fred Ebb, CHICAGO is now the #1 longest-running American musical in Broadway history-and it still shows no sign of ever slowing down!
Produced by Barry and Fran Weissler, CHICAGO earned six 1997 Tony Awards including Best Musical Revival and the Grammy Award for Best Musical Cast Recording.
Set amidst the razzle-dazzle decadence of the 1920s, CHICAGO is the story of Roxie Hart, a housewife and nightclub dancer who maliciously murders her on-the-side lover after he threatens to walk out on her. Desperate to avoid conviction, she dupes the public, the media and her rival cellmate, Velma Kelly, by hiring Chicago's slickest criminal lawyer to transform her malicious crime into a barrage of sensational headlines, the likes of which might just as easily be ripped from today's tabloids.
The national tour is directed by David Hyslop and choreographed by David Bushman. Walter Bobbie is the director of the original New York Production and Ann Reinking was the original choreographer in the style of Bob Fosse. CHICAGO features set design by John Lee Beatty, costume design by William Ivey Long, lighting design by Ken Billington and sound design by Scott Lehrer. The production also features orchestrations by Ralph Burns, supervising music direction by Rob Fisher.
CHICAGO is a production not to be missed. Reviewers agree. Time Magazine calls it "A Triumph;" Newsweek raves "Smashing;" and Entertainment Weekly sums it up by calling CHICAGO "Broadway's Most Electrifying Show."
November 19: ROCK OF AGES
Broadway's Best Party is turning up the volume to ten! The ROCK OF AGES Tenth Anniversary Tour is blazing across North America with a tour stop at Alberta Bair Theater on November 19.
Nominated for five Tony Awards, including Best Musical, ROCK OF AGES captures the iconic era that was the big bad 1980s Hollywood. Know What Love Is, Feel the Noise, and Take Your Best Shot at one of the Sunset Strip's last epic venues, a place where the legendary Stacee Jaxx returns to the stage and rock-n-roll dreamers line up to turn their fantasies into reality. Featuring the music of hit bands such as Styx, Poison, Twisted Sister, and Whitesnake among many others, this Tenth Anniversary production features a dynamic new cast revisiting the larger than life characters and exhilarating story that turned ROCK OF AGES into a global phenomenon. This is one for the ages that will have you singing "Here I Go Again."
December 1: The Oak Ridge Boys Celebrate Christmas
For 30 years, Country Music Hall of Fame members The Oak Ridge Boys have been a part of their fans' holiday seasons with their annual Christmas tour. This year, the Grammy Award-winning group will play to sold out venues across America during the 2018 Celebrate Christmas tour, which takes the group to more than two dozen cities in 18 states throughout the U.S., November 14 through December 22.
A mixture of traditional and contemporary songs-including religious, romantic and fun holiday tunes-makes up the set list, which includes songs from the Oaks' six bestselling Christmas CDs. A highlight of the evening is the much-loved 'rocking chair' segment where each BOY rocks by the fireplace and shares personal thoughts about Christmas.
"Christmas is my favorite time of year," says Oaks' lead singer, Duane Allen. "I love the positive things about the season.... the joy, happiness, giving, sharing, time with family, and gifts, the beautiful lights and decorations, Christmas music, special food, and most of all the true meaning, which, of course, is celebrating the birth of our Lord and Savior, Jesus Christ. Every year I look forward to taking our Christmas tour all over the USA. I hope everyone will come out this year and celebrate Christmas with The Oak Ridge Boys."
Known for their iconic and multi-platinum selling hit "Elvira," along with other chart-toppers like "Bobbie Sue," "Thank God For Kids," and "Leaving Louisiana In The Broad Daylight," The Oak Ridge Boys have achieved a decorated career, winning five GRAMMY Awards, and multiple CMA, ACM and Dove Awards for their cross-over brand of pop, country and gospel music that spans multiple generations. Made up of members Duane Allen, Joe Bonsall, William Lee Golden and Richard Sterban, whose unmistakable bass on the lyric "oom poppa, mow mow," has become one of music's most recognized sing-alongs on an international scale, The Oak Ridge Boys are members of the Grand Ole Opry and achieved arguably country music's highest honor in October 2015 when they were inducted into the Country Music Hall Of Fame.
December 7: Warren Miller's Face of Winter
Loving the pure joy of winter is something we have in common with the late, great Warren Miller who helped create and capture the magic of skiing. Watch as the world's best skiers and riders cover ground in some of Warren's favorite destinations to honor a face that launched a thousand quips and got us all started on this long, crazy ride.
December 8: The Midtown Men
Catapulted from the heights of Broadway to concert stages across America, these four stars from the original cast of Jersey Boys and its Grammy awarded soundtrack: Tony-Award recipients Christian Hoff, Michael Longoria, Daniel Reichard and Tony Award nominee J. Robert Spencer, shared the stage for more than a thousand performances. Now, with their own celebrated debut album, hit holiday single and follow-up national tours The Midtown Men bring their Signature Sound to holiday classics and the best of the '60s, including The Beatles, The Beach Boys, Motown greats and more.
December 14: 'Twas A Girls Night Before Christmas: The Musical
From the producers of the box office smash Girls Night: The Musical comes the new must see holiday show 'TWAS A GIRLS NIGHT BEFORE CHRISTMAS: THE MUSICAL. This new Christmas sequel features the five ladies we have come to know and love gathering for a night on the town to laugh, cry, gossip and just let their hair down during the craziest of times: THE HOLIDAYS! This musical is guaranteed to resonate with anyone who has survived the holiday season, from the LONG visits with in-laws to the overcrowded malls. 'TWAS A GIRLS NIGHT BEFORE CHRISTMAS features the touching and hilarious writing by Roche that has entertained audiences worldwide, with classic Christmas songs and contemporary hits that will have everyone singing and dancing along.
January 11, 2019: Martha Redbone Roots Project
Martha Redbone is one of today's most vital voices in American Roots music. A multi award-winning musician, the charismatic songstress is celebrated for her tasty gumbo of roots music embodying the folk and mountain blues sounds of her childhood in the Appalachian hills of Kentucky mixed with the eclectic grit of her teenage years in pre-gentrified Brooklyn. With the power of her gospel singing African-American father's voice and the determined spirit of her Cherokee/Shawnee/Choctaw mother, Redbone broadens all boundaries of Americana.
Her latest CD, The Garden of Love- Songs of William Blake, produced by Nitty Gritty Dirt Band founder/Grammy Winner John McEuen is an unexpected twist - "a brilliant collision of cultures" (New Yorker) features Martha's magnificent voice, Blake's immortal words and a masterful cornucopia of roots music (folk, country, Piedmont blues, gospel, bluegrass, soul and traditional Southeastern Native American).
Redbone and her long-term collaborator, pianist Aaron Whitby are called "the little engine that could" by their "band of NYC's finest blues and jazz musicians" (Larry Blumenthal-Wall Street Journal). From grassroots beginnings with residencies at the original Living Room NYC, then Joe's Pub and nationally at powwows across Indian Country in support of her debut album, Home of the Brave - "Stunning album, the kind of woman who sets trends" (Billboard) - Redbone has built a passionate fan base with her mesmerizing presence and explosive live shows. Her album Skintalk is described as the soulful sound of "Earth, Wind and Fire on the Rez"(Native Peoples Magazine) and is recognized as an example of Contemporary Native American music in the Library Collection at the Smithsonian National Museum of the American Indian.
February 15: Hot Club of San Francisco
This ensemble of accomplished and versatile musicians celebrates the music of Django Reinhardt and Stephane Grappelli's pioneering Quintette du Hot Club de France. The HCSF borrows the instrumentation of violin, bass, and guitars from the original Hot Club while breathing new life into the music with innovative arrangements of classic tunes and original compositions from the group's superb lead guitarist, Paul Mehling. Featuring the silken violin of twice GRAMMY Award-winning Evan Price, the velvet vocals of Isabelle Fontaine, and a swinging rhythm section, the group never fails to surprise and delight.
To hear the ensemble live or on any of their 13 albums is to be carried back to the tight, smoky jazz clubs of 1930's Paris and to the refined lounge of the famous Hotel Ritz. Often called gypsy jazz, the music of The Hot Club of San Francisco has entranced audiences around the globe for over 25 years. Acoustic Guitar has hailed the group's playing as "intricate, scorching and often brilliant." With frequent national and international tours-from Iceland to Lincoln Center and the Monterey Jazz Festival-The Hot Club of San Francisco keeps this historic music fresh and alive.
February 24 at 7 p.m.: iLuminate
"Move over Blue Man Group and Stomp, iLUMINATE is in the house! A magical visual feast! Astounding! " Times Square Chronicles
iLuminate is a fusion of technology and dance that creates a visual experience unlike anything you've seen. Dancers trained in ballet, hip hop, jazz and more wearing glow-in-the-dark suits perform dynamic routines and create incredible illusions on a darkened stage. It's fun for the whole family!
March 1: Murphy's Celtic Legacy
Irish dance reborn! With a storyline of two ancient tribes who must unite in a shared quest for peace, Murphy's Celtic Legacy features acclaimed dancer Chris Hannon who performed along side Michael Flatley in Lord of the Dance and Feet of Flames. A cast of 22 dancers and seven musicians fills the stage for a spectacle, unique in presentation yet steeped in Celtic tradition.
March 6: SPAMALOT
This outrageous musical comedy is lovingly ripped off from the film classic Monty Python and the Holy Grail with a book by Eric Idle and music and lyrics by the Grammy Award winning team of Mr. Idle and John Du Prez. SPAMALOT tells the tale of King Arthur and his Knights of the Round Table as they embark on their quest for the Holy Grail. Flying cows, killer rabbits, taunting Frenchmen, and show-stopping musical numbers are just a few of the reasons audiences worldwide are eating up SPAMALOT!
March 8: The Irish Comedy Tour
The Irish Comedy Tour combines the party atmosphere of a Dublin pub with a boisterous, belly-laugh band of hooligans, who include Detroit native Derek Richards (The Bob & Tom Show, SiriusXM, and The Weather Channel's Top 10), Boston-born Mike McCarthy (Comedy Central and Showtime), Nova Scotia's Damon Leibert, and from Inchicore, a suburb of Dublin, Ireland Derrick Keane. Laugh as they tear apart and validate Irish myths and stereotypes. Intended for an adult audience.
March 18: KINKY BOOTS
KINKY BOOTS is Broadway's huge-hearted, high-heeled hit! With songs by Grammy and Tony winning pop icon Cyndi Lauper, this joyous musical celebration is about the friendships we discover, and the belief that you can change the world when you change your mind. Inspired by true events, KINKY BOOTS takes you from a gentlemen's shoe factory in Northampton to the glamorous catwalks of Milan.
Charlie Price is struggling to live up to his father's expectations and continue the family business of Price & Son. With the factory's future hanging in the balance, help arrives in the unlikely but spectacular form of Lola, a fabulous performer in need of some sturdy new stilettos.
With direction and choreography by two-time Tony Award-winner Jerry Mitchell (Legally Blonde, Hairspray) and a book by Broadway legend and four-time Tony Award-winner Harvey Fierstein (La Cage Aux Folles), KINKY BOOTS is the winner of six Tony Awards including Best Musical, Best Score and Best Choreography.
Take a step in the right direction and discover that sometimes the best way to fit in is to stand out. "There is no show hotter than KINKY BOOTS!" - CBS News
March 22: Gabriel Royal / Supaman
Oklahoma-born, Brooklyn-based singer-songwriter cellist Gabriel Royal plays his "grown up lullabies" in the subway stations of New York City. That's where he found his lawyer, his manager, his cello and where he continues to find a genuine connection with his inspiration: the commuters of New York. Influenced by Stevie Wonder's groove and Burt Bacharach's jazzy yet poppy sensitivities, along with other contemporary artists such as John Legend, Gabriel's trademark sound is all his own. Gabriel released his self-titled album in 2016, along with his single and music video for "Say It's Right," directed by Blake Farber, who has worked with Beyoncé and other A-list artists.
As a member of the "Apsaalooke Nation," Supaman makes his home in Montana. "Supaman" hardly describes the person who is Christian Takes Gun Parrish, a humble Native American dancer and hip hop artist who has dedicated his life to empowering youth and educating listeners with a message of hope through culture and music. His three self-produced projects have all received national recognition and awards including the 2011 North American Indigenous Image Award for outstanding hip hop album.
Christian's presentation combines Native American culture, humor, and urban hip hop culture which dazzles audiences, captivates listeners and breaks down stereotypes. He is a champion fancy dancer traveling extensively on the powwow circuit throughout the U.S and Canada and lives a drug and alcohol free life. He also is a champion clown dancer and a Native American Flute player, not to mention a loving husband and father of three.
These two artists are going to collaborate and share their music with each other and with you.
April 2: Glenn Miller Orchestra
The legendary Glenn Miller was one of the most successful of all dance bandleaders back in the Swing Era of the 1930s and 40s. A matchless string of hit records, the constant impact of radio broadcasts and the drawing power at theatres, hotels and dance pavilion, built and sustained the momentum of popularity.
Glenn disbanded his musical organization in 1942 at the height of its popularity to volunteer for the Army. There, he organized and led the famous Glenn Miller Army Air Force Band. It went to Europe to entertain servicemen performing numerous live and radio shows. On December 15, 1944, Major Miller took off in a single engine plane from Europe to precede his band to France, disappearing over the English Channel, never to be seen again. The army declared him officially dead a year later.
With the release of the major motion movie The Glenn Miller Story featuring Jimmy Stewart and June Allyson in 1954, interest and popular demand led the Miller Estate to authorize the formation of the present Glenn Miller Orchestra. On June 6, 1956, and under the direction of drummer Ray McKinley who had become the unofficial leader of the Army Air Force Band after Glenn's disappearance, the reformed Glenn Miller Orchestra performed its first concert and has been on the road ever since. Other leaders have followed Ray including clarinetists Buddy DeFranco and Peanuts Hucko, trombonists Buddy Morrow, Jimmy Henderson, Larry O'Brien and Gary Tole, and tenor saxophonist Dick Gerhart. Since January 2012, vocalist Nick Hilscher leads the band.
Today, the 18 member ensemble continues to play many of the original Miller arrangements both from the civilian band and the AAFB libraries. Additionally, it also plays some more modern selections arranged and performed in the Miller style and sound."
April 8 & 9: THE SOUND OF MUSIC
"Sparkling, fresh and lively." - Los Angeles Times
The hills are alive! A brand new production of THE SOUND OF MUSIC is coming to Alberta Bair Theater. The spirited, romantic and beloved musical story of Maria and the von Trapp Family will once again thrill audiences with its Tony, Grammy and Academy Award winning Best Score, including "My Favorite Things," "Do-Re-Mi," "Climb Ev'ry Mountain," "Edelweiss" and the title song.
THE SOUND OF MUSIC features music by Richard Rodgers, lyrics by Oscar Hammerstein II, book by Howard Lindsay and Russel Crouse, suggested by "The Trapp Family Singers" by Maria Augusta Trapp.
THE SOUND OF MUSIC enjoyed extraordinary success as the first live television production of a musical in over 50 years when "The Sound of Music Live!" aired on NBC in December, 2013 and was seen by over 44 million people. 2015 marked the 50th anniversary of the film version, which continues to be the most successful movie musical in history.
Shows will be added during the season by Alberta Bair Theater, local community organizations and promoters. Shovel hits the dirt in late April or early May 2019 and the renovation on our beloved theater will begin. ABT will be presenting shows at other downtown locations during that time. Information will be released as details become known.
More Hot Stories For You