Review: Lyric Arts Presents Enchanting Feminine Powered SENSE & SENSIBILITY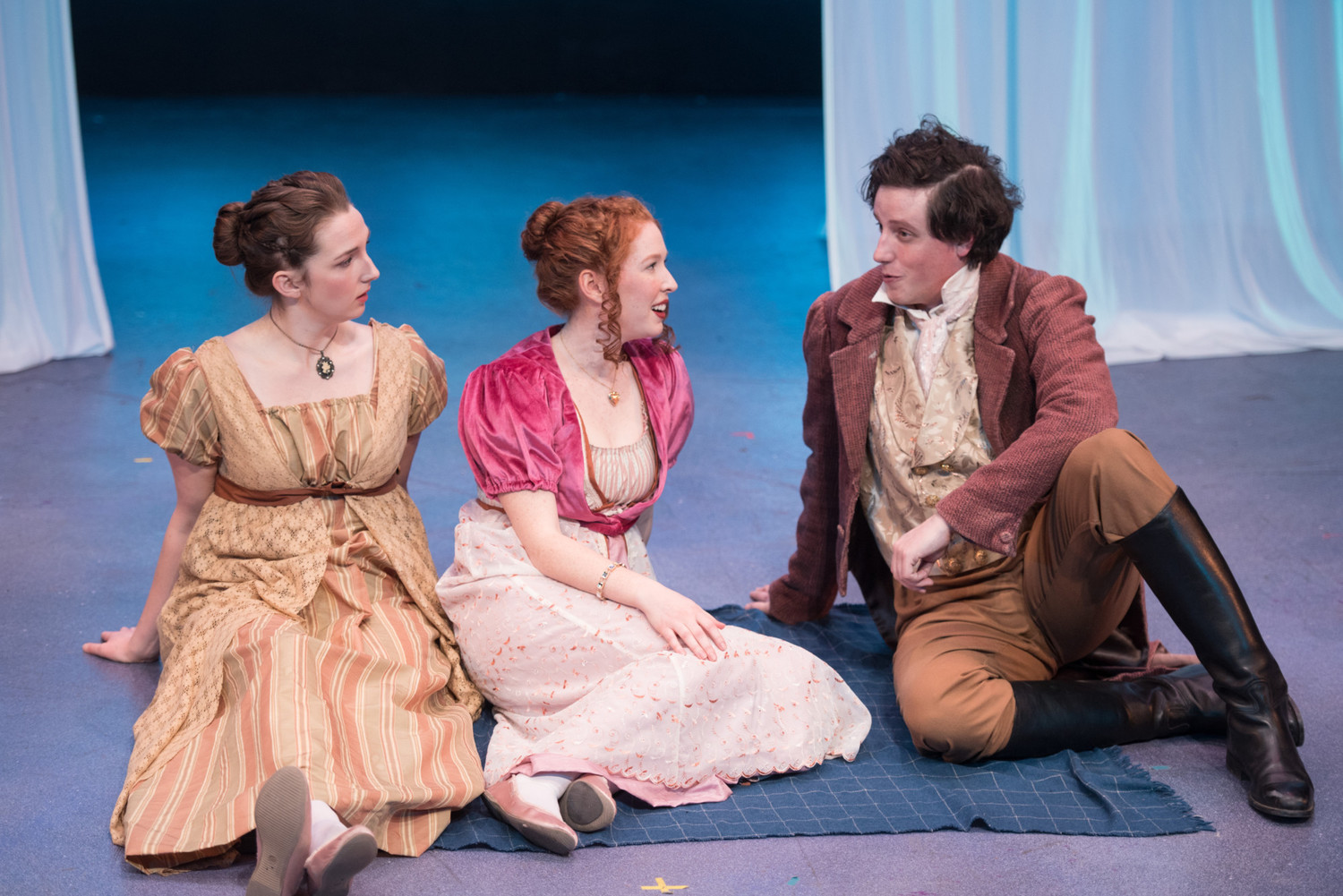 Anoka's Lyric Arts in the Main Stage Theater reprises a 200 year old tradition when the company stages Jane Austen's famous bestselling novel Sense & Sensibility--For the company's recent production, which opened on a February weekend, Director Natalie Novacek choose an adaptation by actor/playwright Kate Hamill, whom the Wall Street Journal awarded Playwright of the Year in 2017. Known for her contemporary takes on classical novels, Hamill channels Austin's spirit by incorporating forty percent of her original text, and invokes sixty percent of Hamill's innovation to create the hybrid script. This method abridges the lengthy literary novel and allows for immense interpretation where audiences will ultimately benefit and enjoy.
Scenic Designer Sarah Brandner together with Lighting Designer Jim Eischen create an ethereal, timeless setting for Austen's English countryside and her heroines Elinor and Marianne.. Using swathes of white fabric hung ceiling to floor and easily moveable, luminous highlight this fluid backdrop for various scenes and moods. Then the stage transforms seamlessly to the numerous sites set in Austen's expansive novel.. The audience could envision these women anywhere or in anytime---which also evokes the feminine power from the novel's themes.
Elinor and Marianne Dashwood, the two sisters, along with younger sister Margaret, and their mother traverse their father's death with sorrow and trepidation. Ancient laws forbade fathers from passing on their property to wives or daughters, and women at the time were unable to inherit any wealth from their families.
When the four displaced Dashwoods head to the country at the hospitality of their cousins, John Middleton and Mrs. Jennings, the couple attempts in every way to acquire husbands for the two older sisters, match the beautiful sisters with wealthy men.. Women had little means to earn a living, except to marry "well" in the 18th century. Austen often wrote these despairing facts in her stories, and as her Mrs. Dashwood reiterated to her daughters, she hoped women and especially these three sisters, would marry for love and respect instead of money.
Calli Kunz plays the sensibility, or emotional sister, Marianne and joins Alyson Enderlee, the sense and practical sister playing Elinor. The two sisters center the play through their chemistry for each other, while trying to rebel against social customs and restrictive culture of the day with Austen aplomb, especially the passionate Kunz. Lisa Vogel. acting as their mother Mrs. Dashwood, also doubles as the upper class, Mrs.Ferrars, mother to John Dashwood and the suitor sons, Edward and Robert Ferrars. In the dual roles of Margaret and her cousin, Anne Steele, Gabriella Abbott showcases her charm and cleverness on the Lyric Arts stage.
As for the men who rule the Dashwood hearts, Eric Knutson's Colonel Brandon and Vincent Hannan's Edward Ferrars pair nicely with the sense and sensibility of each Dashwood sister. Grant Hooyer carries his dashing flirtations with Marianne acting as John Willoughby in handsome style while Craig Turino performs with a cocky eloquence as John Dashwood. While at times the double roles might be confusing, Lyric Arts and Director Novacek provide clear definition of these characters, which also allows the play to be in production more often and on smaller stages than if each role were cast singularly.
The illustrious history of Austen and this play, together with Hamill's lively update, present an opportunity to revisit this timeless story again in an entertaining format. How much does social media now represent the gossip culture of Austen's era that Hamill represents as a chorus of voices chanting their criticism around and behind the sisters? Despite their father's tragedy, the Dashwoords represent the persistence of women to survive on their own terms, and what they desire in their lives, whether one chooses love, as Elinor, or money, as did her cousin, Lucy Steele by marrying Robert Ferrars when Edward was disinherited. They did persist.
Today, women wage these same battles, although the fairer sex now can produce their own income because they, too, strive to be lawyers, doctors, politicians and clergy. Or as Edward did, choose love and his own happiness instead of any social class expectations. Perhaps in revisiting these beloved stories on romance and love demonstrate the resilience paired with growing courage for any woman. As Marianne transforms throughout the play, other audience members garner the inspiration to be their own best supporter.
Women, mothers, daughters, sisters, aunts, and even grandmothers, might claim whatever they wish in life, with the help of other strong "sisters," whether blood relatives of "soul" relatives. How far has society travelled since 1811 when the book was first published? How much farther does society need to go before the sense and sensibility in either sex will be completely appreciated? Enjoy this delightful and engaging Lyric Art's production and decide for oneself. As both sexes learn to value each other, perhaps each gender might cherish how the power of love and respect can continue to transform lives today.
Anoka;s Lyric Arts presents Jane Austen's Sense & Sensibility at the Main StreetTheater through March 3. For information or tickets, please visit: www.lyricarts.org
Peggy Sue Dunigan earned a BA in Fine Art, a MA in English and then finished with a Masters of Fine Art in Creative Fiction from Pine Manor College, Massachusetts. Currently she independently write... (read more about this author)