BWW Previews: Skylight & Milwaukee Opera Theatre Bring Offenbach's THE TALES OF HOFFMANN into 2018
Prior to last season of the Milwaukee Opera Theatre, with its Magic Flute and Mikado, the closest I'd come to opera fell somewhere between the Phantom and the occasional reference made during reruns of Frasier. Now with a handful of operatic experiences under my belt, I'm particularly jazzed about the Skylight Music Theatre's collaboration with the Milwaukee Opera Theatre for The Tales of Hoffmann, running March 16-29.
Being a relative newcomer to the world of opera, I did some light research. The Tales of Hoffmann was written by Jacques Offenbach - a German-born French composer who penned nearly 100 operettas between the 1850s and 1870s. The protagonist is based on E.T.A. Hoffmann - the Prussian author of such fantasy stories as The Nutcracker and the Mouse King. Offenbach's original opera was rather tremendous, rendered with a full symphony orchestra, 3+ hours of stage time, a French libretto (text), and a cast of 20 (15 men, 5 women).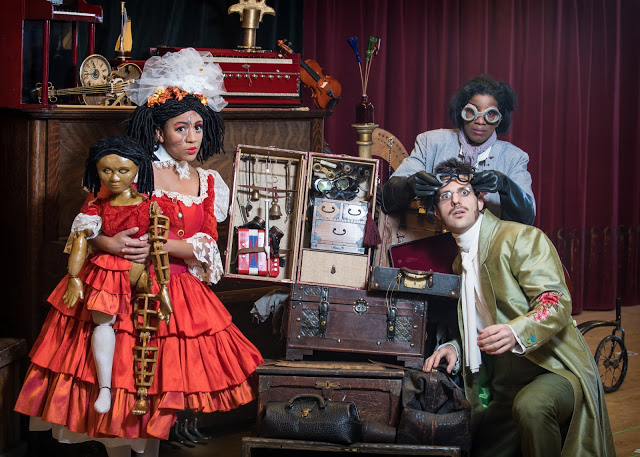 Rather than attempt to mount Offenbach's staggering production in its original form, Jill Anna Ponasik, Artistic Director at Milwaukee Opera Theatre (MOT) and Skylight's Artistic Associate, huddled up with her fellow creatives to make Hoffmann accessible for Milwaukee's musical- and opera-loving audience. "At MOT, we can't resist the temptation to look at canonized masterworks from a perspective that's a little... slantwise," she says.
With the help of translator Danny Brylow, orchestrator Kerry Bieneman, and percussionist Michael "Ding" Lorenz, Ponasik and the MOT crafted a much more intimate adaptation - one that's sung in English, peppered with spoken dialogue, and accompanied by a nimble on-stage band of two pianos, a harp, and plenty of percussion. The cast now numbers at 13 (8 women, 5 men), and the entire production takes just two hours. "It's the same music, but a different experience," Ponasik says.
The story follows Hoffmann along a three-pronged quest for love. In the first chapter, his love interest is a mechanical doll. In the second, it's a girl who will die if she sings (spoiler alert: she really loves to sing). The third finds our protagonist enamored with a deceitful courtesan. Each chapter is a cautionary tale that ends in tragedy. "Beautifully ominous" tragedy, to quote Ponasik. "It's not a tear-jerker, because the stories occur in a world of supernatural fantasy," she says. "Offenbach called it an 'Opera Fantastique.'" I for one can't wait to see what fantastic things await when The Tales of Hoffmann opens this weekend.