DEATH OF A STREETCAR NAMED VIRGINIA WOOLF: A PARODY Comes to The Circuit Playhouse; Begins Today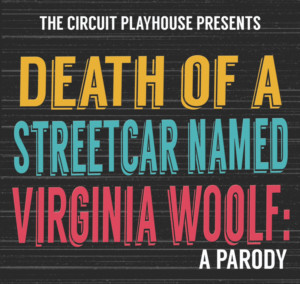 When a mysterious invitation brings Blanche DuBois back to New Orleans, she finds herself once again face-to-face with the smoldering Stanley Kowalski. They are soon joined by luckless salesman Willy Loman and hard-drinking couple George and Martha, and suddenly all bets are off. Add a folksy Stage Manager and the comic genius of The Second City team, and the question becomes: Will the American theatre ever be the same.
Taking on the role of Blache DuBois is Resident Company Member, Kim Sanders (Perfect Arrangement, Heathers: The Musical). Joining Ms. Sander is Michael Kinslow (Ripcord) as Stanely with Resident Company Member Dave Landis (Shakespeare in Love, Billy Elliot) as George, and Tracie Hansom (Hand to God, Hot L Baltimore) as Martha. Death of a Streetcar Named Virginia Woolf: A Parody also features Memphis favorite Jonathan Christian (The Santaland Diaries, The Bridges of Madison County) as the Stage Manager and Mark Pergolizzi (Priscilla Queen of the Desert) as Willy. Death of Streetcar Named Virginia Woolf: A Parody is directed by Tony Isbell (4,000 Miles, Arcadia).
Death of a Streetcar Named Virginia Woolf: A Parody runs June 1st - June 24th at The Circuit Playhouse. Death of a Streetcar Named Virginia Woolf: A Parody is sponsored by Dorothy O. Kirsch, Art & Nancy Graesser, Grayson Smith Carpet & Upholstery Cleaning. The Circuit Playhouse Inc. Super Sponsor is Dr. Thomas Ratliff. The Pay-What-You-Can Performance is Thursday, June 7th at 8pm and is sponsored by ArtsZone/AutoZone and Southland Park Gaming and Racing. The Circuit Playhouse is located at 51 S. Cooper St. For more information or to make reservations, please call 901-726-4656 or purchase tickets online at playhouseonthesquare.org.
Cast List:
Stage Manager - Jonathan Christian

Blanch DuBois - Kim Sanders

Stanley Kowalski - Michael Kinslow

George - Dave Landis

Martha - Tracie Hansom

Willy - Mark Pergolizzi
Production Team:
Directed by Tony Isbell

Production Stage Manager/Technical Director - Phillip Hughen

Associate Technical Director - Kasey Logan

Stage Manager - Gabby D'Arcangelo

Scenic Designer - Phillip Hughen

Costume Designer - Lindsay Schmeling

Lighting Designers - Justin Gibson & Phillip Hughen

Sound Designer - Carter McHann
Title: Death of a Streetcar Named Virginia Woolf: A Parody
Venue: The Circuit Playhouse, 51 S. Cooper St.
Dates: June 1st - June 24th, 2018
Times: Thursday, Friday, & Saturday, 8pm; Sunday, 2pm
Tickets: $25 Opening Weekend, $35 Thursdays and Sundays, $35 - $40 Adults, $25 Senior Citizens, $22 Students/Military, $15 Children under 18
Playhouse Advisory: Adult Situations and Adult Language
Box Office: 901-726-4656