Review Roundup: HEARTBREAK HOTEL at Ogunquit Playhouse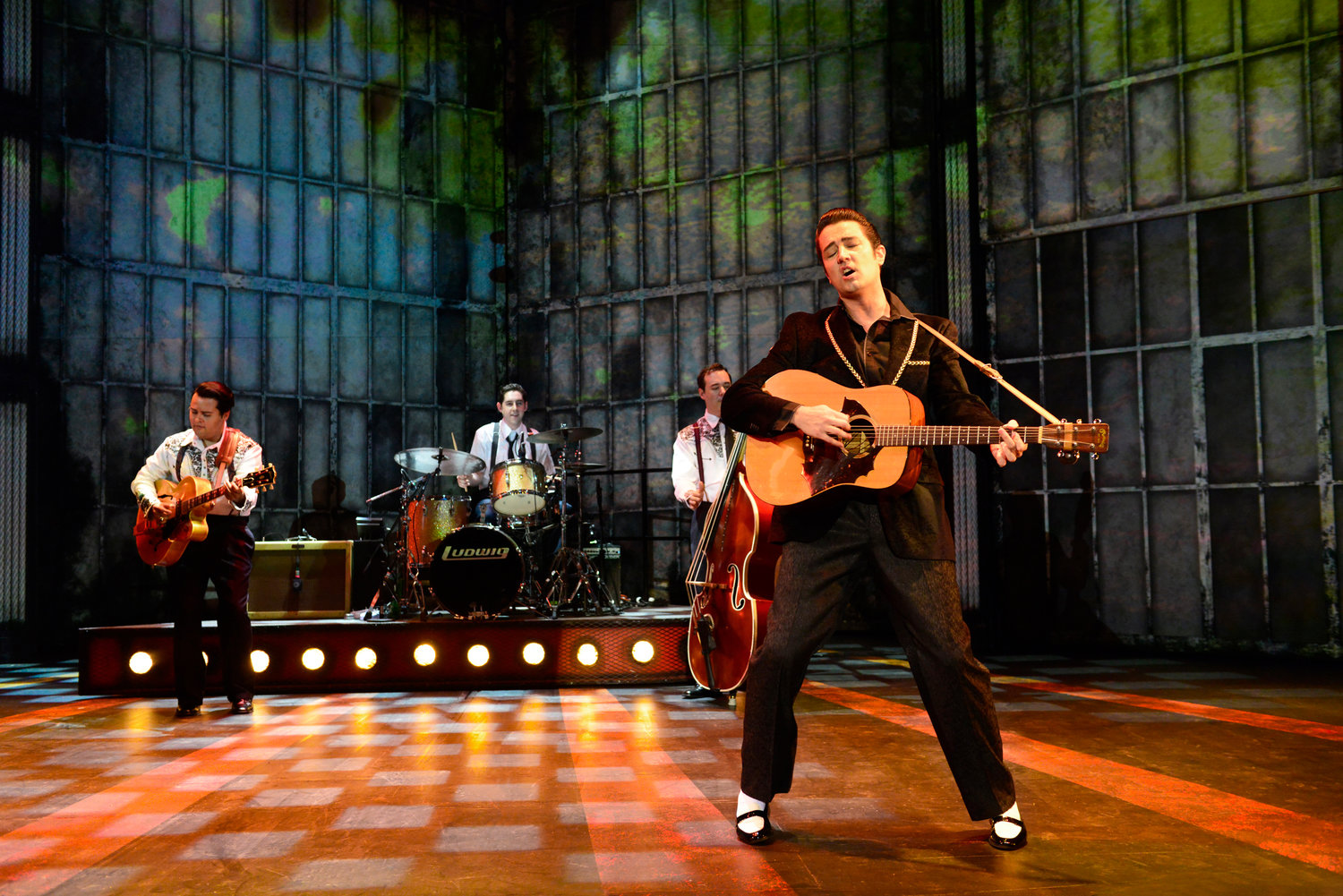 This is the world premiere of HEARTBREAK HOTEL, produced by Ogunquit Playhouse. This brand new tribute to the "King of Rock 'n' Roll" is the prequel to Tony-winning smash hit Million Dollar Quartet. This tender story follows Elvis Presley in the early years of his career as he and Sam Phillips create the music that will forever change their lives.
The cast features Eddie Clendening as Elvis Presley/Co-Musical Director, Matt Codina as Scotty Moore, Nathan Yates Douglass as Bill Black, Jerry Kernion as Col. Tom Parker, Matt Mackenzie as Sam Phillips, Jamie Pittle as DJ Fontana. Brenna Bloom as Marian/Wanda Jackson/Ensemble, Erin Burniston as Dixie Locke/Ensemble, Berlando Drake as Ruth Brown/Ensemble, Fallon Goodson as Alice From Dallas/Ensemble, Geno Henderson as Chuck Berry/Roy Brown/Ensemble/Music Director, Kara Mikula as Gladys/Ensemble, Terita Redd as Rosetta Tharpe/Ensemble, and Christopher Sutton as Dewey Phillips/Ensemble.
Let's see what the critics had to say!
Louis Philippe, The Journal Tribune: But the cast put an exciting flashmob-like button on the show with an all-out dance party/concert that had the audience instantly on their feet for a tasty encore. Suddenly, The Ogunquit Playhouse became John Lane's Starlight Dance Hall filled with swooning patrons and adoring "young" Elvis fans. The entire cast was phenomenal. Eddie Clendening, who originated the role of Elvis in the Broadway production of Million Dollar Quartet, shines anew in Heartbreak Hotel. It doesn't get any better. Clendening captured the naiveté of a carefree young man who grew in confidence and humanity with each new experience, and with perfect balance of emotions to disguise his happiness. The Blue Moon Boys are expertly played by Matt Codina as Guitarist Scotty Moore, Nathan Yates Douglass as Bassist Bill Black and Jamie Pittle as Drummer DJ Fontana ... the perfect rockabilly combo. As is often the case with musicals, the Ensemble is superbly versatile, entertaining, masters of their stage craft with vocal talent beyond belief. Case in point: Berlando Drake, Terita Redd and Geno Henderson - a dynamic show-within-the-show with powerhouse interpretations of numerous recording artists; Brenna Bloom is Marion, Erin Burniston is Dixie Locke and Fallon Goodson is Alice from Dallas.
April Boyle, The Press Herald: Eddie Clendening stars as the iconic "King of Rock and Roll." He's not a dead ringer looks-wise, but once he opens his mouth, all differences melt away. Clendening channels Elvis's unforgettable vocals with an uncanniness that brings thrilling goose bumps as he performs well-known hits such as "All Shook Up," "Don't Be Cruel" and "Blue Suede Shoes." He's also mastered many of Elvis's mannerisms, from the curled lip to his "indecent" hip-shaking. Clendening originated the role of Elvis in "Million Dollar Quartet" on Broadway and has more than 2,000 performances under his belt... The 14 cast members successfully bring to life an impressive number of characters that include Elvis's longtime manager, "Colonel" Tom Parker, played with carnie flair by Jerry Kernion; legendary Sun Records producer Sam Phillips, played by Matt McKenzie; pioneering disc jockey Dewey Phillips, played by Christopher Sutton; and the beautifully voiced Erin Burniston as Elvis's high school sweetheart, Dixie Locke.
Ally Johnson, Sea Coast Online: The crowning achievement of the production is the stage production itself, with some remarkable feats of artistry taking place on this familiar stage. The sets and the depth and worlds that they create grow monumentally during the show, undeterred from the confines of the space on the Playhouse stage... Forgoing the need to simply impersonate the King (there are, quite simply, enough of those), he instead allows the music to dictate his performance style and plays on the facts rather than the mannerisms. Here was a kid from a humble upbringing launched into unfathomable super-stardom, with his love, appreciation and talent in music being his anchor as loved ones entered and left his life. It's a strong and confident performance, fitting considering this isn't the first time Clendening has slicked up his hair into that famous pompadour.
Dan Marois, BroadwayWorld: The cast is solid in this show and typical of what audiences expect on the Ogunquit stage. McKenzie and Kernion are perfect foils as the duo fighting to chart Presley's future. Burniston is delightful as the King's first love. She even joins him in a musical number to show off her wonderful vocals. Clendening, as Elvis, is spectacular. He should be after playing the role in Million Dollar Quartet on Broadway and Off Broadway for over 2000 appearances. He captures every nuance of Elvis while not looking exactly like him. That's fine and it works wonderfully. He can belt out any number with energy that rocks the theater. He is remarkable in his transition from timid country boy to sensational star. A hidden gem performance comes through with the character of Dewey Phillips (Christopher Sutton) one of the early disc jockeys of the period who serves as narrator and comic relief. Rather than simply having a voice over narration, the producers were brilliant in making a disc jockey fulfill that role. Sutton is perfectly matched to the role that comfortably moves the storyline of the show.
Photo: olgunquitplayhouse.org