Maine State Music Theatre Presents The Who's TOMMY 7/31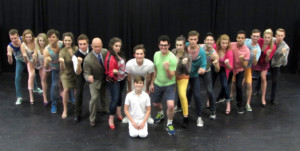 Maine State Music Theatre presents The Who's Tommy for one day only on Monday, July 31 with shows at 2 PM and 7:30 PM.
Based on the iconic 1969 rock concept album, The Who's Tommy is a breathtaking story of hope, healing and the human spirit. The story of the pinball-playing, "deaf, dumb and blind" kid who triumphs over his adversities has inspired, amazed and puzzled audiences for more than 40 years.
With book by Pete Townshend and Des McAnuff and music and lyrics by Pete Townshend, John Entwistle, and Keith Moon, this story follows Tommy, who after witnessing a murder, is traumatized into catatonia. But when he's discovered to have an uncanny knack for playing pinball his mother finally breaks through to him and he becomes an international pinball superstar.
From lights to costumes to performers, the show is entirely run by the company's intern program as part of the Educational Fellowship Program. Local performers round out the cast.
The Who's Tommy features an exhilarating score including "Acid Queen," "Pinball Wizard," "See Me, Feel Me," "Wicked Uncle Ernie," or "I'm A Sensation" in this rock classic!
The cast is comprised of a talented blend of MSMT performance interns - including Mickey White as Tommy - Rebecca Rene Kelley, John Pletka, Natalie Bellamy, Michael Carrier, Kevin Murakami, Sara Sargent, and Tracy Sokat.
University of Maine students round out the cast including Ali Sarnacchiaro (Westbrook), Eric Berry Sandelin (Gorham), Taylor Gervais (Hermon), Cameron Wright (Ellsworth), Jacob Sutherland (Oakland), Samuel Allen (Harpswell), Mel Bills (Gardiner), Joel Crowley (Brunswick), Lori L'Italien (Auburn), Declan Kelley (Gorham), Liz Kershenbaum (Gorham), Fred Thornly (Gorham), and Meg Ward (Bangor).
The 24 MSMT performance and technical interns hail from all over the United States and produce two to three intern shows each season. This year, in addition to intern shows - The Who's Tommy, The Taffetas and the Theatre for Young Audiences production of Robin and Clark 's Alice in Wonderland, the intern company will work on all aspects of the main stage shows Guys and Dolls, Grease, and Newsies. Their work ranges from building props and sets to costumes to lighting and sound to marketing, and much more.
The show is directed by Curt Dale Clark and choreographed by Raymond Marc Dumont (Portland).
Maine State Music Theatre's 2017 Season is sponsored by Highland Green and OceanView at Falmouth. This show is sponsored by Criterium Engineers. The MSMT Intern Sponsor is Five County Credit Union.
Ticket prices for The Who's Tommy range from $20-$40.
All performances take place at the Pickard Theater on the Bowdoin College Campus at 1 Bath Road, Brunswick, Maine. Tickets can be purchased at the Box Office by phone at (207) 725-8769, in person, or online at msmt.org.
More Hot Stories For You