Latest News on Raymond Marc Dumont
Raymond Marc Dumont News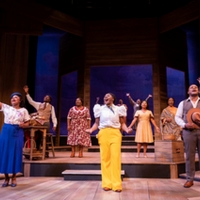 BWW Critic's Choices: Best of Maine 2022
by Carla Maria Verdino-Süllwold - Dec 15, 2022
After three seemingly endless years, Maine's theatrical landscape has truly begun to come to life again after the pandemic. I am thrilled to be able to pen this article, having experienced a 2022 that saw the remarkable 'comebacks' of Maine's theatres. While the year was not without continued challenges, these brave, resilient companies managed to produce first-class live theatre for grateful audiences. These are my personal choices of the best in Maine for 2022, grouped by theatre company and show.
Review: Sherwood Forest's Merry People Retell Tale of ROBIN HOOD at MSMT
by Carla Maria Verdino-Süllwold - Jul 25, 2022
Maine State Music Theatre celebrates the world premiere of a new children's musical, THE VERY FRACTURED TALE OF ROBIN HOOD by Randall Frizado in a clever, funny, upbeat, contemporary retelling of the Howard Pyle folktale about the legendary outlaw who robbed the rich to pay the poor in 12th century England. Helping to develop this title from script to the stage, MSMT has made a valuable contribution to the canon of children's musical theatre, while reacquainting a new generation of youngsters with colorful characters in the source material.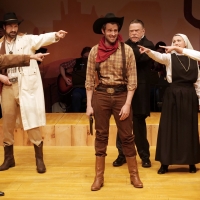 BWW Review: Good Theater Season Frolics To a Close with DESPERATE MEASURES
by Carla Maria Verdino-Süllwold - Apr 7, 2022
Portland's Good Theater's final offering of its nineteenth season is a deliciously zany and stylish production of Peter Kellogg and David Friedman's 2017 musical comedy, DESPERATE MEASURES, a witty, saucy sendup of Shakespeare's MEASURE FOR MEASURE set in the Wild West. Directed by Brian P. Allen and Cary Libkin with musical staging by Raymond Marc Dumont, the comedy written in rhyming verse is a rollicking, madcap adventure from start to finish.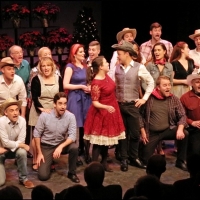 BWW Review: Broadway at the Good Theater Pays Tribute to 1940s
by Carla Maria Verdino-Süllwold - Dec 6, 2019
Each year Portland's Good Theater presents a holiday musical revue, written and directed by Brian P. Allen, and dedicated to celebrating a decade in American musical theatre history. Allen's show this year is devoted to the 1940s when so many of the geniuses of the a?oelegitimatea?? musical theatre style reigned supreme. The revue he has created is ambitious and comprehensive featuring twenty-five performers, including several Broadway actors, and covering the likes of Rodgers and Hammerstein, Lerner and Lowe, Cole Porter, Kurt Weill, and the Gershwins, together with many lesser-known writers. Performed with the intimacy and informality of a cabaret setting, Broadway at the Good Theater offers a nostalgic and delightful musical evening.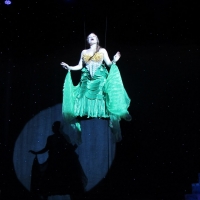 BWW Review: Happy Ending: THE LITTLE MERMAID at MSMT
by Carla Maria Verdino-Süllwold - Aug 19, 2019
a?oeA very, very merry, merry, happy, happy endinga??.a?? sings the colorful cast of human beings and sea creatures as they celebrate the wedding of Prince Alexander and Melody in Marc Robin and Curt Dale Clark's musical version of THE LITTLE MERMAID. And, indeed, this final 2019 Maine State Music Theatre production in the Pickard Theater proves to be just that! The third Theatre for Young Audiences show which closes another season of spectacular theatre for the Brunswick-based theatre is one of the most ambitious, completely realized productions created by MSMT's intern company.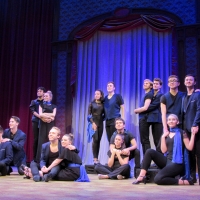 BWW Review: Superstar[s]: THE MUSIC OF ANDREW LLOYD WEBBER at MSMT
by Carla Maria Verdino-Süllwold - Jul 30, 2019
a?oeSuperstara?? is the title of the final number in Maine State Music Theatre's third concert staging, THE MUSIC OF ANDREW LLOYD WEBBER, but the designation seems to apply just as easily to the aspirations and abilities of the young artists who brought this sensational evening of theatre to life. Each season MSMT, as part of its Educational Fellowship Program, presents a fully staged concert performance created completely by these young professionals in training, and, each year in recent memory, the offerings have grown more complex, the talent more dazzling. Last night's performance of Andrew Lloyd Webber's music bears witness to that phenomenon, offering an evening of inspired staging, strong solo and ensemble performances, and spectacular vocalism and dancing.
BWW Review: Young Audience Squeals with Delight at THREE LITTLE PIGS
by Carla Maria Verdino-Süllwold - Jul 8, 2019
Judging by the squeals of delight from the youngsters attending MSMT's second Theatre for Young Audiences production of THREE LITTLE PIGS, the familiar nursery rhyme made into a musical by George Stiles and Anthony Drewe proved to be a great hit! The fifty-five minute retelling of the tale of the three piglets who leave home to make their way in the world and must outsmart the Big Bad Wolf to survive is told with charm, wit and a touch of contemporaneity and gentle messaging.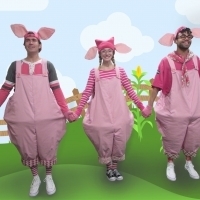 Squealing With Delight For Maine State Music Theatre's THREE LITTLE PIGS
by A.A. Cristi - Jun 27, 2019
Maine State Music Theatre presents Stiles and Drewe's THREE LITTLE PIGS. This Theatre for Young Audiences show will run on July 8th with performances at 10 am, 1 pm, 4 pm, and 7:30 pm. 
BWW Review: We Go Together: MSMT and Lewiston's Public Theatre Co-Produce GREASE
by Carla Maria Verdino-Süllwold - Jun 19, 2019
Just as the youthful cast sings their exuberant anthem, 'We Go Together,' at the close of GREASE, so, too, might the theatre-loving communities of Midcoast Maine find new reason to celebrate in the first-ever co-production of Maine State Music Theatre and The Public Theatre. From June 18-30, 2019, the two Equity companies have joined forces to present Jim Jacobs and Warren Casey's beloved classic, in Lewiston in a fresh, new, vibrant production that recaptures all the joy, travails, libido and angst of adolescence.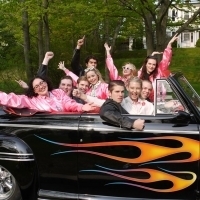 BWW Interview: First Date: MSMT & Lewiston's Public Theatre Co-Produce GREASE
by Carla Maria Verdino-Süllwold - Jun 9, 2019
"It's like a first date, " says Christopher Schario, Executive/artistic Director of Lewiston's Public Theatre. "It's a total cross population between our institutions and our audiences," he adds. Maine State Music Director Curt Dale Clark concurs: "This co-production is helping the arts in both our communities. It's upping the ante and providing more opportunities for people to enjoy live theatre," The two artistic heads , together with the leads of the production Tanner Callicutt and Katie Brnjac are chatting with Broadway World about the first-ever collaboration between the two theatres, a new staging of the musical GREASE, performed at The Public Theatre June 18-30, 2019.
Raymond Marc Dumont Videos
STAGE TUBE: Sneak Peek of Maine State Music Theatre's 42ND STREET
by Stage Tube - Aug 14, 2012
Maine State Music Theatre is in its final production of the season, 42nd Street. The show runs until August 25th; for tickets and showtimes contact the box office at (207) 725- 8769 or visit www.msmt.org. Check out the video preview below!