BWW Review: Writers in Love: Good Theater Presents SEX WITH STRANGERS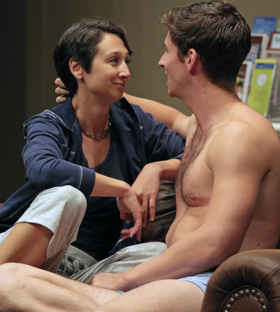 The Good Theater launches its sixteenth season with a beautifully produced, bittersweet, wise, and winsome play by Laura Eason, Sex with Strangers. Despite its suggestive title, the two-character drama is not a steamy exposé of passion, but rather a thoughtful exploration of the complicated world of modern relationships, the conflicting demands of attraction and affection with career and creative identity.
Eason takes us into the witty, intimate world of two writers who begin a romance after an encounter at a remote Michigan B & B. Seemingly opposite personalities, Ethan and Olivia are drawn together by their respect for the gift of writing and a spontaneous physical chemistry. While their career paths and artistic philosophies diverge, the, nonetheless, craft a journey that brings pain as well as personal growth to each of them. Eason's dialogue is realistic; her ability to develop believable characters is rich; and her plotting has just enough surprise and suspense.
Steve Underwood directs with a fine-tuned sense of all the character nuances, a deft sense of humor, and perfect timing for the twists in the drama. He also is responsible for the excellent sound design and the highly attractive décor, (GracE Eddy, Nathan Hall scenic artists) which makes maximum use of the Good's space, and, through a keen eye for detail in the elegant set dressing, completely transforms the stage from inn to Chicago apartment at intermission. Justin Cote tailors the attractive contemporary costumes to the neutral color palette of the set, while Iain Odlin bathes the stage in cool wintry indoor light for the first act and warm, cozy hues for the second.
But as with any two-character play, the chemistry between the protagonists is paramount, and Marshall Taylor Thurman as Ethan and Amanda Painter as Olivia possess that spark - painting a dynamic portrait of two vastly different individuals who palpably demonstrate how opposites attracT. Taylor Thurman is handsome, imposing, brash, boyish and believably incarnates a young man torn between achieving the quick success of the digital age with a secret longing for a more idealistic approach to his writing. Painter's Olivia hibernates within a protective shell of her own making at the beginning of the play, then gradually emerges as she opens herself up to the possibilities of love and risk. The inconclusive ending is beautifully handled by all and adds to the thought-provoking issues raised by the play.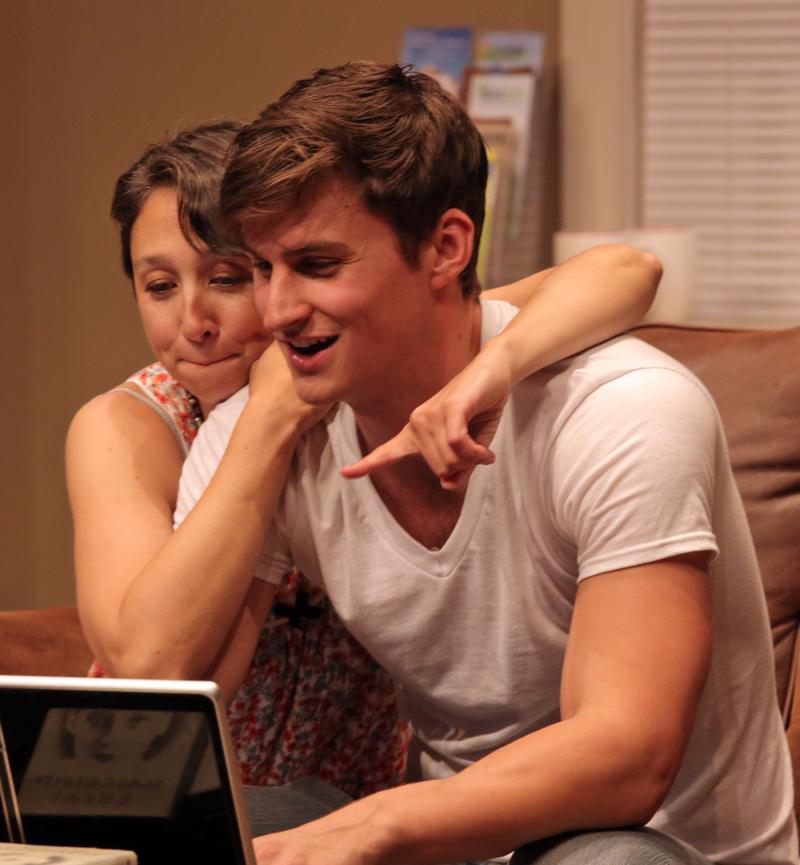 The Good Theater with Brian P. Allen as Executive and Artistic Director continues to demonstrate its mastery of selecting repertoire that suits the capabilities of their space and then mining the work for its maximum potential. Sex with Strangers is another fine example of a play choice that is contemporary, meaningful, subtle, and complexly nuanced - one that offers the audience a complete theatrical experience where poignancy, laughter, and warmth all come together.
Photos courtesy Good Theater, Steve Underwood, photographer
Sex with Strangers runs at the Good Theater from September 27-October 22, 2017, 76 Congress St. www.goodtheater.com
Related Articles View More Maine

Stories

Shows