BWW Review: Celebrating Irving Berlin: MSMT Launches Concert Series with I LOVE A PIANO
MSMT's all-singing, all-dancing tribute to Irving Berlin, I Love a Piano, blew the Pickard Theater audience away at two Monday performances with its steady stream of classic hit tunes, its high energy choreography, and the dazzling virtuosity of its youthful cast. This was an afternoon and evening to sit back and revel in the rich history of American popular music and to celebrate a composer whose work provided the soundtrack for the American experience for almost seventy years.
It is exciting to watch MSMT's cast of young professionals perform this material with so much connection and commitment. Though this is the music of past generations, the eleven-person ensemble of remarkable triple threat actors brings it vibrantly to life for a contemporary audience, affirming the truism that longevity is what makes great music.
The one hundred-minute revue, created by Ray Roderick and Michael Berkley, skillfully weaves together almost sixty Berlin melodies, arranging them in thematic sequences that mirror the march of history and culture. The stylistic breadth demanded by the material poses a considerable challenge to the creative team and performers, but MSMT's tightly paced, elegantly sequenced production rises to the task.
Director/choreographers Curt Dale Clark and Raymond Marc Dumont have a keen eye for detail and stage pictures, an idiomatic grasp of period styles and an unerring instinct for creating one show-stopper after the other, interspersed with reflective poignant moments, and peppered with humor and wit. The choreography is brilliant featuring everything from tap, to jazz, to ballet, to tumbling, to roaring popular dances like the Charleston, and the cast brings a kinetic and breathless energy to the piece. Moreover, Clark and Dumont know how to invest these series of loosely connected vignettes with back-story and context and weave them together into one seamless whole.
Music Director Ben McNaboe plays piano with grace and fluid style and guides the performers and the six-piece orchestra through this songbook with a steady hand and strong sense of musicality. In this case, the instrumentalists are behind the skrim, a choice necessitated by having to stage the show on the set of Million Dollar Quartet, but when the piece was performed last week on tour, the musicians were on stage in formal dress, making an elegant optical and aural complement to the performers. Nonetheless, they make their presence felt and create the period ambiance and are well balanced with the vocalists in Nathan Dickson's sound design.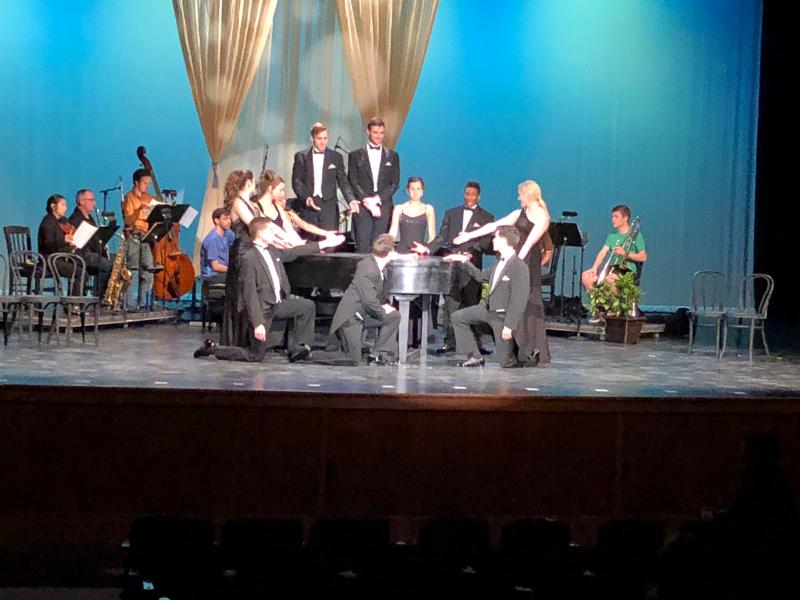 The production makes use of simple décor - chairs, potted plants and, of course, the centerpiece grand piano, created by Set Designer Forest Horsley and Props Designer Corinne Gologursky. Annalise Caudle makes attractive use of pastel washes of color and gobo-patterns to create mood and time changes, while Jacob Miller costumes the cast in colorful and quirky casual attire for the first part and gradually adds black evening dresses and tuxedos for the later numbers. Stage Manager Mickey Acton and Assistant Laura Scott call the show with expert aplomb.
Each of the talented ensemble members has his/her solo moments to shine, and together they work with precision and engagement. Michael Olaribigbe proves himself to be a mesmerizing dancer and an appealing vocalist in numbers such as "Listen to the Rhythm," "Cheek to Cheek," and "White Christmas." Alec Duffy Talbott joins him in some fireworks gymnastics and tap and offers several of the show's wistful vocal moments like "What'll I Do." Caleb James Grochalski displays a strong interpretive bent in numbers like " Pack Up Your Sins and Go to the Devil" and "I'm Steppin' Out with My Baby." Jake Hartman delivers several poignant vocal solos, among them "A Pretty Girl Is Like a Melody" and "Count Your Blessings Instead of Sheep," while Miles Obrey and Andrew Carney add a dash of sauciness and wit in numbers like "Sisters" and "Oh How I Hate to Get Up in the Morning."
They are nicely complemented by the female ensemble with Lauren McDonald able to deliver both spirited numbers like "Snooky Ookums" and romantic melodies like "I Get Lost in His Arms," while Melaina Corey Raiarmo turns in some rousing moments such as "Alexander's Ragtime Band" and "Any Bonds Today and a poignant "Russian Lullaby"." Elisabeth Christie sings "Say It Isn't So" and "Supper Time" with rich soulful intensity; Stevie Ann Mack shines in numbers like "Happy" and "Old Fashioned Wedding" with her sweet soprano and Siobohan Kelley proves herself a strong vocalist and an especially elegant dancer.
But perhaps the most exciting moments come when the eleven join forces to create those toe-tapping, infectious, exhilarating showstoppers like "Everybody's Doing It," "They Call It Dancing" "Puttin on the Ritz," "White Chritsma," and "God Bless America." Here they demonstrate their cohesiveness as an ensemble and their virtuosity as triple threat performers of considerable presence.
That presence was on display not only last evening, but a week ago at the LHE PAC where they won new audiences for MSMT in a first-ever performance in Fryeburg, and again on last Friday evening at the Franco Center in Lewiston when the power went out, forcing the ensemble to perform an abridged version with a single generator-powered spotlight and the musicians to play with crew holding flashlights. All the more cause for celebration then today as MSMT opened its three-concert Monday series- with subscriptions available for the first time - with Irving Berlin's glorious music and this uplifting performance!
Photographs by the author
I Love a Piano held 2 performances at The Pickard Theater June 18, 2018. The remaining Monday Concert Series presentations will be Bye Bye Birdie (July 30) and MSMT 60 Years of Musical Theatre (August 13). 207-725-8769 www.msmt.org