BWW Interview: Weaving Many Musical Threads into a Theatrical Life: A Conversation with Peter Oyloe
"There have been so many musical threads throughout my life ever since I was a little guy. Music was something I did early on. I would listen to my dad, who had a beautiful voice, sing, and together we would listen to his vinyl record collection. I was always drawn to music written before I was born. There is something about the vulnerability, the universality, and the craft of earlier music that has always attracted me."
The speaker is Peter Oyloe who is touring with The Hank Band, his concert recreation of the music of the legendary folk/country western singer. Oyloe and the band's most recent gig was to open Maine State Music Theatre's 2017 Monday concert series with two virtually sold out performances of Hank Williams' music at Brunswick's Pickard Theater on July 10th. In conversation with Broadway World in the panoramic setting of a private reception in the band's honor on scenic Mere Point, Oyloe seems exceptionally soft spoken, but a few hours later when he takes the stage as Hank Williams, he transforms himself into the powerhouse Singer Williams was. It is a role that has changed his life, Oyloe says, and a connection that now runs deeply as one of the primary threads in his own musical tapestry.
The concert and the Hank Band itself were outgrowths of Peter Oyloe's performances in the musical theatre piece, about the singer's life, Hank Williams: Lost Highway, written by Randal Myler and Mark Harelik. Oyloe recounts how he came to be so closely associated with the title role. "I was performing in a production of the show in Chicago and Randal Myler came to see it. He invited me to do a production in Cincinnati and after that, I started doing it all over the place. I have traveled far and wide with this show, and it has had a major impact on my career."
Oyloe talks about his own journey as a singer and actor into the creative psyche of Hank Williams. "His was a short life but one with lasting impact. He ushered in the idea of country western music. He wouldn't have called it that - to him it was folk music, music of the people - but his songs covered many genres. He introduced black music into white culture, and these white man blues transition into country music. He stood at the crossroads."
Oyloe notes that Williams' achievements were heightened by the fact that his superstar career only really lasted for about four years beginning with his 1949 appearance at the Grand Ole Opry" until his death at age twenty-nine of heart failure brought about from the complications of alcohol abuse and drugs. Williams credited Rufus Payne as his mentor. "The story goes that Hank hung around and made a pest of himself with the older musician, and that it was Payne who introducEd Williams to some of his signature chords. He started early as a teen hanging around the radio stations and trying to force them to let him play a few songs."
For their concert program of twenty-three songs, Oyloe and The Hank Band (on this evening, Brian Wilkie on Steel guitar, Ed Sublett on bass, and Stu Rosenberg on fiddle) have taken their cue from live radio shows that Hank Williams did perform. "He would always start with 'Happy Rovin' Cowboy,' so that's how we kick off our evening," Oyloe explains. "All the songs are either written by Williams or recorded by him like 'Blue Eyes Crying the Rain' by his manager Fred Rose. We've tried to create a combination of songs that people recognize even when they think they don't know Hank Williams' music, together with ones that fans love like 'Cold, Cold Heart' and 'Your Cheatin' Heart."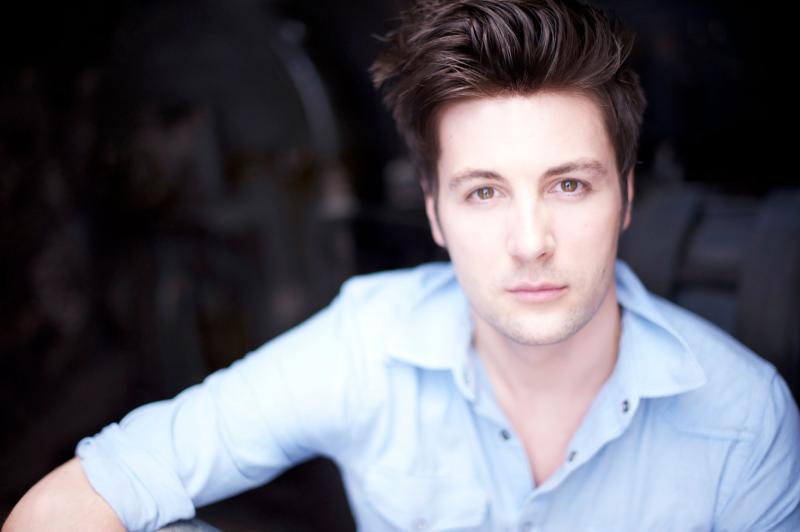 Oyloe talks about the complex challenge this type of concert poses to him as the lead singer/actor. "Whereas when I played Hank Williams in the musical, I became the character the way I would for any other role, when I do this concert version, I have to perform in the persona of Hank Williams, but I am also still myself because I am talking about him and honoring him and his work. I try to take some of qualities I have found as an actor playing the role and bring them into the concert - like the dialect and the pitch of his speaking voice which is lower than mine." To prepare for "becoming Hank" first in Lost Highway and now in concert, Oyloe says he listened to numerous recordings of Williams' singing and speaking on radio programs. "There isn't a great deal of video, though if his career had lasted a little longer there would have been," he adds with a hint of regret.
Asked what he feels accounts for his own special connection to Hank Williams' music, Oyloe replies," There is a Southern sensibility that I find liberating. Music just seems to flow in the water there. You see small kids playing tiny fiddles or baby guitars, and they play really well. It's a musical culture with which I'm comfortable." But even more than this sensibility, it is the tone of Hank Williams' work which inspires Oyloe. "He is not at all subtle. But what has always intrigued me about his canon of songs is that even when he is singing about something so very personal and painful - about all the different losses and literal pain in his life - he still does so with buoyancy. There is joy even in the saddest of songs. If you were to listen just to the lyrics, you would find them harsh, but when you add the music, there is this uplift."
And where does Hank Williams, the band, and this defining role fit in Peter Oyloe's overall artistic life? "I enjoy using my voice in a lot of different ways," he explains. "I started as a singer when I was a little guy. We had a professional opera production of Carmen come through our town in Iowa, and I was in the children's chorus. All through middle school and high school, I did every community theatre production I could. I also started playing the guitar and writing my own songs."
This passion, together with his affinity for flora and fauna of the natural world led Oyloe to make an unusual choice for his higher education. Instead of applying for one of the many musical theatre programs at an American university, he announced his desire to train in New Zealand. "My Mom encouraged me to go for it if that's what I wanted, so I applied without telling anyone else, got in and said 'bye!' It was one of the best decisions and experiences in my life."
After his theatrical education, Oyloe based himself in Chicago where he has performed as an actor in straight plays and musicals, winning Jefferson awards for his performances not only in The Lost Highway, but also The Pillowman. His extensive acting resume includes the title role in Maury Yeston's Phantom of the Opera, Giorgio in Passion, Marius in Les Misérables, and Alan Strang in Equus. " I have always been drawn to musicals that are big, sweeping epics like Phantom and Les Misérables. I can be very soft spoken and a little shy, but then there is also something in my persona that allows me to transcend that when I play roles in very theatrical musicals."
In addition to his stage performances, Oyloe has written the instrumental scores for the film In Love with a Nun and for theatre productions of Equus and Eurydice. And just recently he has released a solo recording of his own compositions, When the Wide World Roars. "I have actually written quite a few songs over the years, and if I were a wealthier man, I would love to make more recordings," he says with both a hint of pride and yearning.
It is clear this project holds a special place among the myriad of creative activities which engage Peter Oyloe as an artist. "Being able to write the music and lyrics for my own songs and to perform them is one of the most personal things I do. It is something that belongs just to me," he says with the same quiet intensity with which we began the conversation. "It is a very important release of my inner self."
Photos courtesy of MSMT and Peter Oyloe
Peter Oyloe and The Hank Band opened MSMT's Monday Night Concert Series at the Pickard Theater, 1 Bath Rd., Brunswick, ME on July 10,2017. For information on the remaining two concerts in the series: www.msmt.org 207-725-8760
For more information on The Hank Band: www.hankwilliamsband.com For information on Peter Oyloe's CD: http://peteroyloe.com/product/when-the-wide-world-roars