BWW Review: A GENTLEMAN'S GUIDE TO LOVE & MURDER at Overture Center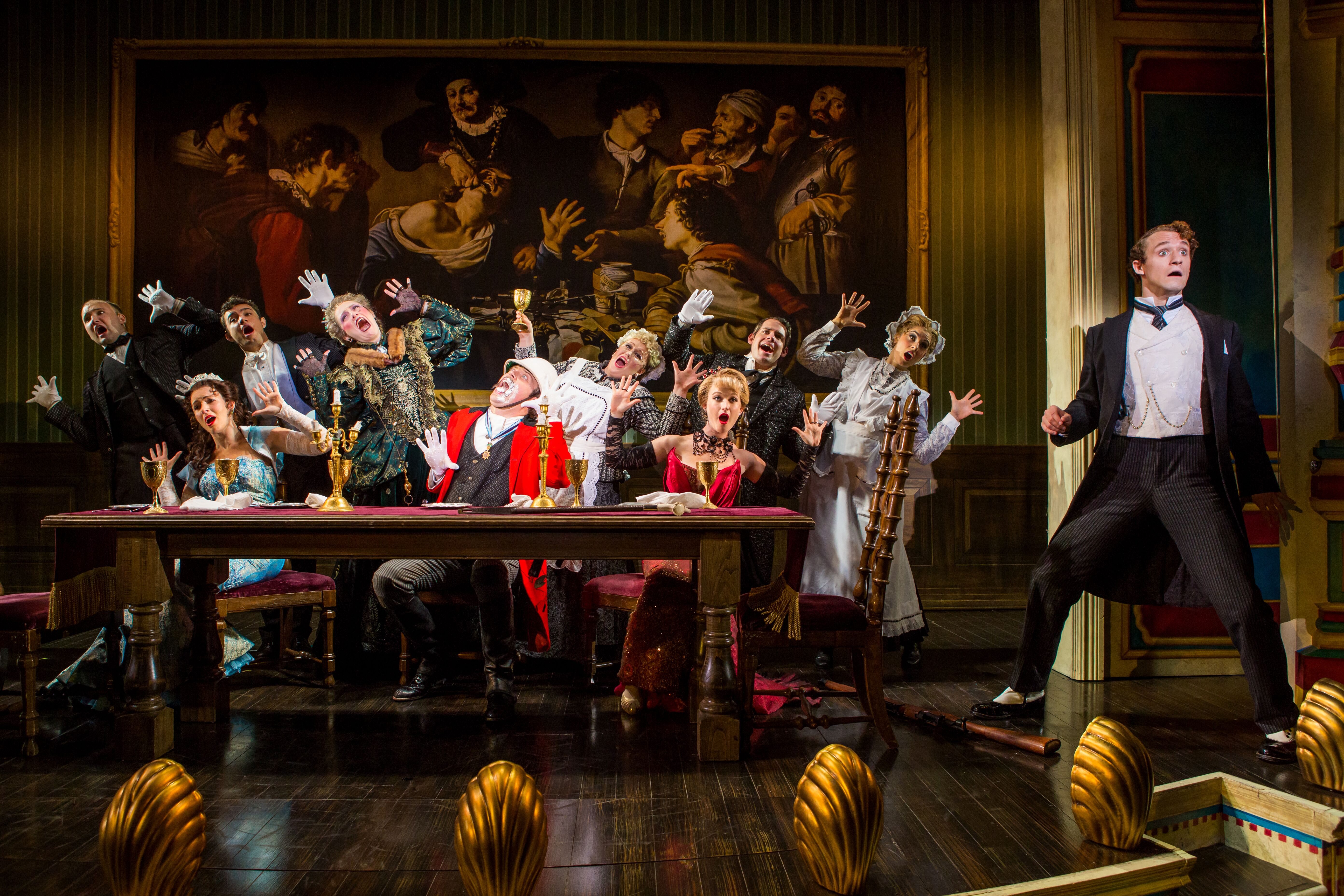 From the amazingly gothic opening number, aptly titled, "A Warning to the Audience" through the "Finale" the actors in this production not only never let the energy wane, they amazed the audience at every plot twist.
We meet Monty Navarro (tirelessly played by Blake Price) whist he is incarcerated. He is writing an honest memoir of his life. This becomes the vehicle for his tale. It all begins after his mother's passing when he meets a mysterious woman named Mrs. Shingle (Kristen Kane), who informs him of his birthright. Nearly from the moment we meet this character until the very end of the play, he is on stage virtually every second! This is one of the most amazing aspects of this performance. Mr. Price's energy never wanes, and his character is perfect.
Shortly after the plot is set we are introduced to his lady love, who is after a lot more money and prestige than he can offer. The impression given to the audience is that he may be firmly in the "Friend Zone". But that changes when she is well married and he is near the top of the succession for the title of Earl of Highhurst. It is during one of their romantic tete a tetes that Monty's new love interest proposes to him. This creates a very "Three's Company" moment of door slamming and hidden intentions; with blonde Sibella Hallword (beautifully played by Colleen McLaughlin) on one side of a door and brunette Phoebe D'Ysquith (just as beautifully played by Erin McIntyre) on one side of another and poor Monty trying to hold both doors shut from betwixt them, the scene played comedically well.
All of this has come about due to the simple fact that Monty has "eliminated" (most of) the eight heirs ahead of him in succession to become the new Earl of Highhurst. All the competition, it should be noted, is exquisitely played by James Taylor Odom. Mr. Odom plays all eight of the characters that are systematically eliminated by Monty in his rise to the top. He brings individual characteristics to each of the different D'Ysquith family members he portrays. His performance may be second only to that of his dresser(s), who must costume him in sometimes mere seconds.
Another fun aspect of this show is the set. The backdrop is incredible as is the use of mufti-media to create some of the scenes. Through some inventive and brilliant direction, this show maintains its energy and humor and is not to be missed!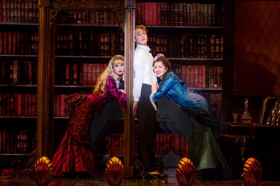 Tickets start at $35 and are on sale now at overture.org, in person at 201 State Street, or by phone at 608.258.4141. Groups of 10 or more may be eligible for discounted tickets; contact 608.258.4159.
Broadway's Tony Award-winning 'Best Musical' Makes Madison Debut
A Gentleman's Guide to Love & Murder will be the First Touring Broadway Production to Use Overture's Newly Upgraded Sound System
Madison, Wis. - The Tony®-winner for Best Musical, A Gentleman's Guide to Love & Murder, will play eight performances at Overture Center in Madison, Wis. Tues., Oct. 3 - Sun., Oct. 8 during its first national tour. Producer NETworks Presentations announced full casting with James Taylor Odom as all eight D'Ysquith heirs and Blake Price portraying Monty Navarro.
Gentleman's Guide will also feature Colleen McLaughlin (Sibella Hallward) and Erin McIntyre (Phoebe D'Ysquith). The tour also includes Timothy Aaron Cooper, Ashton Michael Corey, Mia Fitzgibbon, Colleen Gallagher, Briana Gantsweg, Kristen Kane, Tyler Lenhart, Conor McGiffin, Ryne Nardecchia and Rosie Webber.
The Thurs., Oct. 5 performance features Get Social, a pre-show event with refreshments and activities including a workshop by local actor, teacher, and fight choreographer Whitney Derendinger.
Gentleman's Guide tells the uproarious story of Monty Navarro, a distant heir to a family fortune who sets out to jump the line of succession, by any means necessary. All the while, he's got to juggle his mistress (she's after more than just love), his fiancée (she's his cousin but who's keeping track?), and the constant threat of landing behind bars! Of course, it will all be worth it if he can slay his way to his inheritance... and be done in time for tea.
One of Broadway's most celebrated musicals, Gentleman's Guide received ten 2014 Tony Award nominations, winning four awards: Best Musical, Direction of a Musical, Book of a Musical, and Best Costume Design. In addition, it won the Best Musical prizes from the Drama League, Drama Desk and Outer Critics Circle, and received a 2015 Grammy® Award nomination for Best Musical Show Album.
Overture Hall's new sound system, made up of 140 speakers installed and over 60 miles of new cable, was designed using acoustic mapping by Clearwing Productions and features audio speakers from L-Acoustics, the worldwide leader in high-end professional equipment. In addition to using 94% less energy, the new system provides easier access and higher-quality output as touring productions likeGentleman's Guide connect with their equipment.
A Gentleman's Guide to Love & Murder features a book and lyrics by Robert L. Freedman and music and lyrics by Steven Lutvak. The creative team for this production includes direction and choreography by Peggy Hickey (Anastasia), based on Broadway's original Tony Award-winning direction by Darko Tresnjak(Anastasia) and her own original choreography. The design and production team is comprised of two-time Tony Award nominee Alexander Dodge, scenic design (Anastasia, The Hunchback of Notre Dame); Tony Award-winning Linda Cho, costume design (Anastasia); Adam Cates, Associate Director and Choreographer (Anastasia); Philip S. Rosenberg, lighting design (The Elephant Man, It's Only a Play); four-time Tony Award-nominated Dan Moses Schreier, sound Design (Into the Woods, American Psycho); Aaron Rhyne, projection design; and Jason Styres, CSA, casting. Original orchestrations are by Jonathan Tunick and Vocal Arrangements are by DiAnne Adams McDowell and Steven Lutvak. Paul Starobaserves as Music Supervisor.
Gentleman's Guide received critical acclaim on Broadway, where The New York Times raved "GENTLEMAN'S GUIDE will LIFT THE HEARTS of all those who've been pining for what sometimes seems A LOST ART FORM." The Hollywood Reporterenthused Gentleman's Guide "Restores our faith in musical comedy!" and Time Magazine said "Just as I was about to give up on musicals, along comes A GENTLEMAN'S GUIDE TO LOVE & MURDER!"
For additional information on Gentleman's Guide, visithttps://gentlemansguideontour.com
OVERTURE CENTER FOR THE ARTS in Madison, Wis., features seven state-of-the-art performance spaces and five galleries where national and international touring artists, ten resident companies and hundreds of local artists engage people in nearly 700,000 educational and artistic experiences each year. Overture.org
BROADWAY ACROSS AMERICA is part of The John Gore Organization family of companies, which includes Broadway.com, under the supervision of 11-time Tony-winning producer John Gore (Owner & CEO). Current and past productions include Beautiful, Cats, Chicago, Dear Evan Hansen, Groundhog Day, Hairspray, Hello, Dolly!, Million Dollar Quartet, On Your Feet!, The Producers, School of Rock and Waitress BroadwayAcrossAmerica.com; Broadway.com
Related Articles View More Madison

Stories

Shows
Scott Rawson: A founding member and current Artistic Director of CAB this being the second theater company he has begun, the other being R.A.V.E. (Rogues (read more...)