World Premiere Of WICKED PAGAN GAYS Comes to The Zephyr Theatre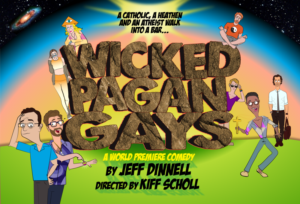 The world premiere of Wicked Pagan Gays by playwright Jeff Dinnell, produced by 20 Milligrams Entertainment and Directed by Kiff Scholl, will open February 23rd at The Zephyr Theatre on Melrose. Tickets on sale at: www.plays411.com/wicked.
Jeff is a 35-year-old atheist who has recently moved to Los Angeles to start a new life. Greg is a middle-aged struggling journalist led by "signs from above." When serendipity reunites the former acquaintances, Greg insists their fates are intertwined and they must uncover the details of their shared cosmic destiny. Jeff, ever skeptical, first humors Greg, but soon finds himself second-guessing his core beliefs. Moral questions arise and loyalties are tested as the duo are thrust into a world of child stars, self-help gurus, and baffling gay politics.
Born of real-life friends Jeff Dinnell and Greg Archer's cocktail-fueled debates on God and gays comes this surprisingly thoughtful look at compromise in modern times. Sending up everything from religion to gay culture, steeped in cheeky, fast-paced banter, WICKED PAGAN GAYS examines the unlikely friendship between two gay men with very different world-views as they embark on a hilarious search for meaning in a bewildering (and possibly sentient), Universe.
JEFF DINNELL - Writer/Actor
Jeff Dinnell is a writer and actor living in Los Angeles. Hailing originally from Santa Cruz, Ca., at nineteen he wrote and produced a 30-episode absurdist sitcom called LUNATICS IN LIMBO for local cable-access television, a thing that existed before YouTube. From 2005 to 2010, he hosted SoWat TV, a popular talk-magazine featuring interviews with Northern California artists and politicians. The year 2012 saw Jeff preparing for the apocalypse in the award-eligible feature mockumentary EXPLODE FOR ME, which explored themes of belief, superstition, and loss. Next, Jeff teamed up with author and journalist Greg Archer to develop what would become WICKED PAGAN GAYS, a semi-autobiographical exploration of friendship born out of their own cocktail-fueled debates on God, relationships, and the role of spirituality in gay life (and also normal life). Greg believes in signs. Jeff doesn't.
GREG ARCHER - Co-Creator
Greg Archer is a longtime multimedia journalist and author whose work covering Hollywood, spirituality, and agents of change near and far have appeared in The USA Today Network, Huffington Post, Live Happy Magazine, Oprah Magazine, CBS Television and Radio, and other media outlets. Originally from Chicago, Greg worked as a film publicist for Paramount Pictures and Warner Bros. for several years before returning to his passion: Writing and journalism. His tenure as Editor-in-Chief at Mainstreet Media's Good Times Magazine in the San Francisco Bay Area (2000-2014) spawned other creative projects, including filmed Bay Area arts coverage and red carpet events with Jeff Dinnell. From 2012-2013, he hosted GTv, a cable talk show covering the arts in Santa Cruz County and beyond. In 2015, Greg's memoir about his Polish family ("Grace Revealed") was published to winning reviews. His next book will be released in early 2019. In the meantime, he hosts a YouTube/HuffPo interview show, ("Mystics in a Chat Room"), which spotlights Agents of Change.
KIFF SCHOLL - Director
Kiff Scholl is a proud member of SDC and rescue dog aficionado. Kiff's recent productions include The Red Dress, Future Sex, Inc., Dinner at Home Between Deaths, and Moon Over Buffalo (2014 BroadwayWorld nominee). Other critically acclaimed productions include La Bête and world premieres A Mulholland Christmas Carol; Middle Savage; Act a Lady; and Don Giovanni Tonight, Don Carlo Tomorrow at Sacred Fools, about which the LA Times observed "Director Kiff Scholl has few peers at keeping us intrigued." His shows have garnered seven Backstage Garland awards, five LA Weekly awards, a GLAAD nomination and an Ovation award. Scholl was listed as "one of LA's emerging and accomplished stage directors" by the LA Weekly. Other favorites include Sona Tera Roman Hess, Inherit the Wind, Our House, Expecting to Fly, and All My Sons, as well as The Poseidon Adventure-The Musical!, Circle X's 10 Minute Play Fest, and Kill Me, Deadly, The Fan Maroo and Shake at Theatre of NOTE. An award-winning filmmaker, his feature "Scream of the Bikini" won numerous awards, including a Maverick Movie Award for Best Director (now on Amazon, and in Japan, where it's known as "Spy Mission"). His films include "11/11/11" (Netflix), "Surprise" (premiering on Dekkoo, January '18), and the political satire web-series he co-wrote and directed, Medicare Mermaids www.MedicareMermaids.com. As an actor, Kiff has been in lots and lots of commercials, as well as on "Criminal Minds", "Reno 911!", "Untold Stories of the ER", "Billy's Hollywood Screen Kiss", "11/11/11", "Girls Will Be Girls 2012" and a lead on the hilarious "Be Cool, Scooby Doo" (Cartoon Network). www.KiffScholl.com /Twitter: @afkiff
NATHAN TYLUTKI - Greg
Nathan Tylutki is a recent Los Angeles transplant. After spending time in San Francisco, New York, and Minneapolis, he is beyond thrilled to be in LA and a part of Wicked Pagan Gays. TV: Ice Cold Murder (March 2018); Film: Mary; Borderlands; Bounce Houses and Baseball Cards; Ex Post Somnio; Bro! Theater: Dial M for Murder; The Mousetrap; Eurydice; Cat's Paw; To Kill a Mockingbird; Endgame; A Day in the Death of Joe Egg; Hamlet; Sordid Lives; Daniel's Husband; King Lear; among many others. Additionally, Nathan is a writer, has produced/performed his own solo work, and chronicles his (mis-) adventures at nayrotica.com
Eric AllenA. Smith - Jonathan Tyler Tyler
Eric AllenA. Smith was born and raised in West Lafayette, Indiana. He began acting in the local civic theatre, and after competing in high school show choir he moved to NYC & graduated from The American Musical & Dramatic Academy. He's lived in LA for 8 years, is a member of SAG/AFTRA, a Second City graduate, and can recently be seen on Netflix' 'Girlboss' and Joseph Kahn's second full length film, 'Bodied'.
JORDAN Michael Green - Tyrell
Born in the Birthplace of America: Williamsburg, VA; Jordan found his second home in L.A. Last seen in Randal Kleiser's first play The Penis Chronicles as Rhapsody the drag queen with a third arm, Jordan is used to characters with a little "extra" to offer. Whether it's hosting events with the Tom Of Finland Foundation, improv with UCB, or performance art for the community, Jordan seeks to spread sunshine and inspire. Listen to his new podcast, The Chatroom, available on iTunes. @GetExtraJordan
IAN DICK - Douglas
Ian Dick (Douglas) is incredibly honored to be working with Jeff Dinnell and the whole team on Wicked Pagan Gays! His theater credits range from E3W Productions critically-acclaimed immersive show In Another Room, to Shakespeare Santa Cruz's It's A Wonderful Life: A Live Radio Play, to filmed projection and motion capture in Opera Parallèle San Francisco's productions of Anya 17 and Champion: An Opera in Jazz. He studied Cognitive Psychology at The University of California, Santa Cruz, where he took to acting as a stress-reliever, playing such roles as Guildenstern in Rosencrantz and Guildenstern are Dead, William Lantry in A Forgotten Future, and Dr. Kildeare in Mummified Deer. His film credits include leading roles in the award-winning short films Family in Progress and Gun With The Wind, along with starring turns in the feature films Happiness Adjacent (Guest House Films), which recently premiered at Chicago's Reeling Film Festival and is currently on the festival circuit, Morningstar (Fourth Hallway Films, coming Summer 2018), and In Another Room VR (E3W Productions/Here Be Dragons, currently in post-production). In his spare time he races mountain bikes for Santa Cruz Factory Racing, makes films with his best friends, and spends time with his amazing siblings. His full career details can be found at Ian-Dick.com.
KRISTA CONTI - Helene Aurora
Krista Conti has been performing on stages throughout Los Angeles for many years. She was a member of Theatre of NOTE Ensemble for over ten years. Krista was recently seen in the 2017 Hollywood Fringe Festival encore winning production of Andy: The Rednosed Warhola. She also performed in the one-act Frankenstud, which won best play of the 2017 Acting Out INK Fest. Krista is thrilled to be part of the cast of Wicked Pagan Gays!
EMILY JEREZ - Jillian Stark
Emily Jerez grew up outside of Denver, Colorado and has her BA from Tufts University and MBA from NYU Stern. She has contributed to a number of pilots, films and commercials and is a regular participant in the popular L.A. Cafe Plays at the Ruskin Group Theater in Santa Monica. Her most recent stage credit is as Karen in The Rainbow Bridge, also at the Ruskin Theater. She lives in Venice with her husband and almost 3-year old daughter.
Kuker & Lee PR - Publicist (Sandra Kuker and Anita Lee)
Publicists Sandra Kuker & Anita Lee work as the team, Kuker & Lee PR, providing publicity and marketing service & consultation for theatre, authors & talent. Sandra Kuker's three-decade career in Los Angeles theatre publicity and marketing is rich with a client list of diversity and many successful campaigns. Anita Lee has over a decade of experience in LA 99-seat theatre with many acclaimed productions both as producer & publicist. Together they bring their personal commitment to each client. Kuker & Lee clients include Sacred Fools, Café Arts, Theatre Asylum, Theatre 68, Projects have included My Child - Mother's of War, Drop Dead by Billy Van Zandt, Almost, Maine directed by Marty Papazian, I Am Not A Comedian...I'm Lenny Bruce starring Ronnie Marmo and Directed by Joe Mantegna, A Time To Kill by John Grisham, Time Stands Still, and author Bill Ratner of Parenting For The Digital Age.

Related Articles View More Los Angeles

Stories

Shows
More Hot Stories For You