Willard Manus Creates THREE BY WILL In Rep at Write Act Repertory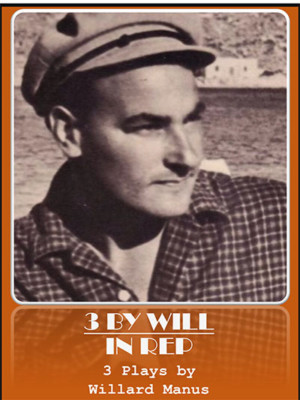 Artistic Director John Lant and WRITE ACT REP announce a three Production Series in Rep, "THREE BY WILL - IN REP" which includes two World Premiere's, "Their Finest Hour: Churchill And Murrow," "The Wicked, Wicked Mae," along with the acclaimed "PREZ - The Lester Young Story." The three plays will open at Write Act Repertory @ the Brickhouse Theatre beginning February 11th, 2018
THE TEAM:
Written by Willard Manus
Produced by John Lant and Tamra Pica in association with Write Act Repertory
Associate Produced by Jonathan Harrison
Lighting Design by Alonzo Tavares
Publicity by Sandra Kuker PR
PREZ - THE Lester Young STORY had its world premiere in Feb. 2016 at Chromolume Theatre in Culver City, where it ran for two months and was hailed by critics and audiences alike. The play, which is set in a 1959 hotel room in Paris, paints an intimate portrait of Lester Young, a unique jazzman whose warm, lyrical style brought him fame, first with the Count Basie band, then with the likes of Nat 'King' Cole, Oscar Peterson, Teddy Wilson, and his best friend and alter ego, Billie Holiday.
Directed by Daniel E. Keough, PREZ - THE Lester Young STORY, staring Leslie A. Jones.
The Show runs on Sunday's at 2:00PM - Opens February 11th, 2018
THE WICKED, WICKED Mae West is a new comedy about the legendary actress, writer and sex symbol. Set in 1959, the play portrays the bigger-than-life, wise-cracking Mae when she was being interviewed by Charles Collingwood for a possible appearance on his popular "Person to Person" TV show.
Directed by Iris Merlis, THE WICKED, WICKED Mae West, starring Colette Rosario and Gregory Hoyt.
The production runs on Saturday's @ 8:00PM - Opening February 17th, 2018
THEIR FINEST HOUR: CHURCHILL AND MURROW. This full-length play sheds light on the unique relationship between Winston Churchill and Edward R. Murrow during the early years of WW II when England was under attack by Hitler's air-force. Murrow, who was covering the war for CBS Radio News, not only became friendly with Churchill, but had a passionate and adulterous love affair with the Prime Minister's daughter-in-law.
Directed by Stu Berg, THEIR FINEST HOUR... Starring Michael Karm, Steve LaChioma, Maria LaChioma, and Lane Compton. The production runs on Friday's @ 8:00PM - Opens April 20th, 2018
Playwright Willard Manus has had over 40 plays produced in LA, regionally, and in Europe. Frank and Ava won a best-play award at the 2015 Hollywood Fringe Festival and has been turned into a feature film. Other recent plays include Frank And Ava, Bird Lives!, Berlin Cowboys, and Who Killed Comrade Rabbit (co-written with Ilia Volok). Manus is also a novelist whose best-known book, Mott the Hoople, became the name of the British rock band of the 70's. He is a member of The Actors Studio, Playwrights/Directors unit and the Los Angeles Film Critics Association. Will also publishes the online literary review, Lively-Arts.com
THE SERIES IN REPERTORY
THREE BY WILL - IN REP will open February 11 through May 25, 2018
Friday @ 8:00PM - Their Finest Hour: Churchill And Murrow - Opening April 20th
Saturday @ 8:00PM - The Wicked, Wicked Mae West - Opening Feb. 17th
Sunday @ 2:00PM - PREZ - The Lester Young Story - Opening Feb. 11th
General Admission: $20.00
Tickets for each production are available at: Brown Paper Tickets
PREZ - The Lester Young Story - https://www.brownpapertickets.com/event/3328664
The Wicked, Wicked Mae West - https://www.brownpapertickets.com/event/3328677
Their Finest Hour: Churchill And Murrow - https://www.brownpapertickets.com/event/3328722
Additional information at: http://www.writeactrep.org/index.html
John Lant (Producer / Artistic Director) is a 35-year veteran in the entertainment industry and has been involved in over 600 television, film, music tours, and theatrical productions. An award-winning producer, director, writer, lighting / set designer, he has mounted productions at Cal Arts, Ricardo Montalban, Powerhouse, Glendale Center, Hollywood Playhouse, Long Beach Playhouse, the Jewel Box Theatres and Write Act Repertory garnering DramaLogue, Diamond, ADA, NAACP Awards, LA Weekly and Backstage Picks of the Week, Garland and Valley Theatre (LA) nominations. As an Executive Producer of New Frequency - Theatre of the Mind, he produced 150 all-new original Radio Dramas for XM Radio's Sonic Theatre - Ranked as the #1 Radio show. With Jonathan Sanger at Chanticleer Films, he worked on two shorts that won an Emmy and an Oscar, also mentored under Howard Storm and directed Children's TV Pilots Symphology, Carrot Talk, and Anonymous Confessions. Recently as Producing Artistic Director of Write Act Repertory/Director of Development for Twisted Media NYC his off-Broadway production of FABULOUS! The Queen of Musicals! licensed through Steele Rights and current projects Lili Marlene and Frankenstein at St. Luke's have been running since summer of 2017. Other Lead Producing credits; AEA off-Broadway's 2 by Tennessee Williams, Pillars of NY; Pre-production in NY for Spring 2018 Musicals, It Came from Beyond, Wicked / Frozen, and Pearl - The Musical (with creative team members of Dreamgirls! Original Broadway Cast) with current Los Angeles projects - Finest Hour (Winston Churchill project), Wicked Wicked Mae West West, and Prez - The Lester Young Story.
Formed in 1998, under the artistic leadership of John Lant since 2003, the acclaimed theatre group WRITE ACT REPERTORY has produced over 50+ World or West Coast Mainstage Premieres and 75 Original one-act plays in Los Angeles and New York City. Write Act Repertory is dedicated to the development of original plays, lesser known works by established writers, adaptations of classical-themed materials and musicals. Write Act Repertory also produces rarely seen works and unfinished musicals by composers who passed before their work was completed. www.writeactrep.org
Related Articles View More Los Angeles

Stories

Shows
More Hot Stories For You