WITH LOVE AND A MAJOR ORGAN to Make West Coast Debut at Boston Court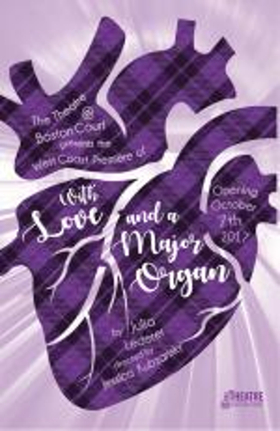 Boston Court will produce the West Coast premiere of With Love and a Major Organ. Written by Julia Lederer and directed by Jessica Kubzansky, the West Coast premiere will begin previews on September 28 with an October 7 opening.
Whimsical, quirky, and wildly original, With Love and a Major Organ pushes on the ever-stranger phenomenon of physical human interaction in the age of technology. Why is it that we are ever more connected and yet we have never felt more alone? During her morning commute, a young woman falls in love with a total stranger she meets on the subway. After giving the man her actual beating heart, he disappears -leading this unlikely heroine on a quest to retrieve her heart, accidentally cracking open those of others she meets along the way. With Love and a Major Organ is an eccentric, edgy comedy about what it costs to give your heart away, and what happens when you discover you actually have one.
"Nearly all of us awake to tweets and other social media that offers news as bizarre as it is alienating," says Boston Court Co-Artistic Director Jessica Kubzansky. "How we find actual connection with other human beings as opposed to through devices is a phenomenon with which we're not yet fully comfortable. Julia's play is both truly funny, and powerfully heartbreaking. She's mining both the absurd lengths to which love will drive us, and the deep loneliness that emanates from protecting our frequently bruised and broken hearts. Her text is poetry for the theatre, and she pushes metaphor to its most surreal and deeply truthful limits. Our entire cast and creative team will bring even further depth to this funny and surprisingly universal story."
The cast for With Love and a Major Organ is Bonita Friedericy (Futura at Boston Court, NBC's Chuck) as Mona, Daisuke Tsuji (American Night at Oregon Shakespeare Festival and Kirk Douglas Theatre) as George and Paige Lindsey White (Heisenberg at Mark Taper Forum) as Subway Rider.
NOW Magazine said of Lederer, "A brash, poetic and fiercely original voice that is equal parts pee-your-pants funny and get-out-the Kleenex poignant." The Chicago Stage Standard adds, "Lederer has a deliciously twisted way with words...[she] transposes the magical realism of Gabriel García Márquez and Salvador Plascencia onto a 21st century romantic comedy...genuinely original."
IF YOU GO:
With Love and a Major Organ
Written by Julia Lederer
Directed by Jessica Kubzansky
Featuring Bonita Friedericy, Daisuke Tsuji, and Paige Lindsay White
Scenic Design: Francois-Pierre Couture
Costume Design: Denitsa Bliznakova
Lighting Design: Elizabeth Harper & Rose Malone
Sound Design: John Nobori
Projection Design: Hana Sooyeon Kim
Properties Design: Erin Walley
Choreography: Jordan Marinov
Assistant Director: Katherine Hoevers
Production Stage Manager: Natalie Figaredo
Dramaturg: Patrick Hurley
Casting Director: Julia Flores
Thursday, September 28 through Sunday, November 5, 2017
Thursdays through Saturdays at 8:00pm; Sundays at 2:00pm (Except as Noted Below)
Previews: Wednesday, Sept 28 through Friday, October 6
Opening: Saturday, October 7 at 8:00pm
Closing: Sunday, November 5 at 2:00pm
Specially Scheduled Performances:
Understudy Performances: Monday, October 16 at 8:00pm and Wednesday, October 18 at 8:00pm
No Performance Friday, October 13
Saturday Matinee, October 14 at 2:00pm
Live Wired Night (Post-Show Pizza and Beer Included in $10 Ticket Price): Thursday, October 12 at 8:00pm
Five Dollar Night ($5 Tickets available in-person one hour prior to the performance): Monday, October 23 at 8:00pm
The Z. Clark Branson foundation generously subsidizes Live Wired and Five Dollar Night ticket purchases.
Performances will play the Boston Court Performing Arts Center, 70 N Mentor Ave. Pasadena, CA 91106
Prices: Single tickets currently range from $20 in previews to $39 in the regular run. Boston Court subscribers are encouraged to use remaining flex passes for With Love and a Major Organ. Additional 5-pack and 10-pack flex subscriptions are available for as low as $25 per ticket.
Visit BostonCourt.com or call 626.683.6801 for tickets and more information.
ABOUT THE ARTISTS:
Julia Lederer is a playwright from Toronto. Her plays have been produced across North America and in the UK. ReceNT Productions: Reality Theatre (SummerWorks Performance Festival), Frame (Seven Collective in NY; Alumnae Theatre in Toronto), Spooning (InspiraTO Festival in Toronto; Midnight Summit Ensemble in Chicago; Midtown International Festival in NY), The Best Plan For Living Happily (Toronto).
With Love and a Major Organ had its US premier in Chicago with Strawdog Theatre. In June, it was the first Canadian play to receive a feature production at The Last Frontier Theatre Conference in Alaska. With Love and a Major Organ is published by Scirocco Drama. In Canada, Julia has developed work with: Driftwood Theatre, Roseneath Theatre, Nightwood Theatre, The Thousand Islands Playhouse, amongst others. Currently she is the Associate Playwright for SMOOTHIELAND, a company creating Episodic
Youth Theatre. Upcoming: It's Nothing, a short film, goes into production spring 2018. JuliaLederer.ca
Jessica Kubzansky has been the Co-Artistic Director of The Theatre @ Boston Court in Pasadena since its inception. For Boston Court elsewhere: Luis Alfaro's Mojada, A Medea in Los Angeles (at The Getty Villa), Sheila Callaghan's Everything You Touch (Rattlestick at the Cherry Lane, NYC). At Boston Court: World Premieres of Stefanie Zadravec's Colony Collapse, EYT, R II (Kubzansky's own three-person adaptation of Richard II), Michael Elyanow's The Children, JorDan Harrison's Futura, Laura Schellhardt's Courting Vampires, Salamone/McIntyre's Gulls, Mickey Birnbaum's Bleed Rail, Carlos Murillo's Unfinished American Highwayscape #9&32, Jean-Claude van Itallie's Light, Cody Henderson's Cold/Tender. Plus: Camino Real, Mother Courage. Recently elsewhere: Aditi Kapil's Orange (South Coast Rep), Stupid F*cking Bird (ACT, Seattle), Hold These Truths (Portland Center Stage, Pasadena Playhouse), Pygmalion (Pasadena Playhouse), Hamlet with Leo Marks (Theatre 150). LADCC Award for Sustained Excellence in Theatre, among others.
Bonita Friedericy first hit the boards at the age of 10 in her older brother's high school production of Fiddler on the Roof. Although she would obviously never be a triple threat, she was hooked. Since then, she has been in lots of plays (several of which Kubzansky directed), lots of theatre companies, and a bunch of television shows and films. Her favorite job was being a badass general on Chuck. You might remember her lecture on typography in the production of Futura at the Boston Court. She lives in West Hollywood with her two beloved guys: John A. Billingsley and Solomon P. Kitten.
Daisuke Tsuji (pronounced Dice-Kay) is an LA-based actor for TV/film, theater, and VO. He was most recently seen as Orlando in As You Like It (Antaeus Theater Company). Other Theaters: Imogen Says Nothing (Yale Repertory Theater), The Orphan of Zhao (American Conservatory Theater and La Jolla Playhouse), American Night (Oregon Shakespeare Festival and Kirk Douglas Theater). As company member at Oregon Shakespeare Festival for four years, he performed in 10 productions, including King Lear, Animal Crackers, and The Imaginary Invalid. He has also worked as a clown in Cirque du Soleil's Dralion. TV/Film: Brockmire, The Man in the High Castle, The Blacklist. Training: UCLA. DaisukeTsuji.com
Paige Lindsey White Stage: Eliza Doolittle in Pygmalion (Pasadena Playhouse); Macon Hill in Abundance (South Coast Rep); Brooke Wyeth in Other Desert Cities (Arizona Theatre Company & Indiana Rep); Ann in At Home at The Zoo (Wallis Annenberg); Catherine in Rapture Blister Burn (San Diego Rep); Heisenberg (u/s) (Mark Taper Forum); Trying, Ghost-Writer, and The Heir Apparent (International City Theatre); The Children and R II (Theatre @ Boston Court); Walking the Tightrope (24TH ST Theatre), Ivo Van Hove's A View From the Bridge (Ahmanson & Kennedy Center, u/s); Fallen Angels (Ensemble Theatre Santa Barbara); Wounded (Los Angeles Theatre Ensemble); Mutual Philanthropy (Ensemble Studio Theatre LA). International Tour: Trial of the Catonsville Nine (The Actors' Gang). TV: Shameless, American Woman, Corporate, Days of Our Lives, The Flipside, TV Funhouse LA Drama Critics' Circle Award Lead Performance Winner, 3 Ovation Nominations. PaigeLindseyWhite.com
Located in Pasadena, California, Boston Court Performing Arts Center is non-profit arts center primarily dedicated to new and original work by living artists. Founded in 2003 by philanthropist Z. Clark Branson, Boston Court features a state-of-the-art, intimate facility designed to bring audiences and artists closer together. The 75-seat Marjorie Branson Performance Space and the 99-seat Main Stage serve as homes for Boston Court's season of bold, risky theatre and its eclectic, diverse music series. Boston Court Performing Arts Center is also the home of an annual new play festival, an Emerging Artists Series, as well as Art Upfront, a rotating visual arts program. Boston Court is led by an 11-member Board of Directors, Executive Director Kyle Clausen, and Artistic Directors Jessica Kubzansky and Michael Michetti (Theatre), and Mark Saltzman (Music).
Related Articles View More Los Angeles

Stories

Shows
More Hot Stories For You