The Road Theatre Company Extends The World Premiere Of THROUGH THE EYE  OF A NEEDLE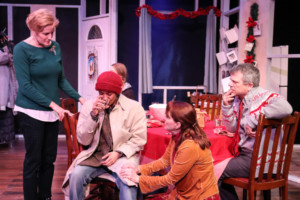 THE ROAD THEATRE COMPANY and Taylor Gilbert, Founder/Artistic Director together with Sam Anderson, Artistic Director, are thrilled to announce that the third show of its 2017-2018 season, the critically acclaimed, world premiere of THROUGH THE EYE OF A NEEDLE, written by Jami Brandli and directed by Ann Hearn is EXTENDING through SATURDAY, MAY 26 at the Road Theatre on Lankershim, located in the historic Lankershim Arts Center, 5108 Lankershim Blvd. in North Hollywood.
The Keen family is dealing with the recent tragedy concerning their daughter, Dana, a navy corpsman in the Iraq War. Larry copes with a tumbler of scotch, or five, Barbara sets an extra plate setting and Samantha, their teenage daughter, secretly uses Twitter to create a protest. Then Nasser, an Iraqi refugee, arrives at their door unannounced on Christmas Eve. As the family fights over whether or not to keep Nasser's "gift", tempers fly and secrets are revealed. Will the Keens be pulled further apart or will they find grace and redemption in this intriguing family dramedy?
JAMI BRANDLI (Playwright) plays include: Technicolor Life, S.O.E., M-Theory, Sisters Three, Medusa's Song, Through the Eye of a Needle, BLISS (or Emily Post is Dead!) and more. BLISS receives its 2018 joint world premiere with Moxie Theatre, Promethean Theatre and Moving Arts. Technicolor Life premiered at REP Stage as part of the 2015 Women's Voices Theater Festival and recently received its Australian premiere at The Depot Theatre. Winner of John Gassner Memorial Playwriting Award, Holland New Voices Award and Aurora Theatre Company's GAP Prize; Finalist for 2016 PEN Literary Award for Drama. Jami is represented by the Robert A Freedman Agency and Fourth Wall Management and teaches at Lesley University's low-residency MFA program. www.jamibrandli.com.
Ann Hearn (Director) Road Theatre Member since 2015 and serving on Artistic Board. Directing credits include Off Road production Anatomy of a Hug, several readings for The Road's The Word series and Road Festival productions of The Specials, The Gift and The Night We Bombed Lincoln Towing, and productions in association with Theatre 40: Holy Days, Driving Miss Daisy, Another Part of the Forest, The Color of Rose and Six Dance Lessons in Six Weeks. Acting credits in Los Angeles theater: South Coast Repertory, LATC, Theatre 40, Missing Piece Theater, Taper Too, CAST Theater, Ensemble Studio Theatre. Film: Strange Nature, Lorenzo's Oil, The Accused, and My Father the Hero. Television: The Dollmaker, ER, Designing Women, Evening Shade, and Rizzoli & Isles.
THROUGH THE EYE OF A NEEDLE will feature Meeghan Holaway, David Gianopoulos, Kaitlin Huwe, Kara Hume, Erica Mathlin, Chet Grissom and Stephanie Erb. The Design Team for THROUGH THE EYE OF A NEEDLE is as follows: Scenic Design by Pete Hickok; Lighting Design by Derek McDaniel; Sound Design by David B. Marling; Costume Design by Mary Jane Miller; Properties Design is by Megan Moran, Christine Joëlle and Samuel Martin Lewis. The Production Stage Manager is Rebecca Schoenberg. THROUGH THE EYE OF A NEEDLE is produced by Mia Fraboni & Tracey Silver.
THROUGH THE EYE OF A NEEDLE is EXTENDING through SATURDAY, MAY 26 at the Road Theatre on Lankershim, located in the historic Lankershim Arts Center, 5108 Lankershim Blvd. in North Hollywood. Performances are Fridays at 8pm; Saturdays at 8pm and Sundays at 2pm. Ticket prices are $34; Students and Seniors are $15.00. Special group rates available for parties of 8 or more. For tickets, please call 818-761-8838 or visit www.RoadTheatre.org to purchase tickets online or to view complete schedule.