Story of Holocaust Survivors in America Resonates in A SPLINTERED SOUL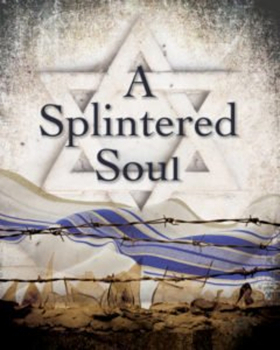 "Think of these memories as sharp slivers embedded in the soul."International City Theatre presents a gripping drama about war refugees haunted by the death of their loved ones - and by memories of the things they had to do to survive.A Splintered Soul by Long Beach-based playwright Alan L. Brooks opens Oct. 19 atInternational City Theatre in the Long Beach Performing Arts Center. Two low-priced previews take place Oct. 17 and Oct. 18.

It's 1947 in San Francisco, home to a group of resettled Holocaust survivors from Poland whose very existence depended on blurring the lines between right and wrong. It's there we meet Rabbi Kroeller and a group of morally starved refugees as they seek to define their existence in this new, tidy post-war America. How can these splintered souls adapt to a new life in a new land, where all the rules have changed?

"The story and the action are heightened," says director Marya Mazor. "It's a parable that asks important questions about immigration, survival and democracy - questions that resonate today. Are refugees who have survived extreme trauma the lucky ones - or the unlucky ones? How do they assimilate into American society, and what does it take for American society to understand and accept them? Now is also an important time to remember the rise of fascism and what led to it."

"The play is a metaphor for the events of today," explains Brooks. "The situations and ethical dilemmas presented have universal applications."

A Splintered Soul was the recipient of the 2005 Moondance International Film Festival Award for the best full-length stage play drama. It premiered at the Odyssey Theatre in 2007, had a successful off-Broadway run at the Mint Theater on 42nd St. in 2011 and received its Midwest premiere at Stage 773 in Chicago in 2016. Backstage wrote, "resonates with a compelling veracity," Theater Mania found it to be "thoughtful drama ... worth taking seriously," and Stage and Cinema calls it "searing... exposes a new mutation of a latent cancer."

The International City Theatre production stars ICT audience favorites Allison Blaize(Cardboard Piano), Madeleine Falk (A 'Circus' Christmas Carol), Louis Lotorto (The 39 Steps, Bright Ideas, A Nervous Smile) and Stephen Rockwell (Vanya and Sonya and Masha and Spike) along with Nathan Mohebbi (Wolves, directed by Michael Matthews at the Celebration Theatre), Jon Weinberg (Vessels at Theatre Dybbuk, Hamlet at Crown City Theatre), and two recent graduates of UCLA's School of Theater, Film and Television, Quinn Francis and Brandon Root.

The creative team includes set designer Yuri Okahana, lighting designer Donna Ruzika, costume designer Kim DeShazo, sound designer Dave Mickey, prop designers Patty andGordon Briles, hair and wigs designer Anthony Gagliardi and casting director Michael Donovan. The production stage manager is John Freeland, Jr., and caryn desai [sic] produces for International City Theatre.

Alan Lester Brooks is a retired physician who has spent the last 20 years writing plays. Born in 1942, he grew up with a great awareness of the events in Europe in that decade and beyond. As his surviving relatives came to Los Angeles, he met and grew up with the characters in his play. In Vietnam, as a military physician, he witnessed first hand the miseries of war, poverty, starvation and human degradation.

Marya Mazor recently directed Donald Margulies' The Model Apartment for The Geffen Playhouse, Tribes at the Chance Theater (OC Register Best Play 2017) and Pure Confidence for Lower Depth Theatre Ensemble. Her production of The Rescued by Julie Marie Myatt is currently running at the Road in North Hollywood. Other recent productions include Ivy & Bean at South Coast Rep, Out of Our Father's House for the Edinburgh Fringe,That Pretty Pretty... or the Rape Play at Son of Semele, Mad Forest at Open Fist, The English Bride at the Road and The Goat (Los Angeles Times "critic's choice") at the Chance, as well as Aladdin for Disney Cruise Lines. Her short film, The Winged Man, written by Oscar nominee Jose Rivera, was part of AFI's Directing Workshop for Women and played festivals worldwide. She is developing a first feature film, Moxie. Marya spent six years as a show director for Disney. She has also directed at the Long Wharf, Pasadena Playhouse, New York Stage & Film, Nada, Dixon Place, Main Street Theatre, Circle X, Boston Court and Berkeley Repertory Theatre, among others. Marya founded the Voice & Vision theater in New York, which she ran for ten years. She was an NEA/TCG Directing Fellow and holds an M.F.A. from Yale. She has taught at Pepperdine, UCLA, The New School, Fordham and other colleges.

A Splintered Soul runs Thursdays, Fridays and Saturdays at 8 p.m. and Sundays at
2 p.m., Oct. 19 through Nov. 4. Two preview performances take place on Wednesday, Oct. 17 and Thursday, Oct. 18, both at 8 p.m. Tickets are $47 on Thursdays and Fridays, and $49 on Saturdays and Sundays, except Oct. 19 (opening night) for which tickets are $55 and include a post-performance reception with the actors. Low-priced tickets to previews are $35.

International City Theatre is located in the Long Beach Performing Arts Center at 330 East Seaside Way in Long Beach, CA 90802. For reservations and information, call 562-436-4610 or go to InternationalCityTheatre.org.
Related Articles View More Los Angeles

Stories

Shows
More Hot Stories For You