Son of Semele Ensemble Presents THE WOMAN WHO WENT TO SPACE AS A MAN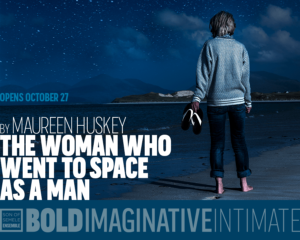 The Woman Who Went to Space as a Man - Part fact, part fever dream, and part musical, this captivating new work opens with Alice B. Sheldon - better known to sci-fi aficionados as author James Tiptree, Jr. - contemplating suicide. Dodging in and out of reality, the play, with a bold musical score from award-winning world music artist Yuval Ron, investigates gender, longing and creativity as self-exploration through one of Science Fiction world's greatest literary tricksters. Sheldon was most notable for breaking down the barriers between writing perceived as inherently 'male' or 'female'. It was not publicly known until 1977 that Tiptree was, in fact, a woman. Inspired by the biography 'James Tiptree, Jr.: The Double Life of Alice B. Sheldon' by Julie Phillips along with 'With Delicate Mad Hands' by James Tiptree, Jr., Maureen Huskey wrote and directs the first production of The Woman Who Went to Space as a Man, opening October 27 and running through November 17, at Son of Semele Theater in Los Angeles.

Alice B. Sheldon started writing science fiction under the male pen name of James Tiptree, Jr. as a last grasp for life at the age of 50. Without expecting any success, Sheldon as Tiptree ended up taking the science fiction world by storm writing the most provocative and socially relevant stories to this day. Influential science fiction writers such as Phillip K. Dick wanted to collaborate with him; Ursula Le Guin and Joanna Russ put him on a pedestal and in 1977 Tiptree was inducted into the Science Fiction Hall of Fame. For years, no one knew Tiptree's true identity. Ironically it was the remarkable life Sheldon led as a woman that made her so believable as a man. She was an officer in the Army, worked for the CIA, the pentagon and traveled the world.

The Woman Who Went to Space as a Man takes imaginary license whereby Sheldon is visited by an unexpected stranger - an extraterrestrial "star caller" from one of Tiptree's stories - who leads her on an episodic, emotional journey through the shadows of her past where, despite her life's accomplishments, buried pain and unmet desires reside. She encounters her younger selves, her repressed lesbian love, a domineering mother, and the incarnation of her male alter-ego: James Tiptree, Jr. The play locates unexpected links between gender orientation, creative expression and mental health, and shows how science fiction became the answer to Sheldon's struggles as a woman.

The Woman Who Went to Space as a Man has universal and topical resonance as it deals directly with the repression of women, of gender/sexual orientation, depression and the search for hope. It also brings science fiction - a form that was long marginalized - to the center stage and shows how Alice B. Sheldon used science fiction to address issues that plague humanity such as genocide, ecocide and racism. The play experiments with form, episodic storytelling, shifting time and vacillating between inner and outer realities. It is interwoven with one of Tiptree's short stories to frame the telling of Sheldon's life.

"I have always been drawn to the lives of female artists; especially those who committed suicide. While their work may be celebrated, often their lives and personal triumphs are not. My intention is to unapologetically shed light on one of these overlooked lives: a true story about a woman who pretended to be a man," explains Huskey.

Tiptree earned the reputation of being a male author who understood women and often addressed gender issues - on Earth and in worlds beyond. Having spent her entire life in male-dominated arenas - the Air Force, the C.I.A., academia, and finally science fiction writing - Sheldon had become a person who could say all of the things she felt she couldn't as a woman. Once outed, Sheldon didn't feel a sense a liberation, her confidence rattled with the transition from a perceived male writer to a female one and she faded from the science-fiction scene leaving her legacy behind.

Maureen Huskey writes, adapts and directs for theater and opera. She began her career in New York City collaborating with avant-garde artists in NYC's thriving downtown experimental theater world. Now based in Pasadena CA, her directed stage works have been presented in New York City, Chicago, San Francisco, Los Angeles, Vienna, Austria, and Vancouver. She has received a Princess Grace Honoraria Award, a Bessie Award (NYC), and her shows have received nominations from the NAACP and OVATION AWARDS among other accolades. Huskey has received numerous grant awards and residencies for her work including the Creative Capital Award and the Voice & Vision's ENVISION grant for women artists (NYC). She co-founded Red Dive, a vanguard company in the site-specific and immersive theater movement in NYC which she directed until 2006. She holds a BA in Theater and Communications from Western State Colorado University, a Diploma in Dramatic Playwriting with Merit from the University of Kent at Canterbury, England as a Rotary Scholar, and a MFA in Theater Direction from the California Institute of the Arts (CalArts). Huskey has taught and guest directed at CalArts, College of the Canyons and Long Beach State University.

Yuval Ron is an internationally renowned music artist, composer, and record producer with a specialty in World Music. Among his many honors, he composed the songs and score for the Oscar-winning film West Bank Story in 2007 and was the featured artist in the Gala Concert for the Dalai Lama's initiative Seeds of Compassion at the Seattle Opera Hall. Ron has received commissions for site-specific scores from the Getty Center, Japan-America Center, Lauren Bon and Farm Lab, and from various international choreographers, including Daniel Ezralow (American Repertory Ballet), Ashley Roland (ISO dance company), Oguri (Renzoku Dance Company) and visual artist, Hirokazu Kosaka. His ensemble music has been performed at the Disney Concert Hall in Los Angeles, the Broad Stage in Santa Monica and at premiere venues around the world.

Son of Semele Theater (SoSE) is an award-winning Los Angeles based ensemble theater company. They produce innovative theatrical productions and through a variety of programs they support the work of artists who take bold steps in their work. In 2004, American Theater Magazine named SoSE one of the best new theater companies to watch. Since then SoSE has received numerous awards and nominations from LA Stage Alliance's Ovations, LA Weekly Theater Awards, a SAGE Award, Los Angeles Drama Critic Circle, and NAACP, among others.

The Woman Who Went to Space as a Man runs October 27 through November 18 with performances on Tuesdays at 7 p.m., Fridays and Saturdays at 8 p.m., and Sundays at 5 p.m. Preview performances take place October 20-21. Tickets are $25; patrons 25 and under get $5 off with valid ID at the door; performances in the first two weeks are pay-what-you-can, and group discounts are available. Son of Semele Theater is located at 3301 Beverly Blvd., Los Angeles, CA 90004.